1. Hanging and Banging
Daniel Bryan wrestled Erick Rowan on this week's SmackDown and it was going perfectly fine until the finish.
Rowan delivered his not-a-chokeslam but Bryan was too close to the ring ropes and ended up head-over-tit like the bad guy from Disney's Tarzan.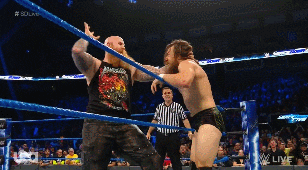 Eventually the referee released him and then Rowan pinned him.
Thanks ref.
2. Riddle Me This
Matt Riddle finally defeated Killian Dain in a Street Fight this week on NXT but it was hardly a fair fight as Riddle demonstrated his Jedi abilities.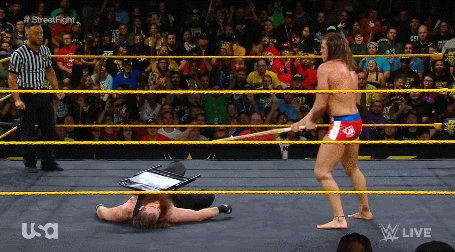 You can script some things … but not this move@WWENXT @WWE @SuperKingofBros @KillianDain @FOX46News pic.twitter.com/kuCc5Gjo5e

— Josh Sims (@JoshFox46) September 26, 2019
3. Ali Bom-Ba-YEET
Ali continued his one-named descent into recklessness to avoid being sent back to 205 Live with a risky suicide dive onto his own head.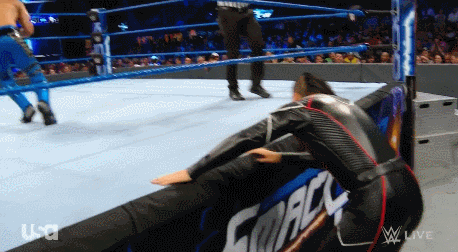 He's OK.
I'm okay. Indestructible. https://t.co/qUazttxMk3 pic.twitter.com/15FiyDlApB

— ALI / Adeel Alam (@AliWWE) September 25, 2019
4. Can I Copy Your Homework?
Seth Rollins tweeted a dramatic-sounding message about his upcoming match with Rey Mysterio on next week's Raw.
Then an hour later, Sasha Banks copied the message for her own twitter. Or maybe it was her social media agent. Or maybe it was deliberate. Who can tell?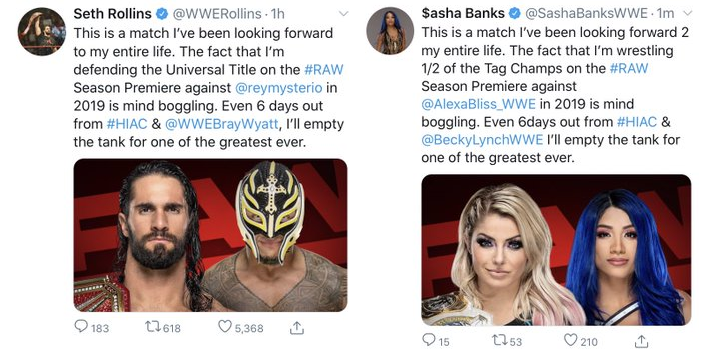 5. Kick, Punch, It's All In The Mind
Kairi Sane showed off her kicking skills on this week's SmackDown by missing Mandy's Maxim Magazine.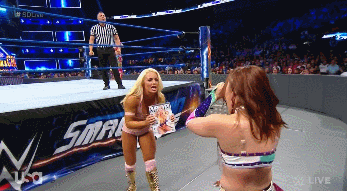 She hit it on the rebound though. We've all been there.
6. Should Have Stayed Hidden
WWE continues to pump out rare AWA footage from when the company was presumed-dead such as this tag match between Madusa Micelli & Sylvia & Magnificent Mimi & Wendi Richter which ends with a….er…
I love the AWA Hidden Gems stuff on the Network so we can all enjoy moments like this pic.twitter.com/O0Vzt79OEn

— MaffewBotchamaniaGuy (@Maffewgregg) September 27, 2019
"Now, this part, I don't understand"
7. ARMBAR IS JERICHO BABY
Jericho's been in the news again this week due to being Drunk On Main again so let's remind ourselves of his attempt at an armbar on a green Big Show in 1999.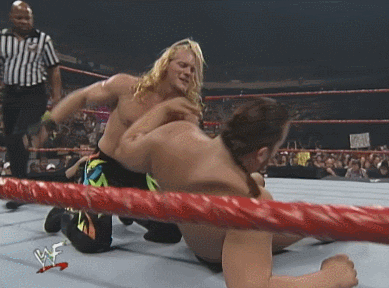 8. How About A Nice Botch For A Change
Well OK fine. Seeing as it was PWG BOLA weekend, here's the moment Daniel Bryan won the PWG Title during his last appearance for the company that caused a fan to jump the ring with emotion and celebrate with him.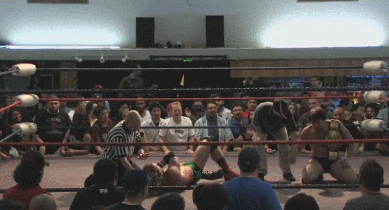 Awww.
He should have stretched him.
9. We'll Do It In Post
Thanks to DdtShaggy for this clip from 1997 AJW and no, I've never seen a ring post break either.
I've seen a ring rope bust but I've never seen a ring post break. #AJW @maffewgregg pic.twitter.com/91Aw7IMJH9

— Kishin~Shaggy (@DdtShaggy) September 22, 2019
10. And Finally…
HERE'S VADER VS A BIN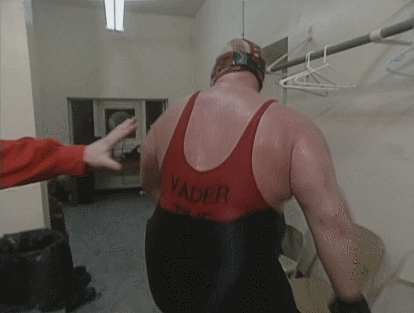 TAKE THAT YOU STUPID TRASH.
I've been Maffew.