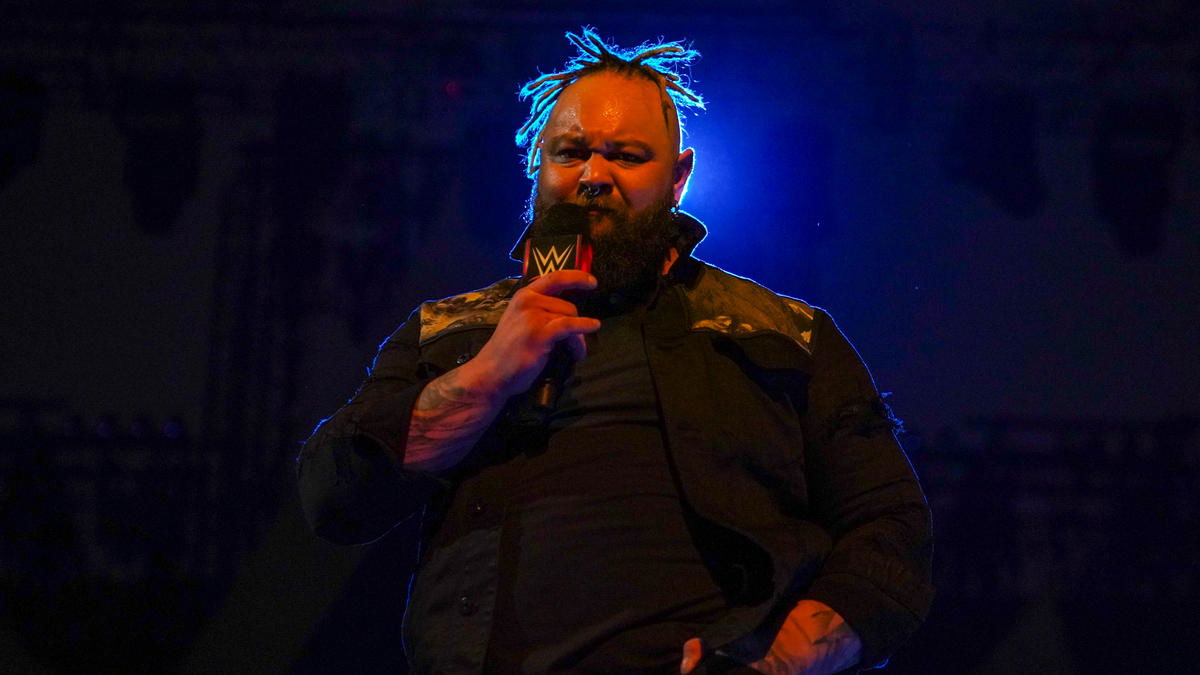 The road to WrestleMania 39 hasn't been smooth sailing creatively for WWE on the whole, but especially when it comes to Bray Wyatt.
There had already been some pretty big bumps on the road, but now there seems to be another one.
First of all, Wyatt's WWE comeback on the whole up to now has been polarizing.
The reaction was overwhelmingly positive at first, but as time has gone on, the bizarre and often nonsensical nature of Wyatt's segments have left a lot of fans unimpressed.
That means no-one was really clamoring for anything in particular for Wyatt at WrestleMania, and actually, more people seem to want to see LA Knight in a big Mania role, who Wyatt just beat, rather than Wyatt himself.
It's almost impossible to pair someone with Wyatt and make it work, so instead WWE just went for something that would have been more of a 'spectacle' than something that would 'work', and planned Wyatt vs Brock Lesnar.
Just one problem… Lesnar didn't want to. And because he's Brock Lesnar, he doesn't have to do stuff he doesn't want to do.
WWE didn't realise this before they'd already booked Lesnar vs Bobby Lashley in a 'winner faces Wyatt at WrestleMania' match at Elimination Chamber, so instead of Lesnar winning as planned, he had to lose by disqualification.
Lesnar approved a match between himself and Omos, which as some people have jokingly pointed out, potentially tells you something about how much he didn't want to work with Wyatt.
But anyway, that put us on course for Wyatt vs Lashley, which similar to Wyatt vs Lesnar seems like a big clash of styles, btu doesn't have the 'spectacle' element that Wyatt vs Lesnar would have had because the reality is Bobby Lashley isn't Brock Lesnar.
The first couple of weeks of building to Wyatt vs Lashley wasn't exactly smooth, as Lashley laid out Uncle Howdy which made Howdy look a bit worthless, and Wyatt brought back the Firefly Funhouse and Muscle Man Dance to mock Lashley on the big screen, so Lashley had to stand there and look confused.
However, there's now another issue, as Wyatt has been pulled from the road due to an undisclosed issue, which Fightful reported the WWE creative team was told was an illness.
Because of that, the build has been very limited and there wasn't even any mention of Wyatt, Lashley, or the match, on Raw this past Monday.
Lashley even tweeted out that he may need a different opponent for Mania, although Dave Meltzer reported that Wyatt was expected to be back in time and that match is still the plan.
Of course this issue with Wyatt being out, whatever it is, seemingly can't be helped, but it does sum up what has been a bumpy road to the biggest show of the year since his return last October.
Stay tuned to WrestleTalk.com as we'll keep you posted with any further updates on Wyatt and his status for WrestleMania.
Think you're a wrestling mastermind? Well you can prove it by taking quizzes in our brand new quiz section! Don't forget to tweet us your results!