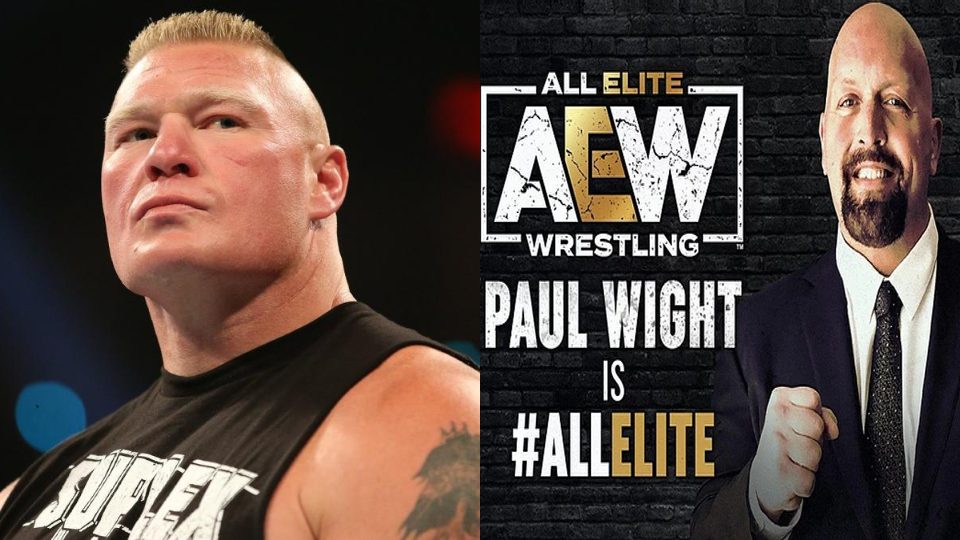 In today's Q&A here on the site, we discuss a potential Brock Lesnar WWE return, 'Big Show' Paul Wight in AEW, and more of your questions!
@King_Goat_JJ – With Jon Moxley retaining the IWGP US Heavyweight Championship, who should challenge him next?
Liam Winnard (Website Manager):
El Phantasmo is someone who I'm a fan of and hasn't had a match with Moxley, so that's something I'd definitely be interested in. Phantasmo has been on Strong recently and got a win against Lio Rush, so I'd say Phantasmo vs Moxley.
Sanchez Taylor (News Writer):
I was convinced that KENTA was winning the title! I haven't really been following NJPW Strong recently, but I'd like someone from that brand to be the next champion. While I could say someone like Juice Robinson or Will Ospreay, the talent on NJPW Strong need the spotlight more. Even a "heel shenanigans" victory over Moxley would elevate a new star.
@Walu2go – Can you see Daniel Bryan being added to the WrestleMania main event?
Liam:
Not really, and I don't see why he would be. I think he gets the title match at Fastlane, Reigns beats him, and that's it. Reigns moves onto Edge at WrestleMania and whatever happens there happens. I don't like the idea of another guy being added to the Royal Rumble winner's title match, and I don't think it would really make sense here.
Sanchez:
I don't think he'll be added. I think WWE seem pretty set on their "Spear vs. Spear" main event. It would make more sense for Edge to challenge the Tribal Chief one-on-one to see if he could overcome the competitor who became a star during his hiatus. I am intrigued by a potential Edge vs. Bryan match, but I think Daniel Bryan being added to make the match a three-way would seem a bit unnecessary. I'd rather see Bryan have a really good match with Sami Zayn personally.
Is the Otis heel turn a good thing?
Liam:
I think it's a bit too early to say. It ultimately comes down to how WWE wants to use him and how WWE wants fans to perceive him. If he's supposed to be a legitimate threat with his amateur background and incredible strength, then maybe a break from the comedy could add some credibility. Otherwise, it would have been better to keep him as he was. Giving him Money in the Bank was silly booking and a reset is probably a good thing. But, we'll just have to see how it turns out.
Sanchez:
I think so, it's not like he was doing much as a face. His team with Chad Gable has been entertaining so far, I'm intrigued how far they are going to take the "Alpha Academy" concept. I prefer Otis as part of a tag-team rather than solo, so I'd like to see him and Gable win the Smackdown Tag Team Title eventually.
@BwanaToronto – Who would you like 'Big Show' Paul Wight's first AEW match to be against?
Liam:
This is a very hard one to answer. Some people probably want to see him against AEW's big guys (Lance Archer, Wardlow, etc), but I wouldn't go that route because Wight would make them look small. In all honesty, I think his first match should be an easy win on Dynamite, so a small guy who can bump would be perfect. Maybe Joey Janela or something. But if we're talking a first marquee pay-per-view level match, man, I have no idea. Maybe Cody Rhodes? I feel like that's a boring answer but I'm looking at the roster and no-one's jumping out at me. When we see the shape Big Show's in and how he's moving around the ring, perhaps that'll change.
Sanchez:
Shaq. Need I say more? AEW have both Big Show and Shaquille O'Neal working for them this year, it needs to happen!
@FPL_Tips_FPL – Does WWE need Brock Lesnar, and what feuds would you want to see him in?
Liam:
I don't think "need" is the right word, because I don't think him being there would really add anything in a business sense. Having said that, I do think if he were to return it would instantly make things more interesting and the match would be a big deal. As for who it should be against, Lashley is the obvious one. Lashley is doing amazing work right now, looks amazing, and now is the time if they're ever going to pull the trigger. Keith Lee would be good depending on his injury situation. There are obviously a few other guys but those are the main two for me.
Sanchez:
WWE don't "need" Brock Lesnar. I think Roman Reigns fills the "unstoppable champion" role, but even better as he's not portrayed as invincible. When Brock Lesnar is on form, he's one of the best wrestlers on the planet… but the same could be said about most of WWE's roster.
@Zaids03 – What's the weirdest piece of news you've had to publish?
Liam:
I have the memory of a 241-year-old goldfish so I had to look back through everything I've written, and I got bored of doing that halfway through, but the one that stood out the most was Declan Donnelly (the funny one from Ant & Dec) finding out he and Dixie Carter are cousins. Randy Orton teaching his son how to twerk comes in second.
Sanchez:
I don't know about 'weird', but one of my favourites was about Batista being turned down by The Walking Dead. Batista wanted to be a zombie extra on the show, can you imagine a 290lb bodybuilding zombie? I guess he'd be able to put the "Beast Bite" to good use…
If you think of any questions you want us to answer next week, send them to @LiamFWinnard on Twitter or email liam@wrestletalk.com. We'll also post a reminder tweet from @WrestleTalk_TV next Sunday and get replies from there too.