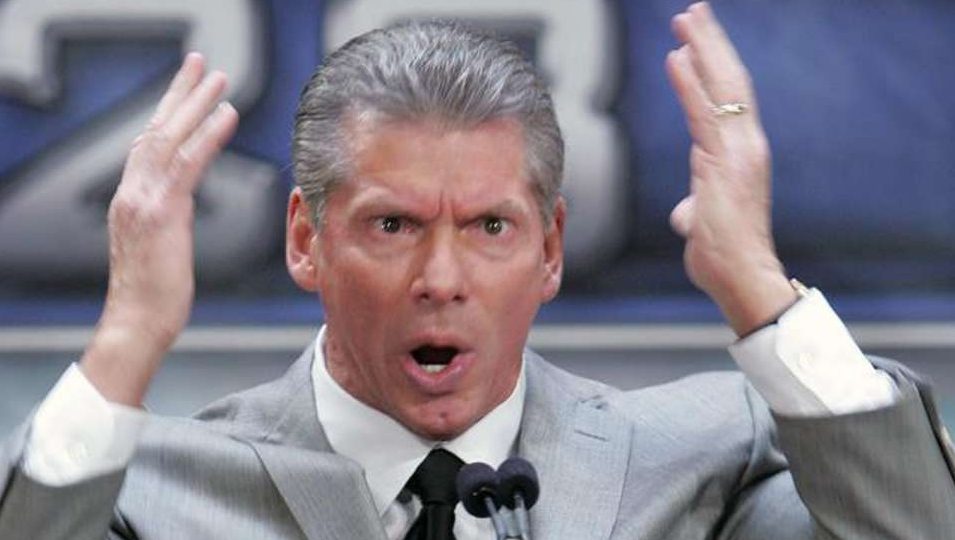 John Cena vs. Drew McIntyre
When WWE began the year, there were numerous plans for John Cena. The most talked about was his proposed feud with Lars Sullivan but that never made it to television due to Sullivan having an anxiety attack on the night of his planned debut.
It appeared that the backup plan was for Cena to face Drew McIntyre. They had one promo segment together where McIntyre told him that his time had passed and it is his time now, which led to Cena being "attacked" and taken out of the Royal Rumble. This looked like a set up for a WrestleMania match but Cena never returned from the attack. He made an appearance at WrestleMania but the feud with McIntyre never materialized.
---
Mandy Rose Sends Jimmy Uso Scandalous Pics
Mandy Rose decided to try and play home-wrecker in January by sending some saucy pictures to Jimmy Uso, husband of Naomi. This obviously cause friction between Rose and Naomi resulting in a hotel room brawl. The problem with the storyline was that Mandy Rose wrestles in gear more scandalous than the pictures she was sending. If you want something spicy, just you know… look at her.
---
EC3
One of the biggest missed opportunities in 2019 was WWE's handling of EC3. He was called up in January and promptly put in front of a mirror like a Lex Luger knockoff. He was put in two matches with Dean Ambrose, who the crowd saw as sympathetic due to his contract situation, and EC3 was dead in the water. His push and potential love story with Mandy Rose were both dropped and he was relegated to Main Event.
---
Brock Lesnar vs. Braun Strowman
Now this one bothers me. Braun Strowman beat Baron Corbin at TLC 2018 to earn a Universal Championship match at the Royal Rumble buuuuuuut that was never actually the plan. They booked Strowman to face Lesnar because WWE thought that match would sell tickets, even though they were never going to do that match.
Strowman was replaced by Finn Balor after Strowman was stripped of his title shot. Flagrant false advertising. This should not be legal.
---
Otis Loves Mandy Rose
"Pretty lady, pretty lady". Nothing like an odd couple relationship you aren't going to pay off. Otis showed up on the main roster and Mr.McMahon fell in love with the absurdity of the big man. Otis quickly began to play a character similar to Eugene in the mid-2000s and he developed an infatuation for Mandy Rose. Needless to say, it went nowhere.
---
Rey Mysterio vs. Andrade Rivalry
Rey Mysterio introduced the Canadian Destroyer to the WWE through his rivalry with Andrade. The two had electric chemistry together and they seemed set to build their feud to a match at WrestleMania 35.
They wrestled a handful of times on SmackDown early in the year, trading victories over one another. Unfortunately for all involved, they both moved on to different things, without ever even giving us a singles match on pay per view.
---
Sam Roberts Buries Bianca Belair
This may or may not have been a storyline at all. Sam Roberts took it upon himself to lash out against Bianca Belair at NXT Takeover: Phoenix. He said that Belair didn't deserve to be on Takeover and heavily criticized her ability. It felt very out of place and he got a lot of flack from viewers over hit intentions. It was dropped soon after without much of an explanation.
---
Rusev & Shinsuke Nakamura's Team
Rusev has had a turbulent 2019 to say the least. He started the year feuding with Shinsuke Nakamura over the United States Championship but the two began teaming after Rusev turned heel. The team was short lived and unsuccessful. Rusev walked out in April and the team was never to be spoken of again.
---
Nia Jax Wrestling Men
In one of the more bizarre moments in Royal Rumble history, R-Truth was attacked and replace in the match by Nia Jax. Jax held her own in the match, eventually falling victim to an RKO, but plans were set in motion for her to begin wrestling men. She was scheduled to have a match with Dean Ambrose but higher ups got involved and they dropped the idea. Jax left to get her knees surgically repaired and she has not yet returned.
---
Becky Lynch vs. The McMahons
In the build to WrestleMania, Becky Lynch faced adversity in the form of the McMahon family. They tried at every turn to keep her from the main event of WrestleMania despite her being the hottest star. Lynch ended up finding her way into the match but her issues with the McMahons were never addressed. It seemed like a match with Stephanie McMahon would have been on the table but Stephanie has not been seen on television in months.
---
Kevin Owens Family Vignettes
Kevin Owens is another who has had a weird year in WWE. He has turned babyface and heel three separate times and his return from injury was perplexing as well. For weeks, Owens appeared in videos where he was out with his family at the movies or bowling or whatever. He was being built up as a family man for his return but when Mr. McMahon brought him back to face Daniel Bryan at Fastlane they made no mention of the videos. They still have not been made light of.
---
#DIY Call-Ups
WWE hit the panic button in February this year when they decided to call up Ricochet, Aleister Black, Johnny Gargano and Tommaso Ciampa with no notice. The team of #DIY only wrestled two matches on the main roster. Gargano and Ciampa beat The Revival on Raw and Cesaro and Sheamus on SmackDown before an injury derailed Ciampa's momentum. Ciampa would need to take several months off to repair his neck but Gargano would simply return to NXT.
---
Ricochet & Aleister Black's Team
Ricochet and Aleister Black joined forces in NXT to win the 2019 Dusty Rhodes Tag Team Classic, leading to a match at NXT Takeover: New York against the War Raiders. The two began teaming on the main roster as well, challenging for the SmackDown Tag Team Championships at WrestleMania 35. The two seemed like a formidable team but WWE chose to drop their storyline as a team following WrestleMania. Since then, the two have not interacted with one another.
---
Mojo Rawley's Mirror Promos
Damien Demento circa 2019. Mojo Rawley's annual three week push came early this year as he began cutting promos into a mirror. He would say cryptic things and talk about how he hates the word "potential" and such. They never went anywhere and before long they were a thing of the past.
---
John Cena is R-Truth's Childhood Hero
When R-Truth won the United States Championship he began competing in Open Challenges so he could be more like "his childhood hero, John Cena". Being like John Cena is a noble cause for many. Lots of charity work, big house, seems cool, but there's one issue with Cena being R-Truth's childhood hero. R-Truth is five years older than Cena. Complicates matters a bit. R-Truth lost the title to Samoa Joe after a short reign and the storyline was dropped. A shame indeed.
---
The WWE Wildcard Rule
Maybe the most criticized storyline on this list, the Wildcard Rule was a disaster and should have been dropped sooner. In order to boost ratings on both shows, Mr. McMahon introduced the Wildcard Rule which would allow different stars from Raw and SmackDown to appear on their rival shows each week.
The problems with this were numerous. How many people could use the Wildcard Rule? Sometimes it was three, sometimes four, who really knew? It always seemed to be the biggest stars each week as well. Roman Reigns, Seth Rollins, Kofi Kingston and Daniel Bryan routinely made the jump to the other show. It confused people more than it helped matters and the stipulation slowly died before the Draft put its out of its misery for good in October.
---
Curt Hawkins & Zack Ryder's Redemption
Curt Hawkins' losing streak turned him into a pathetic underdog character early in 2019, which resulted in being reunited with his former partner Zack Ryder. The team of enhancement talents tried to redeem themselves together and actually managed to win the Raw Tag Team Championships at WrestleMania 35. After that, their story was completely dropped. They lost the titles back to the Revival in June and have been losers once again ever since. Not quite what I would call redemption but that's just me.
---
Shelton Benjamin Making Faces
Who remembered this? Honestly, this may have been the most forgettable non-storyline of the year. For a short period of time, Shelton Benjamin would make strange faces and look all over the place when he had an interview or a promo segment. This went absolutely nowhere but I am more curious as to what the idea was on paper for this at all.
---
Chad Gable Taking Notes
Similar to the last entry on this list, Chad Gable's short (heh) lived gimmick of being a note-taker did not go anywhere at all. He would appear in the background while other wrestlers were doing interviews quietly taking notes. Again, what was the plan here? Where was this going to go? We will never know but we can wonder.
---
Raw Authority Figures
Now I am not a proponent of having authority figures all the time, but I would still like an explanation as to where they went. The McMahon's gave a hoorah speech in 2018 saying that the fans were the authority (as if) but for a while Vince and Stephanie still ran Raw and Shane ran SmackDown.
Once the Wildcard Rule was announced, authority figures disappeared from Raw. The McMahons were nowhere to be seen and no one stepped up to fill the general manager role. Again, its not a necessity but an explanation would be nice.
---
Robert Roode's Repackaging(?)
For about two weeks, WWE liked to tell you that Robert Roode was different from Bobby Roode. It was basically a fancy way to tell us he was turning heel and getting a moustache. Besides that, his repackaging and subsequent push lasted about as long as his push following his call-up from NXT.
---
Daniel Bryan's Career-Altering Announcement
Daniel Bryan was supposed to make a career-altering announcement on an episode of SmackDown in July. He made his way onto the stage while the New Day was in the ring and chose not to say anything. Turns out the big announcement must just not have been all that important because we never got to find out what it was.
---
Ali's Push
Mustafa Ali had the rug pulled out from under him a few times in 2019. He was supposed to be in the Elimination Chamber match for the WWE Championship before a concussion kept him from participating. He was replaced by Kofi Kingston who ended up getting over more than anyone thought he would and Ali's push was put on the back burner. It is hard to place blame anywhere for this one as an injury really did happen and Kingston should have been pushed. Sometimes you just get the short end of the stick.
---
Ali's WWE Intercontinental Championship Match
The hits just keep coming as Ali managed to defeat Intercontinental Champion Shinsuke Nakamura on SmackDown in July. Rumours circulated that he would be receiving an Intercontinental Championship match at SummerSlam but the match never came about. In late September, Nakamura got his win back but by then the storyline had been dropped and promptly forgotten about.
---
Mike & Maria Kanellis Pregnancy
I bet Mike Kanellis would have liked to have known about this one when he re-signed with WWE. When Paul Heyman took over as the executive director of Raw we started getting things like this. Becky Lynch and Seth Rollins defeated Mike and Maria Kanellis, which was made worse when Maria revealed that she was pregnant and that Mike wasn't man enough to get her pregnant. The storyline belittled Mike for a long period of time but then it just stopped and he went back to working on 205Live.
People were led to believe that this would lead to a "who's the father" angle but it just never happened. I don't think there are many out there upset that this one was thrown in the bin.
---
Alexa Bliss Using Nikki Cross
Alexa Bliss needed help when she was challenging The Iiconics for the WWE Women's Tag Team Championships. She recruited resident oddball Nikki Cross to be her partner with the obvious storyline being she was using the gullible Cross for her own motives. They teamed for months and eventually won the tag titles but the actual storyline was dropped. They just became a team and not in a "growing closer and developing as a team" kind of way. More in a "there was a storyline going on here? oh well" kind of way.
---
Mandy Rose & Sonya Deville Lesbian Relationship
This one barely made it onto television but it counts in our books. WWE seemed keen on trying one of their rarely attempted and even more rarely successful homosexual storylines. Sonya Deville, a real-life out lesbian, and Mandy Rose shared a moment on SmackDown that could be described a tender and possibly more than what friends would do together. The idea was dropped backstage and they never shared another moment like it on screen.
---
Buddy Murphy Lied…but not really
The "whodunit" storyline surrounding the attacks on Roman Reigns was described as "botched so bad" that "explaining what it was supposed to be wouldn't make much sense at all". Buddy Murphy was the man who apparently saw the attack and told Roman Reigns that it was Rowan that did it. Later, when Daniel Bryan and Rowan interrogated Murphy, he said he was lying to Reigns…but he wasn't.
Rowan really did end up being the attacker so what was the point of this swerve? It seems like the writing team lost track of the point of the storyline and Murphy's throwaway line was just a thread not meant to be pulled.
---
Randy Orton & The Revival
One of the more promising looking stables in recent memory was The Revival and Randy Orton. The trio joined forces during Orton's feud with Kofi Kingston over the WWE Championship with the Revival neutralizing the New Day. The three men appeared to be a perfect fit. None of them are particularly flashy but are all great workers and they could have had a run as a slightly different version of Legacy. Orton at the helm and the up-and-coming tag team learning from him. It was not to be as once Orton's feud with Kingston subsided the trio stopped associating with each other.
---
Kofi Kingston as a WWE Main Eventer
This caught many fans by surprise and has led to a great deal of disappointment. Kofi Kingston's reign as WWE Champion came to an end when he was beaten by Brock Lesnar in a matter of seconds on SmackDown's debut on Fox. It seemed unlikely that Kingston would have much of a shot against Lesnar but putting up zero fight lowered him to a level well below main event status.
When asked about it in an interview, Kingston gave a happy-go-lucky response while crushing a pancake in his clenched fist. It was a great, subtle moment to show that he was not taking this well despite his words otherwise. However, it never went anywhere and Kingston returned to the tag division with Big E.
---
Seth Rollins Burns Down the Firefly Funhouse
If Seth Rollins wants to know why people were booing him as a babyface, well this is a good place to start. During his feud with Bray Wyatt, Rollins took it upon himself to find the set for the very populary Firefly Funhouse and burn it out. Much to the horror of Wyatt and the fans. The audience did not take this segment well, booing Rollins mercilessly for it.
The idea was that the Firefly Funhouse would not be taken to SmackDown in the draft but perhaps due to the outcry from the fans, Wyatt "rebuilt" the set the following week.
Which storyline do you wish WWE had finished? Let us know on Twitter or on Discord!