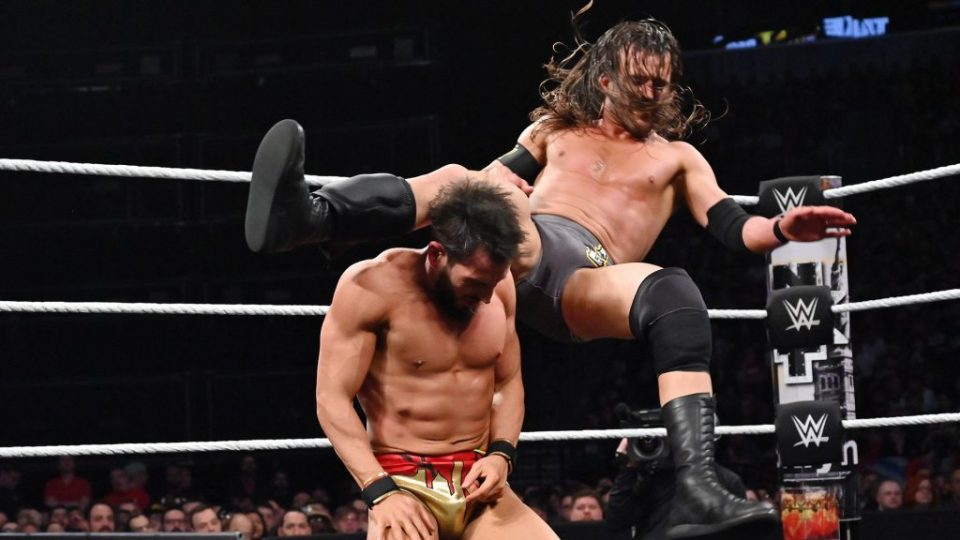 Hiroshi Tanahashi vs. Kenny Omega – Wrestle Kingdom 13 (January 4, 2019)
Star Rating: 5.75 stars
The year of 2019 began in tip top fashion with New Japan Pro Wrestling's climactic event, Wrestle Kingdom 13 on January 4th. The event drew a sellout of the Tokyo Dome, led by the main event of IWGP Heavyweight Champion Kenny Omega defending his bright and shiny title against Hiroshi Tanahashi.
This would be Omega's final appearance for New Japan before leaving to join his Elite brethren in the upstart All Elite Wrestling. As a match, it may have been 2019's best. The buildup had been centred around each man's philosophy of pro wrestling. Tanahashi proclaimed that Omega was all flash and little substance and that style could only take wrestling so far. This was all incorporated into the match as Tanahashi was forced to wrestle more of Omega's game if he wanted to defeat him.
In the end, Tanahashi pinned Omega with a High Fly Flow, capturing his eight IWGP Heavyweight Championship. The year was off to a hot start.
---
Kazuchika Okada vs. SANADA – New Japan Cup Final (March 24, 2019)
Star Rating: 5 stars
Kazuchika Okada went through a midlife crisis of sorts after he lost the IWGP Heavyweight Championship at Dominion 2018. He changed his gear, his entrance, his song, and his longtime partner Gedo ditched him for the younger Jay White. Don't you just hate when that happens? His ascent back to the top took time but eventually he found himself in the finals of the New Japan Cup against his rival SANADA.
The winner would receive an IWGP Heavyweight Championship match at Madison Square Garden. For Okada it was a return to form, for SANADA it was another failure to beat his rival. This year's New Japan Cup had plenty of fantastic matches but they saved the best for last. There were plenty of counters before Okada hit his patented Rainmaker, which finally kept SANADA down.
Okada was on his way back up and it didn't stop here.
---
Johnny Gargano vs. Adam Cole – NXT Takeover New York (April 5, 2019)
Star Rating: 5.5 stars
Bryan Alzarez has called Johnny Gargano "the American Okada", which is high praise considering the success Okada has seen in recent years. Gargano's track record at NXT Takeovers has been impeccable, but his Two Out of Three Falls match against Adam Cole at NXT Takeover New York was his best. It also stands as the highest rated match in WWE history.
After chasing the NXT Championship for nearly a year, Gargano finally captured the gold by defeating Cole two falls to one. Gargano had isolated himself from the rest of the NXT locker room and many fans soured on him following his attack on Aleister Black and his alignment with Tommaso Ciampa. When this match started, the NXT fans wanted Cole to get the "W". By the end, that had changed. Gargano valiantly fought off all four members of Undisputed Era and defeated Cole to the delight of the crowd.
---
Will Ospreay vs. Bandido – Best of the Super Juniors Day 8 (May 23, 2019)
Star Rating: 5 stars
This year's Best of the Super Juniors tournament may not have featured as much high-flying action as last year's, but the matches were better overall. This is the first time Will Ospreay's name has come up on this list but rest assured that it will not be the last. Ospreay staked his claim for Wrestler of the Year in the Best of the Super Juniors and his first 5 star match of the year was against Bandido.
Both men are incredibly talented, that goes without saying, and they put on the best match of the tournament up to that point. The Best of the Super Juniors works so well because of the melting pot of styles in New Japan and Bandido and Will Ospreay embody that perfectly. Ospreay continued his march to the finals by going right through Bandido. If you were unlucky enough to miss their match over WrestleMania weekend, this is everything they did and more.
---
Cody vs. Dustin Rhodes – Double or Nothing (May 25, 2019)
Star Rating: 5 stars
While the last match was filled with action and really cool moves, this match was filled with emotion. In All Elite Wrestling's first event, Cody and Dustin Rhodes wrestled the match they had wanted to have in WWE for years. While WWE put the kibosh on it time after time, such a thing would not happen in AEW.
What resulted was the most emotional match of 2019. Despite Cody working as a heel, he and Dustin shared a touching match and an even more emotional post-match. After Cody had gotten the win, he told Dustin that he had signed a tag team match against the Young Bucks. He said he didn't need a partner, he didn't need a friend, he needed his older brother. Fans wept as the brothers embraced and the match served as as good a tribute to their father Dusty as could possibly be imagined.
---
Adam Cole vs. Johnny Gargano – NXT Takeover XXV (June 1, 2019)
Star Rating: 5.25 stars
The sequel to their classic at NXT Takeover New York, Gargano and Cole produced another instant classic. Gargano's reign as NXT Champion was short-lived as Cole was able to simply outsmart Gargano and win the NXT Championship.
Near the climax of the match, Cole signalled to the back, seemingly beckoning to his Undisputed Era stablemates. Gargano immediately allowed himself to be distracted, which gave Cole the chance to capitalize. Cole hit the Last Shot to complete the second act of their story. To date, they are the only men in WWE history to have two matches against each other rated at least five stars. I think its safe to say they are pretty decent pro wrestlers.
---
Will Ospreay vs. Shingo Takagi – Best of the Super Juniors Final (June 5, 2019)
Star Rating: 5.75 stars
The Best of the Super Juniors was the story of two men. The two men who ended up in the finals, Will Ospreay and Shingo Takagi. Takagi had yet to be pinned or submitted since debuting in New Japan in October 2018, and went undefeated to reach the finals of the tournament. Ospreay on the other hand was having incredible performances and pushed himself to meet "The Dragon" on June 5th.
The match was a story of both men's strengths. Takagi was the largest man in the tournament and thus he was able to overpower most of the competitors. Meanwhile, Ospreay was perhaps the fastest participant. The match became Takagi's strength against Ospreay's speed. It had a legitimate sports feel and the match was easy to understand while still being incredibly smart. This was everything that pro wrestling should aspire to be as the crowd was losing their collective minds when Ospreay finally pinned Takagi's shoulders to the mat. This could win match of the year in many publications and it would absolutely deserve it.
---
Will Ospreay vs. Dragon Lee – Dominion (June 9, 2019)
Star Rating: 5 stars
Just four days after capturing the Best of the Super Juniors trophy, Will Ospreay defeated Dragon Lee to regain the IWGP Junior Heavyweight Championship. Dominion saw Ospreay reclaim his spot on top of the junior heavyweight mountain. This match was, in many ways, Ospreay's peak in 2019. It wasn't the best match he had, but his performance in the Best of the Super Juniors built to this.
Similar to his match with Bandido, Ospreay and Dragon Lee put on an incredible athletic display, only comparable to me getting out of bed in the morning. Ospreay proved that when he hits each of his finishing moves in a row, that is it for his opponents. A Hidden Blade, Super OsCutter, and Stormbreaker put Dragon Lee to sleep like me getting into bed at night.
Ospreay declared his participation in the G1 Climax after the match, leaving fans salivating at the thought of Ospreay facing guys like Okada and Ibushi.
---
Kota Ibushi vs. Will Ospreay – G1 Climax Day 5 (July 18, 2019)
Star Rating: 5 stars
Oh look at that, another Ospreay match. The frontrunner for Wrestler of the Year took on Kota Ibushi in a rematch of their Wrestle Kingdom 13 match. While Ospreay won their first match, this encounter had a different result. Ibushi started the G1 Climax 0-2 and needed a win desperately, his next chance was against Will Ospreay.
The pair had tremendous chemistry together and it showed as this match was even better than their fantastic Wrestle Kingdom bout. They were both dealing with injuries so the athleticism was not what it was before but the drama more than made up for it. Ospreay worked over Ibushi's ankle while Ibushi worked on Ospreay's neck. They teased going to a 30 minute draw but in the end Ibushi was able to hit the Kamigoye for his first G1 Climax win.
---
Jon Moxley vs. Tomohiro Ishii – G1 Climax Day 6 (July 19, 2019)
Star Rating: 5 stars
If anyone was looking to point fingers at Jon Moxley following his departure from WWE, this match put his naysayers to rest. Some fans had their doubts about Moxley as his WWE tenure had been looked at as a disappointment. In his first match against a great opponent, Moxley hit it out of the park.
Tomohiro Ishii was the perfect opponent for Moxley. He was tough, he was believable, and he could get the most out of his opponent. This was especially important as Moxley was still an unfamiliar face to the New Japan fans. The match they had was stiff and violent, and served as a perfect introduction to the "Death Rider". Moxley picked up a huge win in maybe the best match of his career and afterwards got on the mic and reminded the world that there isn't anyone who can tell him what he can't accomplish.
As a long-time fan, it nearly brought a tear to my eye. Just nearly though because I am a MAN and my tears are reserved for the end of Avengers Endgame.
---
Kazuchika Okada vs. Will Ospreay – G1 Climax Day 7 (July 20, 2019)
Star Rating: 5.75 stars
For my money (what little I have), these are the two very best wrestlers in the world today. They had wrestled one another before, but the gap between them had closed as they battled in the G1 Climax. To date, the IWGP Junior Heavyweight Champion has never defeated the IWGP Heavyweight Champion.
The match was about as good as you would expect from the world's best workers. As both are members of the Chaos faction, there was a distinct big brother vs. little brother vibe to this match. It was a competition as opposed to a fight and it resulted in an all-time classic match. It has to be watched to be believed, and Kazuchika Okada proved that he is the IWGP Heavyweight Champion for a reason as he pinned Ospreay with a Rainmaker. Maybe next time they clash Ospreay will have overtaken Okada. Maybe.
---
Bandido, Flamita & Rey Horus vs. Puma King, Black Taurus & Laredo Kid – PWG 16th Anniversary Show (July 26, 2019)
Star Rating: 5 stars
Pro Wrestling Guerrilla matches are harder to track down than anything else on this list, but in this case it is worth doing. The six-man tag team match pitting Bandido, Flamita and Rey Horus against Puma King, Black Taurus and Laredo Kid was described as the best PWG match since 2016 and one of the best American matches of the decade by big Dave Meltzer.
These six men are among the most talented luchadors in the world and Pro Wrestling Guerrilla is the best place in America to see this level of matches. If you want to see futuristic moves that you have likely never seen before, you will want to track this one down. Bandido, Flamita and Rey Horus managed to pick up the win when Bandido hit the 21 plex on Puma King. Definitely different but definitely amazing.
---
SANADA vs. Kazuchika Okada – G1 Climax Day 13 (August 3, 2019)
Star Rating: 5 stars
SANADA and Kazuchika Okada ended up wrestling four main event matches in 2019 but this match in the G1 Climax was their best. This illustrated one of the best qualities of the G1 Climax. Because the matches are not contested for a championship, it is always conceivable that the fans could witness an upset.
Kevin Kelly was pushing hard on commentary that if SANADA was once again unable to defeat his rival it should be time that the world reevaluate his potential. These were heavy words to throw out considering how talented SANADA is but it was warranted. Seemingly unsatisfied by anything other than a victory, SANADA pulled out all the stops to keep Okada down just 13 seconds away from a time-limit draw.
It was the best match they had due in large part to the fans knowing SANADA had a chance of winning. In their other three matches, while great, they lacked the same intrigue.
---
Tetsuya Naito vs. Shingo Takagi – G1 Climax Day 14 (August 4, 2019)
Star Rating: 5 stars
Tetsuya Naito had a difficult 2019 as he battled injuries but he managed to put on one of the year's best matches with his performance against fellow Los Ingobernables de Japon member, Shingo Takagi. While not outwardly stated, had Takagi gotten the win there would have undoubtedly been a shift in the balance of power within LIJ.
They made a big deal of Naito and Takagi's history as sparring partners prior to their days in New Japan. This led to Takagi being invited to join the group in October 2018. This was the first time Naito and Takagi had met on opposite sides of the ring and they did not disappoint. Takagi did all he could but he was having a difficult time adjusting to the heavyweight division and dropped this match as a result. Naito picked up a much needed win in his best performance of the year.
---
Shingo Takagi vs. Tomohiro Ishii – G1 Climax Day 16 (August 8, 2019)
Star Rating: 5.5 stars
Shingo Takagi finally had the chance to break out on a huge stage in 2019. He had spent the majority of his career in Dragon Gate before making the jump to New Japan in 2018. After having a blow-away performance in the Best of the Super Juniors, Takagi made the transition to the heavyweight division and announced his participation in the G1 Climax.
If you want to have an incredible match in 2019, look no further than Tomohiro Ishii. His no nonsense style seems to bring the best out of many wrestlers and Takagi was no exception. One of these years it may be Ishii's time to get a run on top but this was not the time. Takagi and Ishii had an amazing battle which resulted in one of Takagi's few wins in the tournament.
---
Kota Ibushi vs. Kazuchika Okada – G1 Climax Day 17 (August 10, 2019)
Star Rating: 5 stars
The G1 Climax A Block final was Kota Ibushi vs. Kazuchika Okada and it ended up being a preview of the Wrestle Kingdom 14 main event. After losing his first two matches in the tournament, Ibushi won each of his matches resulting in a winner takes all match with Okada. Similar to Ibushi's match against Kenny Omega in the 2018 G1 Climax, this was very clearly the preview of things to come.
Ibushi was able to take advantage of his momentum and take down the IWGP Heavyweight Champion en route to the G1 Climax final. It is difficult to explain how this match was able to be so good while still leaving so much for them to do in their rematch. It was as if they were working at a 9/10 pace but they are so good that they were still able to have one of the best matches of the year. This was really quite impressive if you think about it.
---
Kota Ibushi vs. Jay White – G1 Climax Final (August 12, 2019)
Star Rating: 5.5 stars
Throughout the year, there were a wide variety of different kinds of matches that got high ratings. There were emotional matches, high-flying matches, technical matches, but this match was a perfect babyface vs. heel match. At the conclusion of the G1 Climax, there was no better babyface than Kota Ibushi and there was no better heel than Jay White.
Ibushi had everything. He was a sympathetic character as his partner Kenny Omega had left him once again (we can all relate there, eh?), he was battling an injured ankle, and he came so close to winning the G1 Climax the year before. Jay White on the other hand was about as slimy as a heel could be. He was totally content with the Bullet Club doing his dirty work and his new spot of laying motionless on the mat so his opponent could not hit their finishing moves drew outstanding heat.
In the feel good finish of the year, Ibushi defeated the leader of the Bullet Club and won his first G1 Climax. It was one of the greatest tournament finals in history.
---
WALTER vs. Tyler Bate – NXT UK Takeover: Cardiff (August 31, 2019)
Star Rating: 5.25 stars
What a day to be a wrestling fan. August 31st was the only day in 2019 with multiple matches that were at least 5 stars. One took place in AEW, the other was in NXT UK.
If you want to see David vs. Goliath in wrestling, look no further than this match. WALTER and Tyler Bate put on the best match to date under the NXT UK umbrella at NXT UK Takeover: Cardiff. Sometimes the best stories in wrestling are the ones that are easiest to tell. WALTER was simply too big for Bate to take down. Bate tried, he tried real hard, but it proved to be an impossible task on this night. It will be difficult to find a more perfect wrestler to perform opposite of WALTER as Bate is everything that he isn't.
Here's hoping that we can see a rematch between them in the near future.
---
Pentagon Jr. & Rey Fenix vs. Matt Jackson & Nick Jackson – ALL OUT (August 31, 2019)
Star Rating: 5.25 stars)
The only Ladder Match on this list, the Lucha Bros. battled the Young Bucks in one of the most death-defying matches of the decade. It was a bit spotty at points but there was a consistent story of both teams prioritizing attacking their opponents than saving their partners.
The highlight that will be shown in AEW packages for years was when Pentagon Jr. hit a Canadian Destroyer from the top of a ladder through a table on Matt Jackson. It looked incredible and it capped off an equally incredible match. If you want insane action, this is the match you can find it this year. It stands as the highest rated match in AEW's short history at 5.25 stars as well as being the highest rated Ladder Match ever.
If that isn't enough to get you to check it out, I don't know what is.
---
Bandido def. Dragon Lee – PWG Battle of Los Angeles (September 22, 2019)
Star Rating: 5 stars
We end our list with one most fans likely have not had a chance to see. As mentioned earlier, PWG matches are often among the more difficult matches to find in wrestling but in cases like this the effort must be made. Dave Meltzer himself called it the best singles match he has ever seen from PWG. Just think of the ground that covers.
Bandido and Dragon Lee have similar styles as both work lucha libre, but this match did not allow itself to be put into a box. They did everything in this match, which is surprising considering it was only 12 minutes in length. Going through move by move in any PWG match is a difficult task but for one as good as this it is near impossible. It was non-stop action and it resulted in Bandido getting the big win over Dragon Lee with a Canadian Destroyer, a 21 plex and a German suplex.
This was a fantastic match and if this is the final 5 star match we get in 2019, this is a hell of a way to cap off the year.
What was your favourite match of 2019? Let us know on Twitter or on Discord!