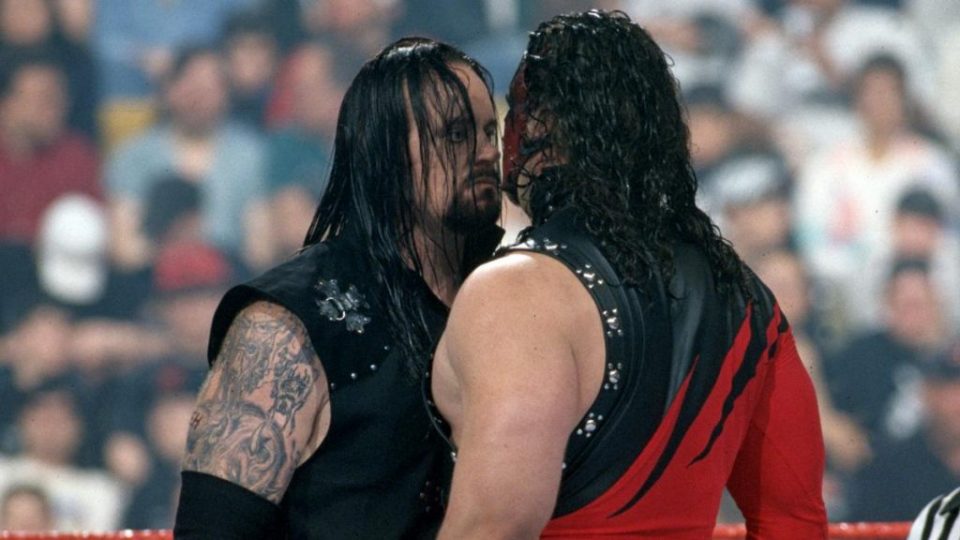 There is no wrestler more closely associated with WrestleMania than The Undertaker. Since his WWE debut in 1990, 'The Deadman' has made WrestleMania his yard. He won an unfathomable 21 WrestleMania matches in a row, a feat that came to be known simply as The Streak.
With such a long and impressive career, Undertaker has had a total of 26 WrestleMania matches. While we wait to see AJ Styles take on 'The Phenom' at WrestleMania, we will look back at Undertaker's matches ranking every one of them. So here is our list of every Undertaker WrestleMania match ranked from worst to best. If you disagree with any of our choices let us know any way you like. Carrier pigeon perhaps.
---
26. The Undertaker vs. Giant Gonzales – WrestleMania IX
There was nothing to Giant Gonzales besides his height. The man stood a legit 7'7 and was a former basketball player in his native Argentina. While he had the look, wrestling was simply not for him.
This was by far the worst match in the WrestleMania career of The Undertaker. There was nothing that could be done with Gonzales as he was not mobile enough to have anything resembling a fight. Taker won the match by disqualification after Gonzales used a chloroform soaked rag to put him down. Just a mess on maybe the worst WrestleMania ever.
---
25. The Undertaker vs. Big Bossman – WrestleMania XV
The first Hell in a Cell match and a match that is best forgotten by everyone who has seen it. This match was so bad that it was the only Hell in a Cell match left off the Hell in a Cell Anthology DVD when it was released in 2008.
Taker and Bossman had one of the slowest and least interesting Cell matches in history. This was made worse by the fact that this was one of the only WrestleManias that featured Undertaker's heel persona. Giving the fans in attendance even less to be excited about. The most notable thing about this match happened after it ended as Undertaker's minions lowered a noose into the ring and hung the Big Bossman.
Yup. Bossman was nearly murdered in the middle of the show, with no explanation. Moving on.
---
24. The Undertaker vs. King Kong Bundy – WrestleMania XI
If you thought King Kong Bundy wasn't very good when he wrestled Hulk Hogan at WrestleMania 2 you would be shocked to learn that he did not get better in the nine years that followed.
King Kong Bundy was Undertaker's opponent come WrestleMania XI. Despite his lack of ability and increased age, the match went ahead anyway. It was very bad. Taker was engaged in a feud with Ted Dibiase, which was centered around the famous urn. Dibiase had gotten his hands on the urn and was enlisting men to try and dispatch Undertaker. This was another slow, lumbering match that dragged down another poor WrestleMania.
---
23. The Undertaker vs. Sid – WrestleMania 13
Wrestling Sid does not look good, to begin with, however, having to follow Bret Hart vs. Steve Austin made it much tougher.
This was a bizarre match as there was constant interference from Bret Hart and Shawn Michaels was on commentary. Despite this being the main event of the show, the match was not very good. Undertaker had the poor luck of being paired with mostly monsters and giants during his first decade of WrestleMania matches and it cost him dearly as a result.
---
22. The Undertaker vs. Shane McMahon – WrestleMania 32
Some matches on this list will lose points for being too short, however, this is not one of them. This match went 30 agonizing minutes and was nonsensical in execution.
This was a Hell in a Cell match where the fans were supposed to believe that the legendary Undertaker could not easily put away a 46-year-old soccer dad. There was nothing believable or interesting in the match until McMahon scaled the Cell to drop 20 feet through the announce table with a missed elbow drop. It was a crazy moment, however, it was not enough to make up for the rest of the match.
---
21. The Undertaker vs. Jimmy Snuka – WrestleMania VII
Undertaker's WrestleMania debut was simply a squash match. It was dominant for sure but it is impossible to call anything so short a good match.
Jimmy Snuka was well passed his prime in 1991, however, he was brought back to give the rub to the newly debuted Undertaker. The match lasted just over four minutes and there really was not much to it. Taker got a dominant win in his 'Mania debut and that was that.