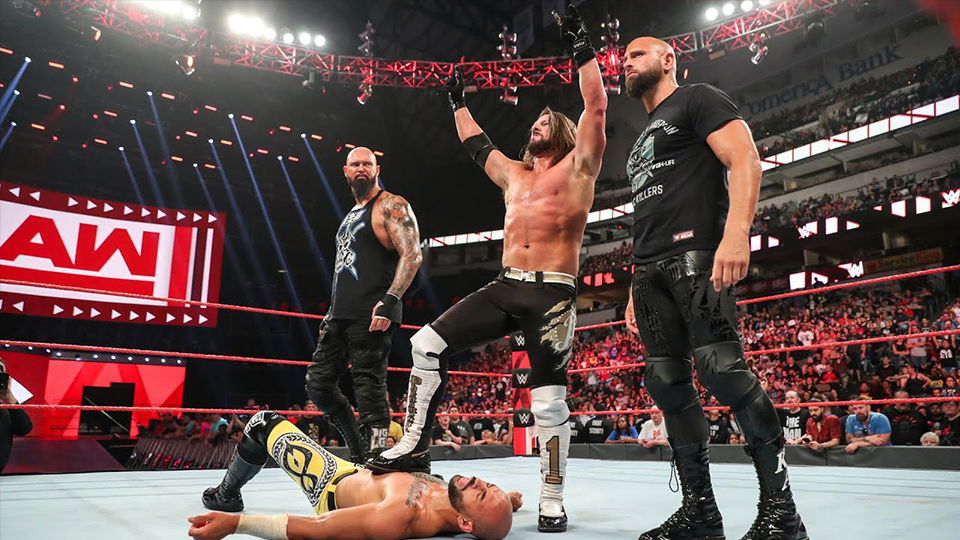 Bianca Belair – Face Turn (January 16, 2019)
Bianca Belair emerged as one the wrestlers with the biggest upside in NXT this year. She turned babyface in January to set up her feud with NXT Women's Champion Shayna Baszler. Baszler defeated Belair at NXT Takeover: Phoenix and Belair spent the following months claiming she was still undefeated. Not what I would call a babyface tactic but what do I know?
---
Curt Hawkins – Face Turn (January 21, 2019)
Corny career loser Curt Hawkins' losing streak storyline ultimately turned him babyface in January. He became more of an underdog than a heel jobber and the turn culminated with a reunion with former partner Zack Ryder. The two won the Raw Tag Team Championships from the Revival at WrestleMania 35, ending Hawkins losing streak.
---
Elias – Heel Turn (January 27, 2019)
No explanation for this one. Elias just went back to his old ways of insulting the crowd when he began the Royal Rumble at number one. He doubled down by attacking "Double J" Jeff Jarrett with his guitar in the match and continued from there.
---
Dolph Ziggler – Face Turn (January 27, 2019)
The Royal Rumble is a place where multiple turns can happen in one night. Such a thing occurred when Dolph Ziggler took it upon himself to eliminate his former tag team partner Drew McIntyre. The turn did not go anywhere as the next time we saw Ziggler he was a heel attacking Kofi Kingston on SmackDown in late May.
---
Rusev & Lana – Heel Turn (January 29, 2019)
WWE has never seemed to have much of an idea of what to do with Rusev since his loss to John Cena at WrestleMania 31. This was further illustrated by his and Lana's heel turns when they attacked R-Truth at the end of January. He followed this up by creating a makeshift team with former rival Shinsuke Nakamura before taking time off during the Summer and returning as a face.
---
Dana Brooke – Heel Turn (February 4, 2019)
The WWE women's division has it hard when it comes to consistency with their characters. One week they will be working as a face and the next week they are a heel because they needed another woman on the heel side. Such a thing happened to Dana Brooke when she attacked Natalya, turning heel in February. The turn would not last long.
---
Nikki Cross – Heel Turn (February 4, 2019)
See above for the reasoning behind this turn. Nikki Cross turned heel by teaming with fellow heel Alicia Fox, inexplicably and without explanation. Ugh.
---
Dean Ambrose – Face Turn (February 11, 2019)
To say Dean Ambrose's run as a heel was a failure would be a huge understatement. If you have heard his interview on Chris Jericho's podcast you know that Omaha Steaks are a great gift for Father's Day and that this period in Ambrose's career reaffirmed his desire to leave WWE. He turned face by offering support to Seth Rollins with whom he has had a complicated relationship. Ambrose remained a face until his departure from WWE at the end of April.
---
EC3 – Heel Turn (February 11, 2019)
Regardless of if it was the plan or not, the crowd decided that EC3 was not going to be cheered when he faced Dean Ambrose on February 11. The fans knew that Ambrose was leaving the company and they saw through the attempt to bury him on the way out. EC3 got the short end of the stick and with it being just his third match on the main roster, it essentially killed his chances of a good first impression.
---
Batista – Heel Turn (February 25, 2019)
There are many ways to turn heel in wrestling, but leaving Ric Flair bloodied and beaten on his birthday is a hell of a way to do it. Batista returned to WWE and issued a challenge to Triple H for WrestleMania 35. Batista lost the match and retired in the process, one month before he was snapped back into existence in Avengers Endgame. What a life he leads.
---
Kevin Owens – Face Turn (February 26, 2019)
Kevin Owens has had a weird year to say the least. He began his year by returning to SmackDown as the heel Mr. McMahon's pick to face heel champion Daniel Bryan… but he was a babyface. He had done videos showing him as a family man prior to his return, although they seemed unrelated to his new character. He and Mustafa Ali faced Bryan in a triple threat match for the WWE Championship at Fastlane, but Bryan managed to retain.
---
Bobby Roode & Chad Gable – Heel Turn (March 4, 2o19)
Talk about one I forgot happened. Bobby Roode and Chad Gable's team turned heel by attacking The Revival and Ricochet and Aleister Black during a Raw Tag Team Championship match on Raw. Roode and Gable were upset that they had not gotten their rematch for the titles yet and they took it out on the other teams. Shame.
---
Ronda Rousey – Heel Turn (March 4, 2019)
Ronda Rousey had always been an interesting figure in WWE. She wowed some fans with her ability to excel at pro wrestling with very little training, while other fans were mad that she was receiving such a big push. Regardless of what you thought of her, Rousey decided she had enough of the cheers on March 4, brutally attacking Becky Lynch ahead of their triple threat match at WrestleMania 35.
Rousey made light of wrestling less than legitimate nature (WHAT?), which rubbed some fans in a very wrong way. Lynch would get the win at WrestleMania, marking Rousey's last appearance in WWE to date.
---
Shane McMahon – Heel Turn (March 10, 2019)
Shane O'Mac decided he had enough of his partnership with The Miz following their loss at FastLane. He attacked his former partner as well as The Miz's dad. Their feud climax with a Falls Count Anywhere match at WrestleMania 35, which was won by Shane. Shane would remain a heel on SmackDown until being fired by Kevin Owens in October.
---
Noam Dar – Heel Turn (March 13, 2019)
Noam Dar has floated around the WWE roster since 2016. His role in the cruiserweight division had never been quite defined but he began his run in NXT UK by turning heel. He intimidated backstage interviewers and began working as the heel in his matches. He still has not done a considerable amount since then but oh well.
---
Johnny Gargano – Face Turn (March 13, 2019)
Johnny Gargano's story has taken many turns over the last two years. His rivalry with Tommaso Ciampa was one of the best pieces of WWE programming ever and unfortunately it never reached its climax. On March 13, Gargano turned face once again by attacking Ciampa, revealing his true hatred of his former partner and rival. Their match at NXT Takeover: New York never took place due to Ciampa being sidelined with neck surgery but Gargano would win the NXT Championship at the event by beating Adam Cole.
---
Tony Nese – Face Turn (March 20, 2019)
The man who would count his muscles found something better to do when he turned face to feud with then heel Buddy Murphy. Tony Nese would defeat Murphy at WrestleMania 35 to win the Cruiserweight Championship, a title he would hold until losing it to Drew Gulak at Stomping Grounds.
---
Tommaso Ciampa – Face Turn (April 5, 2019)
One of the best heels in the business turned face once again. I guess suffering a near career-ending neck injury will make you a sympathetic character. Ciampa arrived on the stage at NXT Takeover: New York to congratulate his friend and rival Johnny Gargano on winning the NXT Championship.
---
Jack Gallagher – Face Turn (April 9, 2019)
After a lengthy run as a 205Live heel, Jack Gallagher turned face in his match against Humberto Carrillo on April 9. The wacky Englishman ditched his sour demeanour in favour of his more fun and colourful personality.
---
Ivar & Erik – Heel Turn (April 15, 2019)
Perhaps forgotten because of the hate storm surrounding the debut of "The Viking Experience", was the fact that the former NXT Tag Team Champions debuted as heels. The fans hated the team's new names as Hanson and Rowe, the War Raiders certainly sounded cooler than Erik and Ivar, the Viking Experience. The debut saw Erik and Ivar team with The Revival to take on Zack Ryder, Curt Hawkins, Ricochet and Aleister Black.
---
WALTER – Heel Turn (April 19, 2019)
After the initial excitement of WALTER's debut had worn off, it was time for him to show his true colours. The brutish Austrian attacked fan favourites Tyler Bate and Trent Seven, firmly cementing him as the top heel of NXT UK. The formation of Imperium soon followed and WALTER has been on top ever since.
---
Chad Gable – Face Turn (April 23, 2019)
Chad Gable's run as a heel with Bobby Roode did not last long. He returned to his babyface ways when he worked as a face against Jinder Mahal on April 23. For better or worse, Gable has been a featured performer since then, recently being given the monicker Shorty G.
---
Kevin Owens – Heel Turn (April 23, 2019)
Remember how I said this was a weird year for Kevin Owens? Here is exhibit B. After Kofi Kingston won the WWE Championship at WrestleMania 35, he needed a challenger. Interestingly enough, that challenger was Kevin Owens. After a very short lived partnership with the New Day, Owens attacked the group and challenged Kingston for the WWE Championship. He was not successful.
---
Karl Anderson & Luke Gallows – Heel Turn (April 29, 2019)
The obligatory yearly attempt to make a Bullet Club reunion stable began with Gallows and Anderson turning heel on April 29. Sort of. They played the heels in a match against the Usos but this is one of the shortest runs as a heel or a face in 2019. More on this shortly.
---
Curtis Axel & Bo Dallas – Heel Turn (April 30, 2019)
The B-Team came together to work as heels against Roman Reigns in a handicap match on SmackDown. The team has never been one to receive a major push and this was really just an immediate need for Reigns' opponents.
---
Mansoor – Both(?) (May 1, 2019)
In their infinite wisdom, WWE had Mansoor perform as a heel on NXT UK and as a babyface on NXT. On the same day. Does not compute. Next please.
---
Karl Anderson & Luke Gallows – Face Turn (May 6, 2019)
Hey, would you look at that, we're back. Karl Anderson and Luke Gallows turned babyface just one week after their heel turn. This was interesting considering their realignment with AJ Styles, which saw Styles questioning whether Gallows and Anderson had lost their edge. We will conclude this chapter shortly.
---
Noam Dar – Face Turn (May 7, 2019)
Noam Dar seems to be in a similar position as many of the women and lower level talent in that he is a heel or a face depending on what the show needs at the time. He turned face on May 7 by working against heel Ariya Daivari.
---
Dolph Ziggler – Heel Turn (May 21, 2019)
Dolph Ziggler returned to SmackDown to attack WWE Champion Kofi Kingston. He turned heel in the process, after having turned babyface in the Royal Rumble match. Ziggler would claim that he should have been the one to become WWE Champion at WrestleMania instead of Kingston. They had a brief feud over the title which saw Kingston defeat Ziggler at Super Showdown and Stomping Grounds.
---
Cody – Heel Turn…then Face Turn (May 25, 2019)
Turns are harder to quantify in AEW as the roles of the wrestlers are more fluid than in WWE. However, it was clear that Cody was one of the biggest babyface figures upon the launch of AEW. This made it perplexing that he worked as a heel in his match against his brother Dustin Rhodes. Following his win over Dustin, Cody then turned back into a babyface, cutting an emotional promo ending in an embrace between the two brothers. Since then, Cody has been a babyface through and through.
---
Io Shirai – Heel Turn (June 12, 2019)
One of the most important turns of the year, Io Shirai's frustrations with being unable to defeat Shayna Baszler boiled over. She attacked her ally Candice LeRae after she lost to Baszler in a Steel Cage match. Shirai attacked LeRae with weapons, resulting in a blowoff match at NXT Takeover: Toronto, which Shirai won.
---
Shawn Spears – Heel Turn (June 29, 2019)
The "Let's try and make Shawn Spears into a star" project kicked off at AEW Fyter Fest when he turned on longtime friend Cody, hitting him in the head with a chair. Spears would later claim that he made the attack due to Cody calling him a "great hand" on an episode of Road to… with the insinuation that he can have a good match but he is not star material. Cody would defeat Spears at ALL OUT, ending their storyline.
---
AJ Styles, Karl Anderson & Luke Gallows – Heel Turn (July 1, 2019)
Oh wow, long time no see. Here we are at a Gallows and Anderson turn, this time accompanied by AJ Styles. Styles had lost his United States Championship to Ricochet and needless to say he was not happy. The trio reformed as a heel unit and feuded with a series of small individuals over the coming months. Ricochet, Cedric Alexander and Humberto Carillo all fell to Styles and The OC.
---
Kevin Owens – Face Turn (July 2, 2019)
Ladies and gentlemen I present to you exhibit C. Kevin Owens turned for the third and final time on July 2, attacking heel Dolph Ziggler. Owens would remain a babyface for the rest of the year, entering into a long storyline where he was fighting the system led by Shane McMahon. Case closed.
---
Brandi Rhodes – Heel Turn (July 13, 2019)
Brandi Rhodes poured her heart out in a video segment on Road to Fight for the Fallen. She described her attitude growing up of never being good enough and having to prove things to herself and those around her. This made it all the more odd when she worked as a total heel against Allie at Fight for the Fallen. She won the match with the help of Awesome Kong but the story did not fit.
---
Bray Wyatt – Heel Turn (July 15, 2019)
Bray Wyatt's return to WWE in 2019 resulted in one of the most unique characters in recent memory. The Firefly Funhouse segments built up Wyatt's new character and on July 15 "The Fiend" debuted by attacking Finn Balor. Balor was a babyface at the time, which set up the Fiend character as a heel. Wyatt would defeat Balor in a squash match at SummerSlam.
---
Liv Morgan – Face Turn (July 16, 2019)
Liv Morgan turned face  by working against then-heel Charlotte Flair on SmackDown. Nothing of note has come from Morgan's change in personality, although some fans are still clamouring to see her utilized in a more important position.
---
Sasha Banks – Heel Turn (August 12, 2019)
After a lengthy holdout from Sasha Banks, "The Boss" returned to WWE the night after SummerSlam and turned heel in the process. She attacked Becky Lynch and Canadian Natalya, setting her up for a big title match against Becky Lynch inside Hell in a Cell. She did not win, but the match was top notch.
---
Jack Evans & Angelico – Heel Turn (August 31, 2019)
Jack Evans and Angelico did not see much success in their first few months in AEW. The lost all of their matches and their frustrations came to a head when they lost to Private Party at the ALL OUT Buy In. They turned heel after the match and attacked their opponents to a chorus of boos from the Chicago crowd.
---
Bayley – Heel Turn (September 2, 2019)
The long-rumoured Bayley heel turn finally happened when she attacked Becky Lynch with a chair. She rejoined her tag team partner Sasha Banks as a heel team with Banks chasing the Raw Women's Championship and Bayley holding the SmackDown Women's Championship. Bayley also destroyed the Bayley Buddies so there's really no going back now.
---
Charlotte Flair – Face Turn (September 3, 2019)
Charlotte's many many turns continued when she turned face as a result of being attacked by Banks and Bayley. This face turn has resulted in a SmackDown Women's Championship match against Bayley at Clash of Champions. Charlotte was unsuccessful but has entered into a feud with the Kabuki Warriors over the Women's Tag Team Championships with Becky Lynch as her partner.
---
Tony Nese – Heel Turn (September 3, 2o19)
The little personality that Tony Nese had must have worn off as he turned heel for a match against babyface Mike Kanellis. Another example of WWE turning people for the sake of needing to fill a slot, regardless of it making sense.
---
Viking Raiders – Face Turn (September 9, 2019)
Now named the Viking Raiders, Erik and Ivar turned face once again to save Cedric Alexander from an attack from The OC. This was likely for the better as the Viking Raiders are more of an exciting and impressive big-man team than a slow, lumbering heel team. They won the Raw Tag Team Championships soon after by beating Robert Roode and Dolph Ziggler.
---
The Brian Kendrick – Heel Turn (September 17, 2019)
For all the people still watching 205Live, they got to see The Brian Kendrick turn heel by attacking Akira Tozawa and his former partner Jack Gallagher. He took a kendo stick and attacked Gallagher with it before turning his attention to Tozawa.
---
Lio Rush – Face Turn (September 18, 2019)
Lio Rush's tenure in WWE has been rocky to say the least. He has been outspoken on a number of things, which has gotten him into trouble. This seemed to have little effect on him when he returned to NXT to challenge Drew Gulak for the Cruiserweight Championship. Rush was presented as a babyface and won the championship for the first time soon after.
---
Daniel Bryan – Face Turn (September 24, 2019)
Daniel Bryan's return to wrestling was a huge missed opportunity from WWE. They could have gotten behind him as one of the biggest stars on their roster but waited until he was a heel to push him. Almost a year later, Bryan parted ways with Rowan and teamed with Roman Reigns against his former partner. His current storyline has been that the fans are clamouring for Bryan to return to his "Yes Movement" ways, although an attack from Bray Wyatt has left his status uncertain.
---
Rusev – Face Turn (September 30, 2019)
As mentioned earlier, Rusev did not have much to do in 2019. Rumours circulated that he was attempting to leave WWE over the Summer but he returned and turned face by saving Seth Rollins. His face turn was coupled with him joining Team Hogan for a 5 vs. 5 match at Crown Jewel. Of course the biggest development has been his storyline with Lana leaving him for Bobby Lashley but let's not get into that right now.
---
Alexa Bliss & Nikki Cross – Face Turn (October 6, 2019)
This is a bizarre one. For seemingly no reason, the Bliss & Cross vs. Kabuki Warriors match for the Women's Tag Team Championships featured a double turn. Bliss and Cross worked as the babyfaces while Asuka and Kairi Sane worked as the heels. No explanation was given and both teams have continued in the new roles since.
---
Asuka & Kairi Sane – Heel Turn (October 6, 2019)
See above.
---
Pentagon Jr. & Rey Fenix – Heel Turn (October 16, 2019)
The Lucha Bros had ongoing heat with SoCal Uncensored going into the AEW Tag Team Championship tournament. They had wrestled over the Summer and they had gotten into an altercation the previous week on Dynamite. During SCU's entrance, they were jumped by the Lucha Bros who turned heel. Pentagon piledrived Christopher Daniels on the ramp, sidelining him for weeks. SCU would defeat the Lucha Bros in the tournament final.
---
Finn Balor – Heel Turn (October 23, 2019)
"The Prince is back". That was the explanation Finn Balor gave after turning heel on NXT. Balor turned on Johnny Gargano during a standoff with Undisputed Era, which was supposed to lead to a match between the two at NXT Takeover: WarGames. Gargano's injury kept him out of the match and instead Balor defeated Matt Riddle.
---
Kip Sabian – Heel Turn (October 29, 2019)
Kip Sabien turned heel on an episode of AEW Dark when he cut a promo asking why he has the best record of anyone in AEW not yet seen on Dynamite. He vented his frustrations that he is being under-utilized and let people know he was teaming with heels Angelico and Jack Evans to face the Young Bucks and Kenny Omega the following week.
---
Rhea Ripley – Face Turn (October 30, 2019)
The NXT Women's division needed a spark after Shayna Baszler ran through the likes of Mia Yim, Io Shirai and Bianca Belair. That spark came in the form of Rhea Ripley. Ripley made the jump to NXT in the Fall and she turned face on October 30 by saving Candice LeRae from an Io Shirai beatdown.
---
Penelope Ford – Heel Turn (November 9, 2019)
The former girlfriend of Joey Janela found herself a new man in real life and on screen as Penelope Ford turned heel and linked with real life boyfriend Kip Sabian. The pair have made appearances together since Full Gear, with the most notable being when they shared a kiss during the Dynamite Dozen Battle Royal.
---
MJF – Heel Turn(?) (November 9, 2019)
"Hey Siri, is it possible for a heel to turn heel again?". Despite already being perhaps the best heel in wrestling, MJF doubled down by costing his best friend Cody the AEW World Championship at Full Gear. MJF threw in the towel for Cody while he was trapped in the Lion Tamer and kicked him in the balls afterwards for good measure.
---
Dominik Dijakovic – Face Turn (November 13, 2019)
As the build ramped up towards NXT Takeover: WarGames, alliances had to be formed. One of which saw Dominik Dijakovic turn face to assist Tommaso Ciampa, Keith Lee and Matt Riddle fend off Undisputed Era. Dijakovic would join their team and help them win the WarGames match at the event.
---
Dakota Kai – Heel Turn (November 23, 2019)
You would think eventually Tegan Nox could catch a break. Dakota Kai, frustrated with being looked at as the weakest link of the NXT women's roster, finally snapped and took her anger out on WarGames teammate Tegan Nox. Kai attacked Nox in her holding cell and left her team at a distinct disadvantage as she walked out.
---
Randy Orton – Face Turn (November 25, 2019)
Its hard for Randy Orton to get booed by the crowd these days. He has been around for so long that he is venturing into the legend category where it is very hard for crowds to hate him even when he is a heel. Therefore it may have been for the best when he turned face and helped Rey Mysterio win the United States Championship from AJ Styles on Raw.
---
Seth Rollins – Heel Turn (November 25, 2019)
Seth Rollins had one of the worst years in wrestling history if you only count his social media presence. Rollins consistently put his foot in his mouth on Twitter and couple that with particularly bad booking since winning the WWE Universal Championship and you had a very bad relationship with the crowd. He came out on Raw and placed the blame on everyone but himself for Raw's poor performance at Survivor Series. Needless to say, that was not taken well.
---
Allie – Heel Turn (November 28, 2019)
Talk about a swing and a miss. After Cody quickly defeated a jobber, he was attacked by two relatively unknown men. Excalibur identified them as The Butcher and The Blade but the live crowd did not know who they were. Soon after, Allie emerged dressed as The Bunny to lead her men through the beatdown. It did not work in the building or on television but we will have to wait and see what the long term plans are for the new trio.
---
Lacey Evans – Face Turn (November 29, 2019)
The latest attempt to push Lacey Evans came on November 29, 2019 when she turned face. She cut a promo on Sasha Banks and Bayley before knocking out former. She appears to be next in line to challenge Bayley for the SmackDown Women's Championship but it remains to be seen whether or not she will get over in her new role.
---
Elias – Face Turn (November 29, 2019)
As the year began with a turn for Elias, it ended with one as well. Elias returned in a segment where he interrupted Drake Maverick's attempt to commit adultery with Dana Brooke. He turned face by singing a song about Maverick's debauchery and has followed up his performance by spanking Maverick on live television. Lovely behaviour.
What was your favourite face/heel turn of 2019? Let us know on Twitter or on Discord!