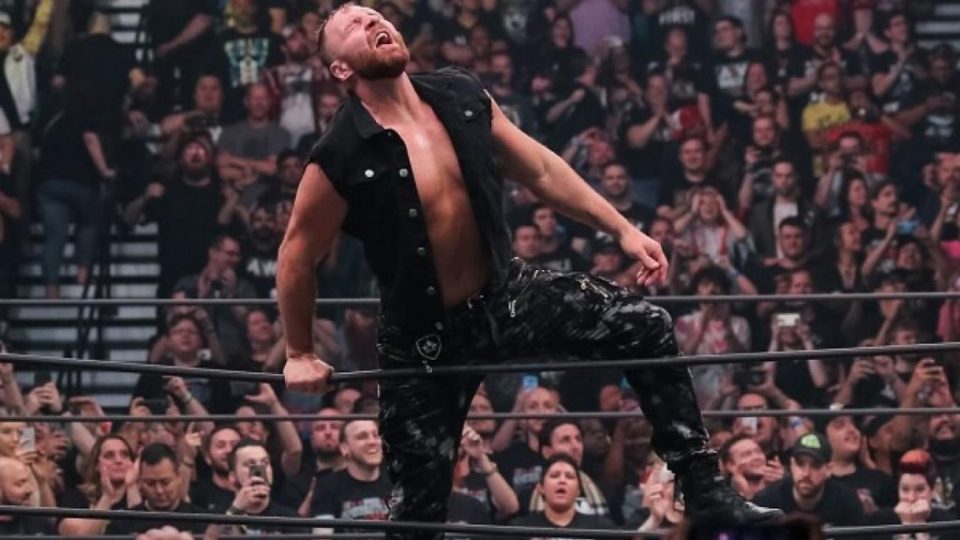 Hideo Itami (February 22, 2019)
Hideo Itami never quite got going in WWE. His run in NXT was repeatedly derailed because of injuries and when he was finally called up to the main roster he was quickly moved to 205Live. Needless to say he was not a satisfied customer. He requested his release from WWE in February and it was granted to him.
Following his departure, Itami resumed his former name, KENTA. He surprised the wrestling world by joining New Japan Pro Wrestling at Dominion in June, announcing his participation in the G1 Climax. KENTA finished in a seven-way tie for third place with eight points. On the final day of competition, he turned heel and joined Bullet Club. He beat down on Tomohiro Ishii and Katsuyori Shibata alongside his new stablemates. Since then he has defeated Ishii for the NEVER Openweight Championship. He still holds the title.
---
Tye Dillinger (February 22, 2019)
It was unfortunate that Tye Dillinger did not work out on the main roster. His Perfect 10 character got over big in NXT but it was reported that Vince McMahon hated the chant and thus Dillinger was buried. After two year on the main roster, Dillinger asked for his release and it was granted.
Dillinger, now known as Shawn Spears, was revealed as a participant in AEW's Casino Battle Royal at Double or Nothing. He signed his contract with the company and turned heel soon after, hitting Cody in the head with a chair. Spears then formed a partnership with the legendary Tully Blanchard and the two are still associated today.
---
Arn Anderson (February 22, 2019)
While not an active member of the WWE roster, Arn Anderson was fired from his role as a producer. The firing stemmed from an incident at a WWE live event where Anderson allowed Alicia Fox to wrestle while intoxicated.
Since his release, Anderson's only major appearance came at AEW's ALL OUT pay per view. He came to the ring to hit Shawn Spears with a Spinebuster in his match against Cody. Cody would win the match thanks to Anderson's interference but Anderson has not appeared in AEW since. He currently has a podcast simply titled, ARN.
---
TJP (February 22, 2019)
As opposed to the releases of Hideo Itami and Tye Dillinger, TJP was not released at his own request. It was reported that he was released due to disciplinary issues, although it was not revealed what those issues were. TJP was the winner of the Cruiserweight Classic and the inaugural Cruiserweight Champion.
Since his release, he has wrestled as part of Impact Wrestling's X-Division and New Japan Pro Wrestling's junior heavyweight division. He competed in the Super J Cup where he was eliminated by El Phantasmo in the second round. TJP also competed in the Super Junior Tag League where he and Clark Connors failed to make it to the finals.
---
Stacey Ervin Jr. (March 22, 2019)
Stacey Ervin Jr. barely made it onto NXT TV. The former amateur gymnast signed with WWE in 2018 and reported to the performance centre. He suffered a concussion, which was a major setback in his development. Despite his upside and his tremendous athletic ability, Ervin's only match on NXT came on February 13, 2019 when he teamed with Humberto Carrillo in a loss to the Street Profits. He requested his release in March.
It would appear that Ervin is finished with pro wrestling. He has not competed for another promotion since his release and he is enjoying a career as a fitness guru. He is also dating Olympic Gold Medalist Simone Biles.
---
Ricardo Miller (March 23, 2019)
WWE performance centre trainee Ricardo Miller requested his release from the company and he got it on March 23. He had yet to have his first match.
Miller has made very few waves since leaving WWE. He has not had contact with any wrestling promotions, which would indicate that he is done with pro wrestling.
---
Dasha Fuentes (April 9, 2019)
Dasha Fuentes was released by WWE the week of WrestleMania 35 after she allegedly made a mistake on Raw. The mistake in question was that she allegedly said the word "match" instead of "challenge". As ridiculous as it sounds, WWE also told Fuentes to have as little personality as possible so as to not outshine the wrestlers.
Dasha is now using her real last name, Gonzales. She is currently signed to AEW as a backstage personality. She co-hosts the weekly AEW Dark show on YouTube alongside Tony Schiavone. It may surprise you to hear, but she actually has some personality in her current role.
---
Rhyno (April 12, 2019)
The former ECW Champion did very little in his latest run in WWE. He was one of the inaugural SmackDown Tag Team Champions alongside Heath Slater but that was the highlight of his run. His contract ended on April 12 and he quietly left the company.
Rhyno (or Rhino) is currently a member of Impact Wrestling's roster. He is a former TNA Heavyweight Champion so his return to Impact made sense. Since his return, Rhino has teamed with and wrestled against fellow ECW alumni Rob Van Dam.
---
Goldust (April 21, 2019 [Announced])
Goldust left WWE after his latest stint with the company earlier this year. It was announced that he had left the company on April 21 but it is speculated that he left the company earlier as he would have had a 90 day no compete clause.
Goldust would use his old ring name Dustin Rhodes as he signed with upstart promotion AEW. His first match was an all-time classic against his brother Cody at AEW's first show Double or Nothing on May 25. Despite teasing retirement after their match, Dustin has been a regular member of the AEW roster since. He recently returned from a kayfabe broken arm which he suffered during an attack from the Inner Circle.
---
Shadia Bseiso & Nasser Alruwayeh (April 24, 2019)
Shadia Bseiso was touted as the first Arab woman to be signed to a WWE contract while Nasser Alruwayeh was WWE's first signing from Kuwait. Bseiso had previously worked as the manager of Mansoor on the independent scene and worked as an interviewer during the 2018 Mae Young Classic. Meanwhile, Alruwayeh wrestled a handful of matches while under contract.
They were both released on April 24. Neither has wrestled since being released, however they became engaged to be married in January.
---
Dean Ambrose (April 31, 2019)
The most high profile release of the year, Dean Ambrose left WWE after six and a half years on the main roster. His frustrations in WWE were intense and numerous and he recounted them all on Chris Jericho's podcast. He let his contract run out on April 31, and he was quick to make himself available elsewhere.
Ambrose, now called Jon Moxley, made a surprise debut at the end of AEW Double or Nothing when he attacked Chris Jericho and Kenny Omega. He signed with AEW and has since defeated Kenny Omega in a Lights Out Match. Meanwhile also worked for New Japan Pro Wrestling where he won the IWGP United States Championship from Juice Robinson and competed in the G1 Climax. He is currently the number one contender for both the AEW World Championship and the IWGP United States Championship.
---
Jordan Myles/ACH (November 21, 2019)
This one is complicated. Jordan Myles (A.K.A. ACH) took to Twitter to publicly lash out at WWE over a racially insensitive t-shirt design. His comments were quite controversial as he also called out Ring of Honor and Jay Lethal, calling Lethal an "Uncle Tom". This was a no win scenario for WWE. If they fired him it could be seen as discrimination but at the same time he was making it very difficult to keep him around. Eventually he was released from his contract after claiming to quit on Twitter.
After his release, ACH was announced for some dates with Major League Wrestling. However, just days after that he took to Twitter once again to proclaim that he hated wrestling and wrestling fans, announcing that he had quit the business. There seems to be a lot going on in his mind but it is just important that ACH ends up in a good place. If that is away from wrestling then so be it.
---
Luke Harper (December 8, 2019)
Luke Harper only wrestled a handful of televised matches in his final year in WWE. He competed in the Andre the Giant Memorial Battle Royal and then nothing until teaming with Rowan to face Roman Reigns and Daniel Bryan at Hell in a Cell. He had publicly requested his release from the company and on December 8, WWE granted it to him.
It is too soon to know what Harper will do away from WWE. He recently trademarked his old indie name, Brodie Lee, which would indicate that he will be using it upon his return to the independent scene.
---
Sin Cara (December 8, 2019)
Sin Cara was another who had recently publicly requested his release from WWE. Having been under contract as both Sin Cara and Hunico since 2011, he had a decent career in WWE. He never had considerable singles success but held the NXT Tag Team Championships once with Kalisto.
Once again, it is too early to know what Sin Cara will do now that he is no longer under a WWE contract. WWE contracts usually have a 90 day no compete clause so it will likely be a few months before we have a sense of where we will see Sin Cara next.
---
Konnor & Viktor (December 8, 2019)
Rounding out the list of WWE releases in 2019 is the Ascension. Konnor and Viktor had been on the main roster since late 2014 and they were one of the first instances of being totally ruined once they were taken from NXT. Once called the most dominant team in NXT, they were the bottom of the barrel on the main roster. They were released from their contracts on December 8.
Because of the 90 day no complete clause blah blah blah. Upon their releases, Viktor tweeted a gif from the film Braveheart showing Mel Gibson shouting FREEDOM. Needless to say he is taking his release well.
Which release shocked you the most in 2019? Let us know on Twitter or on Discord!