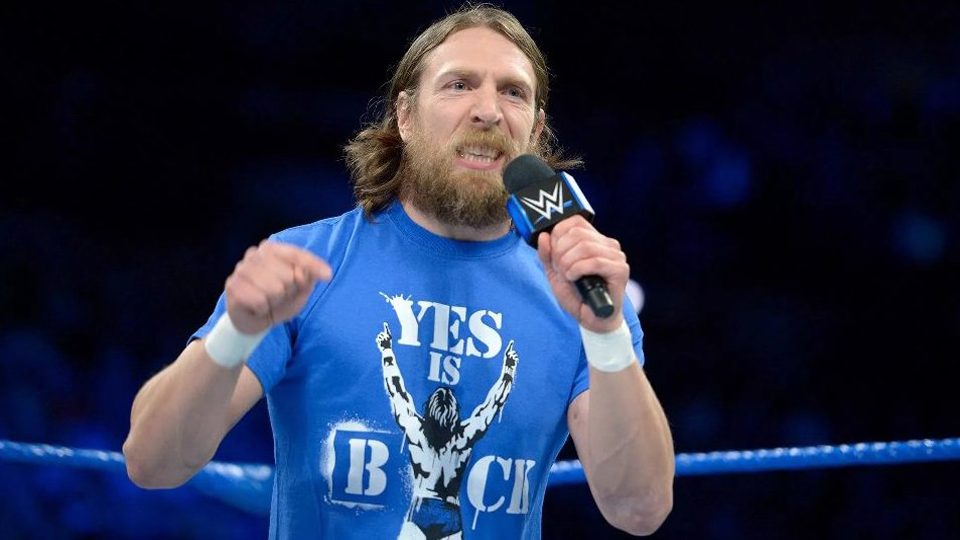 There is no doubt Daniel Bryan is one of the most interesting characters in WWE at the moment.
However, let's just think for a second – had WWE managed to book him properly as a babyface in his return to the ring last year, would 'The Planet's Champion' ever have come to be?
And let's be honest. As great as Daniel Bryan's run as a heel has been, it only happened because WWE's creative team completely botched his return as a babyface.
Not even a feud with The Miz could save it. If anything, it only made it worse.
In this piece, I will try to do my own fantasy booking of Daniel Bryan's run from WrestleMania 34 to WrestleMania 35, as a babyface.
Let us know in the comments what you think of this fantasy booking piece, and if you would have done anything differently.
---
1. "Yes is Back!"
The big question here is how to bring Daniel Bryan back? Should we bring him back in a tag team match and have Shane McMahon wrestle 90% of it? Not really.
As great as the angle with Kevin Owens and Sami Zayn was, I have other plans for Daniel Bryan's WrestleMania match. As for who would be Shane's partner, that's an easy one – Chris Jericho.
Remember when Dolph Ziggler would come out to everyone's music, he'd just won the US Title and just completely disappeared?
We'll use that to our advantage, because in the Royal Rumble Match (at number 30), Daniel Bryan's music starts playing! The crowd goes crazy and…
…Record scratch…
…Dolph Ziggler makes his return. A few weeks later, Ziggler is the one who attacks Daniel Bryan during his speech and at WrestleMania 34, the two have a match.
In what would be Ziggler's first singles match at WrestleMania ever (and he deserves one), the two have a terrific match and Bryan, obviously, goes over by submission with the Yes Lock.
In the "Superstar Shake-Up" the following week, just like in real life, Ziggler goes to RAW and The Miz comes to SmackDown. That's very important!
---
2. Team Hell No
The money in Daniel Bryan's comeback is obviously in his feud with The Miz. But we obviously want to save that for later.
With that said, the next few months will be "filler" before we can properly start the big-money program.
At Backlash, Daniel Bryan beats Big Cass convincingly with a Yes Lock and competes in the Greatest Royal Rumble Match later that month. After that, we have the glorious return of Team Hell No, as Kane saves Bryan from The Bludgeon Brothers.
At the Money in the Bank PPV, Bryan suffers his first loss since his return, as Kane betrays Daniel and lays him out with a Chokeslam and a Tombstone, which helps Harper & Rowan score the win.
Later that same night, Braun Strowman does NOT win the Money in the Bank briefcase. What was the point anyway?  The Miz is the man we have chosen to win the bout instead.
At Extreme Rules, Bryan wrestles a Hardcore Match against Kane, who puts Bryan over by tapping out to a Yes Lock before going back to his office in Knox County.
At the next episode of SmackDown, Shane McMahon books a Triple Threat Match to determine the challenger for Shinsuke Nakamura's WWE Championship at SummerSlam between Bryan, AJ Styles and Samoa Joe. Bryan ends up taking advantage of the other participants' rivalry to win with a quick Running Knee on Joe, who spent too much time beating up AJ.
And just like that, we have Shinsuke Nakamura vs. Daniel Bryan for the WWE Championship at SummerSlam. Tell me you wouldn't like to see that!
---
3. Awesome
After what should be a fantastic and physical match at SummerSlam, Bryan manages to turn a Kinshasa attempt into a Yes Lock. After a few seconds of selling, Shinsuke taps in the middle of the ring and Bryan wins the WWE Championship to the delight of the audience, until…
Skull Crushing Finale. And another one, this time on the briefcase. Finally, Miz cashes in Money in the Bank, delivers a third Skull Crushing Finale and pins Daniel Bryan to win his second WWE Championship.
On SmackDown a couple of weeks later, Bryan and Shinsuke have a SummerSlam rematch to determine Miz's challenger for Hell in a Cell. Just as Bryan is about deliver the Running Knee, The Miz (who is on commentary) distracts Bryan, giving Shinsuke enough time to put him away with a Kinshasa.
In order to help kill some time (and also to put Shinsuke over as 'The King of Strong Style' in the process), Bryan is forced by the doctors to take a few months off due to his series of brutal matches with Nakamura.
---
4. Build to WrestleMania 
While Bryan is out, Miz obviously keeps retaining the WWE Championship like a classic heel – cheating and using the champion's advantage rule to his… advantage!
Meanwhile, Bryan returns as the final member of Team SmackDown for Survivor Series. And, in order to make this RAW vs. SmackDown match mean something, the winning brand will have the final spots in the Royal Rumble Match (entries 16-30).
Daniel Bryan gives SmackDown the win by being the sole survivor, and as a result, Shane McMahon gives him the number thirty spot in the Rumble match.
Fast forward to January 2019, and Daniel Bryan does come out as the final entrant (no, not Ziggler this time!) and stays until the end. In order to have the fans even more on Daniel's side, we'd have Baron Corbin be the runner-up.
After teasing a few eliminations, the two should have the crowd in the palm of their hand, and Daniel Bryan finally eliminates Baron Corbin in the end and wins the Royal Rumble Match.
After his victory, Renee Young interviews Bryan and asks him who he'll challenge at WrestleMania – his dream opponent, Brock Lesnar? Or his rival, The Miz? Just as he starts saying "well Renee"…
…Skull Crushing Finale – Royal Rumble 2019 goes off the air.
---
5. YEStleMania II
On the following SmackDown, Daniel Bryan comes out and announces he'll face the WWE Champion at WrestleMania 35. However, he says, it won't be The Miz because there's no way Miz escapes the Elimination Chamber Match with the belt.
At the Chamber, Samoa Joe eliminates the first three participants in the match, leaving only him, Miz and Rey Mysterio. With Miz staying out of the action as much as he can, Mysterio uses the Bret Hart vs. Roddy Piper/Stone Cold reversal to roll-up Samoa Joe and eliminate him.
Joe obviously destroys Rey afterwards, putting him to sleep with the Coquina Clutch and setting up a match between them for WrestleMania. The Miz, that coward, allows Joe to leave and simply pins Rey to retain!
Bryan, who hasn't forgotten about the Royal Rumble, gives Miz a taste of his own medicine – Running Knee followed by a Yes Lock, and this time the PPV goes off the air with Bryan on top.
The stage is now set – The Miz vs. Daniel Bryan for the WWE Championship in the main-event of WrestleMania 35.
After a great match between the two, with Miz always cheating to cut Bryan off, Bryan finally connects with the Running Knee. Then, to put one final exclamation point, Bryan puts Miz in the Yes Lock.
The Miz taps and Daniel Bryan wins the WWE Championship, one year after his wrestling return and five years after WrestleMania XXX.
Let us know in the comments if you would have changed anything about Daniel Bryan's return to wrestling.