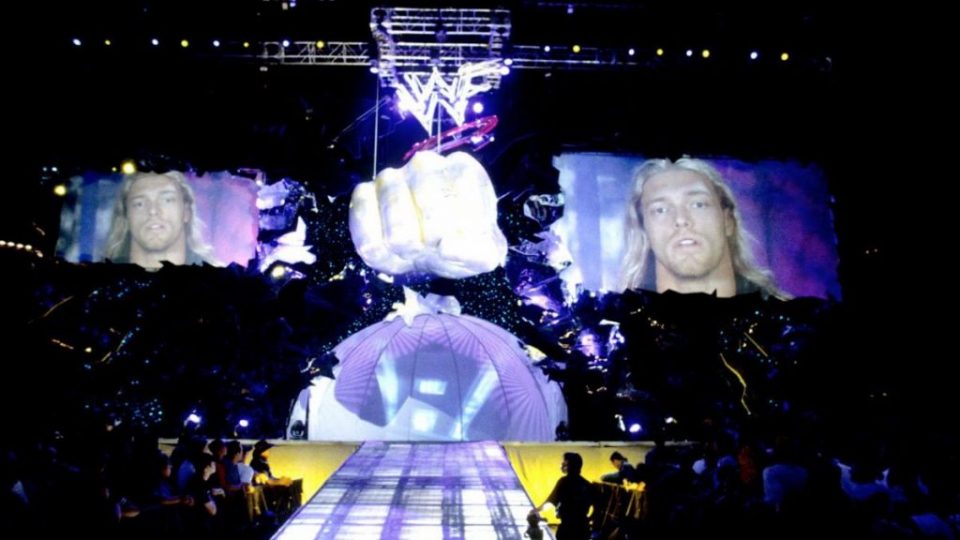 For almost 20 years now, SmackDown has been an integral part of WWE programming.
The show has had its fair share of ups and downs throughout the years, sometimes quickly going from can't miss to absolutely irrelevant.
Today, we are going to take a look at possibly five of the greatest matches in Smackdown's long history.
Let us know your thoughts and what are your own favourite SmackDown matches in the comments.
---
5. Hulk Hogan vs. Brock Lesnar (August 8, 2002)
Technically speaking, there were many matches that were better than this one.
However, this match did something many others didn't – not only was it memorable, but it made the young challenger look like an absolute monster before his Undisputed Championship match with The Rock at the next pay-per-view..
The fact Hogan lost a TV match cleanly makes this even more special!
To say Lesnar beneffited from this is an understatement, as working with (and defeating) with established stars helped the soon-to-be WWE Champion find his footing relatively quickly.
---
4. Kurt Angle vs. Eddie Gurrero vs. Chris Benoit vs. Edge – Four Way Elimination (December 5, 2002)
After months of wrestling classic matches on a weekly basis, four of the 'SmackDown Six' crew competed in a four-way elimination bout to determine Big Show's challenger for the WWE Championship at Armageddon.
Yeah, the roster was this good, and somehow Big Show found himself with the WWE Championship!
Not only was this match fantastic from start to finish, it also built three matches for the upcoming pay-per-view – which makes it even better.
Edge was unable to win due to interference from Albert (I know), thus setting up that match for Armageddon. The same happened with Eddie and Benoit, as an already eliminated Eddie distracted Benoit long enough for Edge to eliminate him – they too would go on to wrestle at Armageddon.
And finally, Kurt Angle won the whole thing, setting up for Big Show and the title at the pay-per-view, where he'd win his fourth World Championship.
Make sure to check this one out!
---
3. TLC III – WWF Tag Team Championship (May 24, 2001)
After having stolen the show at both SummerSlam 2000 and WrestleMania X-Seven, the six TLC innovators were joined by then-WWF Tag Team Champions, Chris Benoit and Chris Jericho, on this episode of SmackDown.
In what has been dubbed "the forgotten TLC Match", the competitors put their bodies on the line trying to top their previous meetings.
This bout saw Benoit suffer a serious neck injury, which would eventually see him miss more than a year of action, but he'd return to the match in order to help his team secure the win and the belts.
This match had all the crazy stuff the other TLC matches had on PPVs, with the added bonus that people actually got to see this one on free TV!
---
2. Edge vs. Eddie Guerrero – No DQ (September 26, 2002)
This is exactly the match Edge mentioned during his appearance on the 1000th episode of SmackDown last year.
If you haven't seen it… why?!
They start with great wrestling and psychology, introducing a ladder for a ref bump just before going to break, leaving the viewer wanting more of the No-DQ craziness.
Once they came back, the action was nonstop. It had some crazy bumps and near falls such as Eddie hitting a massive powerbomb off a ladder for two.
The finish saw Edge win with an Edgecution DDT from the top of the ladder.
Both guys came out of this match looking better than they did when they walked in, and that continued to happen for the next number of months.
Boy, was the 'SmackDown Six' time great or what!
---
1. Kurt Angle vs. Brock Lesnar – Iron Man Match, WWE Championship (September 18, 2003)
And finally, we end the list with not only one of the greatest matches in SmackDown history, but one of the greatest in WWE TV history.
Angle walked into this match champion, while Lesnar was in the midst of his run as bully heel persona.
Lesnar played that role perfectly, destroying undercarders such as Spanky and Zach Gowen on a weekly basis.
In this match, the first few minutes see Lesnar walking away from the match as much as he can, playing mind games with the champ.
Then, Lesnar gives Angle a fall by DQ, destroying him with a chair before easily picking up three straight falls.
This made for a fantastic comeback attempt by Angle, who had the fans on his side despite being at a three-fall disadvantage just ten minutes before the final bell.
Once Kurt scores two falls in five minutes, Lesnar immediately starts bailing to the floor and low-blowing Angle to kill time.
Angle finally manages to put Lesnar in the Ankle Lock in the final seconds, with the crowd going nuts, but time expires and Lesnar wins the title with a 5-4 advantage.
The character work by Lesnar was fantastic, Angle was obviously a machine as usual, and the crowd was also on point!
As a wrestling fan, make sure you watch this match at least once in your life!