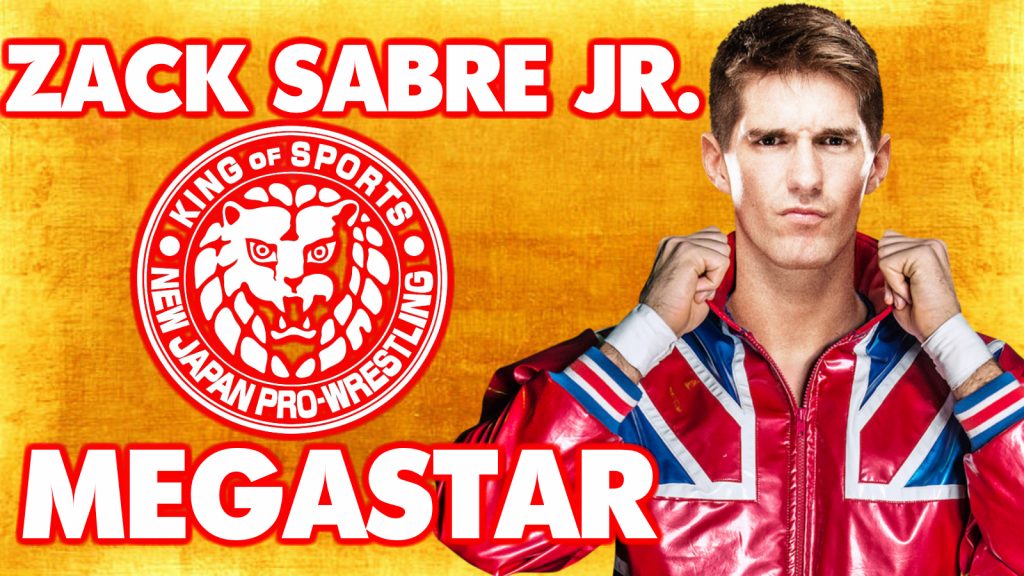 Zack Sabre Jr. stands as one of the most polarizing independent wrestlers in the world today. Both fans and industry veterans alike love him for his masterful technical wrestling ability…
He may have passed me awhile ago… but don't tell him I said that

— Bryan Danielson (@bryandanielson) August 13, 2017
While some hate him because his style is not as flashy or exciting as other wrestlers, it's undeniable that in just two weeks, New Japan Pro Wrestling has made Zack Sabre Jr. into an international superstar.
Beginning his career at the age of 14, Sabre has wrestled all over the world but has made his bones touring across Europe and in Japan. Most North American fans would remember him for his strong appearance in the WWE Cruiserweight Classic in 2016.
Sabre has become well-known for his skills as a technical wrestling mastermind and his ability to utilize submission maneuvers in matches. His hybrid style of wrestling led to critical acclaim, earning him the Wrestling Observer Newsletter award for 'Best Technical Wrestler' the last four years running.
Since debuting in New Japan Pro Wrestling nearly one year ago, however, Sabre had received little fanfare and very few chances to stand out as a performer. Joining the Suzuki-gun faction shortly after his arrival in the promotion, Sabre has spent most of his time in multiple-person tag matches or challenging for the NEVER Openweight Six-Man Tag Team Championship alongside his stablemates. His stellar run in the 2017 G1 Climax, however, highlighted by amazing matches against Kota Ibushi, Tomohiro Ishii and Hiroshi Tanahashi (with the latter two resulting in victories), caught the attention of fans and pundits alike.
On March 11, Sabre entered the New Japan Cup without much expectation and took full advantage of his given opportunity, submitting the most popular wrestlers in Japan such as Tetsuya Naito in the first round of the tournament. His momentum carried over into his match with Kota Ibushi in the quarter-finals (in which he also gained a submission victory) to reach the final four in the tournament.
https://www.youtube.com/watch?v=Xb8EzUKbBmk
With Hiroshi Tanahashi defeating Juice Robinson to secure his spot in the finals just days before, Sabre went into his semi-final match with SANADA still as an underdog. SANADA, having recently come off his defeat at the hands of IWGP Heavyweight Champion Kazuchika Okada at The New Beginning in Osaka, would have made a logical choice to challenge the 'Rainmaker' again, which made it all the more surprising when Sabre also submitted him to reach the finals.
Sabre, now one win away from a title shot at Sakura Genesis, faced his biggest obstacle of the tournament in NJPW's 'Ace' Hiroshi Tanahashi. Tanahashi was to some a clear favorite to win the tournament, being Okada's greatest rival and wrestling for the chance to ensure that Okada did not break his record for most consecutive IWGP Heavyweight Championship defenses. Once again, however, Zack Sabre Jr. went on to defeat Tanahashi by submission and win the New Japan Cup and earn his shot against Okada.
https://www.youtube.com/watch?v=WAKgVzfpY4E
It is easy to say that Sabre has gotten over because he won the tournament – but there is more to it than winning a trophy and a title shot. Firstly, look at how New Japan Pro Wrestling built Sabre's performance in the Cup: he defeated a very capable Tetsuya Naito in a first-round upset, which immediately garnered attention on him as a player in the tournament. Overcoming a top star like Naito in the first round is significant when you consider Naito's caliber as a performer, as well as the level of skill found in some of the other wrestlers that Sabre could have wrestled in the first round. For example, gaining a first-round victory over Yujiro Takahashi, Lance Archer or Toru Yano would have held much less weight in comparison to his defeat of Naito.
In the quarter and then semi-finals, New Japan had Sabre defeat Kota Ibushi and SANADA, feats which further demonstrated his ability to put on great matches and defeat established stars. Then, the icing on the cake came in the form of submitting the 'Ace' Hiroshi Tanahashi, one of the most recognized superstars of the promotion and likely the most popular wrestler in New Japan as a whole. Having a tried and true contender to Okada fall to Sabre, New Japan is signaling that the British sensation's run to the finals was not a fluke and that Sabre is a formidable challenger for Okada on April 1.
The most important factor to consider about Zack Sabre Jr.'s star-making performance is how he defeated each of his opponents: all four victories came by way of submission. Sabre does not have a tried-and-true finishing move in repertoire like most wrestlers, and as a result, it is harder to get invested in false finishes when the audience is not familiar with his possible match-ending moves. Therefore, defeating all four of his opponents with submissions subtly hints that anytime Sabre locks in a submission hold against Okada on April 1 could be the moment that ends Okada's monumental championship reign.
It may seem trivial to some discussing the importance of winning four matches in a row in a tournament, and how such a streak would make someone a star. In fact, it should be common sense – but when WWE creative plays by the narrative that wins and losses don't matter (i.e. "50/50 booking"), it appears necessary to highlight a standout performance like this one. It proves that such a line of thinking is erroneous in some cases, for when it comes to Zack Sabre Jr., it only took two weeks for him to go from a lower mid-card wrestler with fairly recognizable name value to morph into a legitimate (and dangerous) contender for the IWGP Heavyweight Championship.
(WARNING: Video contains NSFW language)
Zack Sabre Jr. will challenge Kazuchika Okada for the IWGP Heavyweight Championship at Sakura Genesis on April 1.