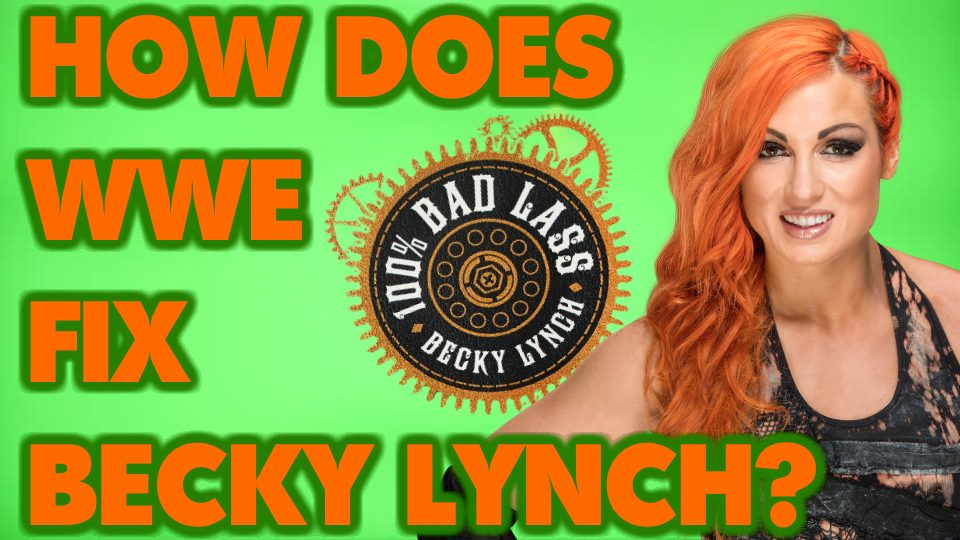 There was this wonderful time in WWE back in 2016 when the Women's Revolution was in full swing and incredible and talented women were giving everything they had in the squared circle. Superstars like Charlotte, Natalya, Sasha Banks, and Becky Lynch tore down the arenas on a weekly basis. The sky was clear for Becky Lynch in particular, as in September 2016, this happened:
Yep, in case you've forgotten, because WWE certainly seems to have, Becky Lynch was their first-ever SmackDown Women's Champion, defeating Carmella at Backlash 2016 to win that coveted title and etch her name in WWE history forever.
But the jubilation was short-lived:
Less than three months after winning the title, Becky Lynch dropped it to Alexa Bliss at TLC 2016. Bliss and Lynch went on to feud for the next two months, the latter failing to recapture the title with every opportunity she got.
Lynch was out of the WWE SmackDown Women's Championship picture. That would only be temporary, right?
In this next very short paragraph, I will tell you what WWE Creative had given the 'Irish Lass Kicker' to do throughout the remainder of 2017.
After failing to regain the vacant WWE SmackDown Women's title a month before WrestleMania 33, Lynch was then thrown into a six-pack challenge at the 'Show of Shows' for the championship. She was not the winner. After that, Becky's character was absolutely devalued as she entered into aimless feuds against other underdeveloped women's talent for months, losing the first-ever women's Money in the Back match to Carmella and James Ellsworth, as well as the follow-up 'We're Sorry We Had a Man Win the First One' redo of the match shortly after. Lynch was later made Captain of Team SmackDown for Survivor Series in 2017, where she and her blue brand partners lost.
That was Becky's 2017.
2018 hasn't started any better for 'Straight Fire'.
She was put into a seemingly endless and mundane story with Ruby Riott and the Riott Squad, was in the first-ever women's Royal Rumble, lasting over 30 minutes before being unceremoniously dumped over the top rope.
Her feud with the Riott Squad put on the back-burner, Lynch walked into Wrestlemania 34 with no story and no match on the main card. She was to be a participant in the WrestleMania Woman's Battle Royal during the pre-show.
What you expected to happen, did happen. Lynch was introduced first to a very loud pop and the WrestleMania 34 crowd were completely behind her. They were ready to see her win the battle royal and for the 'Lass Kicker' to finally start moving in the right direction.
What the audience was treated to instead was Lynch being eliminated halfway through the match to the woeful displeasure of those in attendance.
The question is:
Where has WWE gone wrong with Becky Lynch?
The answer is short and sweet:
WWE has done everything wrong with Lynch since last year's WrestleMania. She's been treated like a non-entity in the Women's Championship picture over on SmackDown Live and it seems like there is no way to help Becky Lynch get back her "straight fire."
But hope lies in the WWE Superstar Shake-up coming next week on Raw and SmackDown Live. Lynch needs to leave the blue brand and here's why:
She's a dead fish over there. This endless and boring angle with the Riott Squad not only ran its course back in January, but the SmackDown Live creative team seems hellbent on making sure Ruby and her Squad get over at the expense of Lynch.
Stop it.
Stop destroying one of the best workers (man or woman) in professional wrestling today. Move her to the red brand, shedding off her string of inactivity and boring nature of the Becky Lynch persona. Have her immediately enter a feud with Alexa Bliss and Mickie James, as this was the last feud Lynch was in that was actually compelling.
Have her come out strong on the Raw, make Becky Lynch a new woman, ready to fight and take back what she views is rightfully hers: Gold.
Option B for Becky's future could be a well-timed heel turn.
That would be the obvious choice. Draft Lynch over to Raw and have her immediately establish a new, darker and meaner persona. Make the 'Straight Fire' character angry over her lack of opportunities and title shots. Have Lynch assault a big name like Rousey or Sasha Banks.
And a feud with Sasha Banks could be exactly what the Doctor ordered.
Right now, Sasha Banks and Bayley are stumbling through an awkward and uninteresting angle that needs a third heat. Becky Lynch is that third heat. Have Becky come out and attack Banks, therefore aligning Becky with Bayley as the two rogue Horsewomen.
Lynch and her "straight fire" is worth saving. The crowd adores her, she has great mic skills and her matches were consistently some of the best on the card when she was on it.
I will close with this. Women's wrestling in WWE has evolved into something truly special since 2015. There were many matches that WWE fans try to pinpoint as the start of the Women's Revolution, but I give you this classic:
This is only 60 seconds of the match that made the WWE Universe pay attention to women's wrestling again. This was the match that started the Women's Revolution in my eyes. Becky Lynch will forever be a part of that.
It's up to us as the WWE Universe and Becky Lynch fans to let the corporate suits in Stamford know that we don't just want our 'Lass Kicker' back in the picture, we need her there.