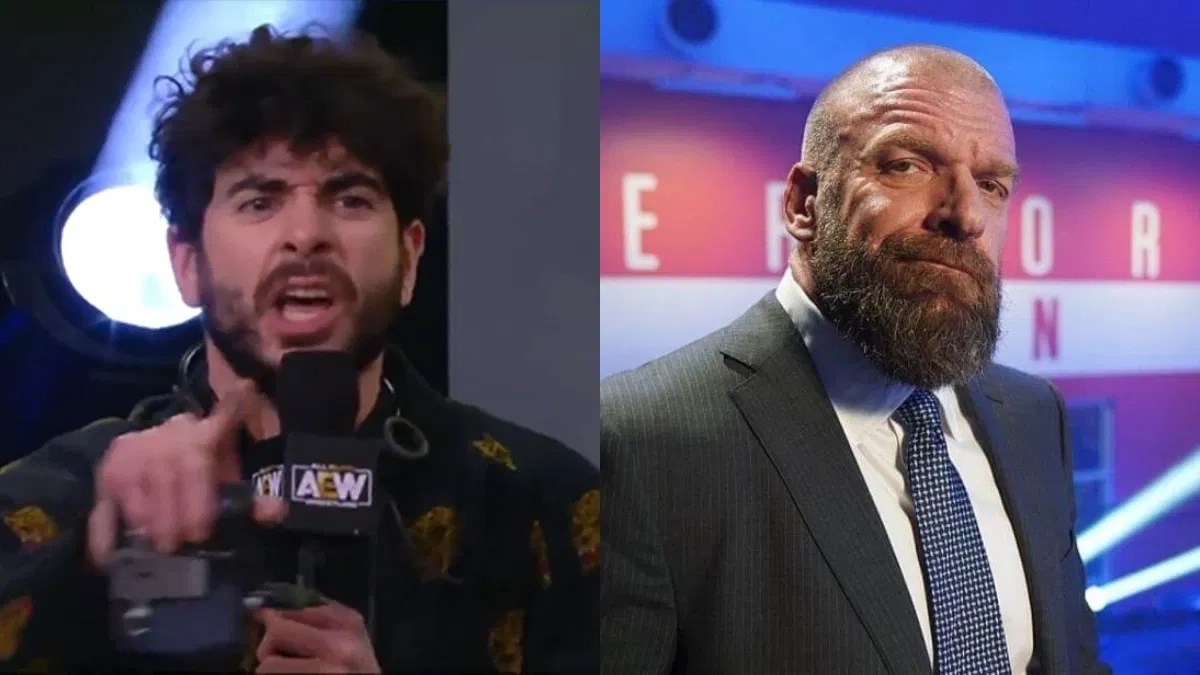 An interesting sign has potentially emerged that AEW President and CEO Tony Khan could be getting concerned about AEW stars joining WWE.
I'll preface this article by saying – this is more of an editorial piece than a news story, discussing the dynamic now that WWE is a more pleasant option for many wrestlers under Triple H than it was under Vince McMahon.
However, there is one thing that sparked this off in my head, and it's AEW's recent trademark habits. AEW files nowhere near as many trademarks as WWE and one of the company's principles was that it was always going to be a bit more wrestler-friendly in that regard.
But with the increased chance that people could leave and head over to WWE, is that changing?
In the past few days, AEW has filed trademarks for both Blackpool Combat Club, and most recently, the Acclaimed. That might not sound groundbreaking, but it really isn't something AEW does very often.
What that means is, in theory, the Acclaimed can't decide to leave AEW whenever their contracts are up and join WWE as the Acclaimed. Same for Blackpool Combat Club.
Both of those names were created in AEW and were essentially Tony Khan's creations, so it's not like he's bringing people in who have an already-established act, then trademarking it, so it's not unfair in that sense.
This is just speculation but maybe AEW and Tony Khan learned from Cody Rhodes. Rhodes took the American Nightmare nickname with him to WWE, the same theme music, and all of a sudden he's WWE's biggest star.
If this isn't correct and they actually trademarked those things for other reasons, well, maybe this can double-up as advice. If you don't want your guys joining WWE with the same package they had in AEW and immediately being over, get ahead of the game. Ha. Ahead of the game. Because Triple H.
The Acclaimed have been a thing for like two years now though, so why only wait until now to trademark it? There's definitely reason to believe it's a reaction. Again, if it isn't, fair enough, but maybe it's a good idea to start doing it.
Let me make clear that this is not criticism at all. If anything, like I already mentioned, it's praise and advice. It's an undeniably smart move.
Tony Khan did admit in an interview recently that he's concerned "now more than ever" about AEW stars joining WWE, but he did say it's a good thing for the business and fans.
Unless you end up losing in the end, competition is always good when it comes to pushing each other and we could be in for a loooong ride of exactly that.
And let's not pretend everything is all rainbows and unicorns in WWE all of a sudden either – Triple H might want to push new people, but that means others are gonna lose their spots, and that's even something that Dave Meltzer said they've told him they're worried about.
There are gonna be guys in AEW that are now very open to joining WWE when they weren't before, and there are gonna be guys in WWE who are potentially thinking about joining AEW when they weren't before.
Only time will tell who those people are, but one thing that looks very likely is the top wrestlers are gonna have the chance to make a lot more money now with the two companies trying to persaude them not to leave and join the competition.
Buckle up, folks. We could be in for a pretty wild ride.
If you're in the UK but didn't manage to get tickets to Clash at the Castle on September 3, WrestleTalk is hosting a watch party at The Joiner on Worship in Shoreditch, London, and we'd love for you to join us! Click here for more details.