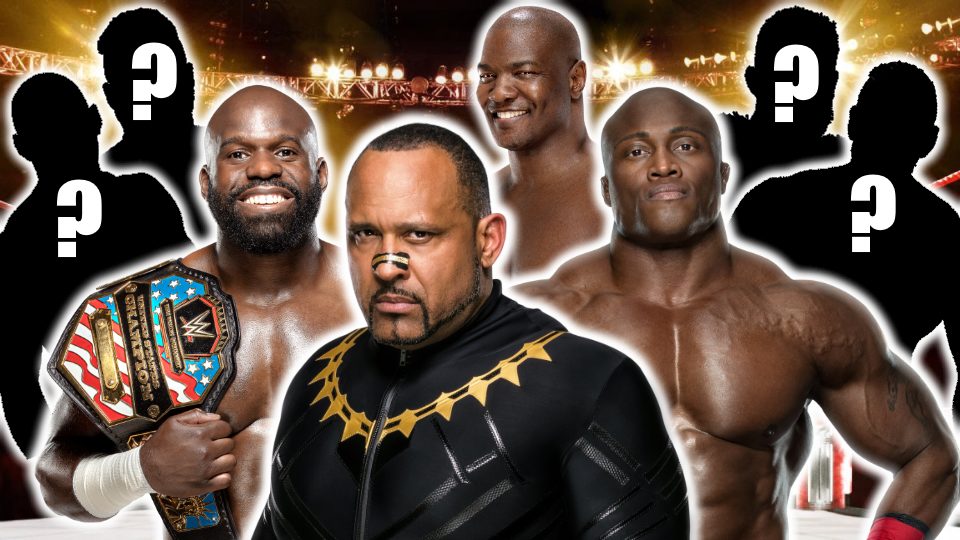 There have been plenty of rumours lately regarding a potential new stable being formed on WWE Raw, led by Bobby Lashley's current manager MVP.
Multiple names are being thrown around as possibly joining the group, so we'll take a look at each potential member, whether they'd fit, and overall whether it would be a good idea.
Accompanying each rumoured member will be a little explanation as to why they're rumoured and not just names plucked out of thin air.
---
Bobby Lashley
Lashley is the obvious shout as he's currently the sole client of MVP on Raw. There seems to be a battle between MVP and his wife over who gets to keep Lashley, and it seems to be one MVP is winning and the 'All Mighty' declared on Monday that he wants a divorce.
The pair were in a group together on IMPACT too, so we know it works. Lashley had been struggling to find his feet ever since he made his WWE return in 2018, but he finally seems to be getting there now with MVP in his corner.
If he can past the Lana stuff, which I'm sure people will say is 'too soon' but seriously who cares if we're gonna come out the other side of it so much better off.
Lashley being a heavy and the top active guy in a stable could be what he needs to just elevate him that tiny bit further to become a legitimate top guy on Raw and in WWE.
---
Apollo Crews
Current United States Champion Apollo Crews is someone who MVP has already had a number of interactions with in recent weeks.
Before they faced each other in a Money in the Bank qualifier, MVP praised Crews' potential and said that with his help, he had a much better chance of fulfilling it.
Crews disagreed and went on to ebat MVP in that match, but this past Monday on Raw they crossed paths once more.
They bumped into each other backstage, at which point MVP once again offered up his services to Crews ahead of his match against Shelton Benjamin. The intriguing part of that was how Crews won, which was by illegally holding the ropes for leverage.
Of course, this has led to speculation that he could be turning heel. Whether he is or not, it's good to see a bit of edge being added to his character. If he does, aligning himself with MVP could be the way to do it.
---
Shelton Benjamin
MVP wasn't done there when it came to his backstage negotiations, as he later approached Benjamin and told him he could get him a title match against Crews even following his loss.
It's been reported that Benjamin is someone who MVP has legitimately gone to bat for backstage to be used in a more prominent role on TV than he has been pretty much since he split from his tag team with Chad Gable a couple of years ago.
Benjamin is one of the best wrestlers in the world and the fact we barely get to see that is such a shame. If MVP can help him get more minutes, both in storyline and in real life, everyone's a winner.
When he does have matches here and there, like the one on Monday, he always impresses, so to see him in action more often would be great, and being a part of a stable would mean he has a purpose being on TV, which is just as important.
---
Brendan Vink & Shane Thorne
Remember these guys?
MVP's first venture into management on Raw was behind this team of Aussies who were brought onto the show in the first few weeks since the pandemic hit.
They even picked up a win over Ricochet & Cedric Alexander, but have since disappeared off TV almost completely, with Thorne just having a few outings on Main Event.
It's unclear right now if WWE wants to bring the pair back, and there were reports a huge push in the works for Vink who was said to have impressed Vince McMahon.
If that's the case, then fair enough, but if not, this could be the way to reintroduce them.
---
Cedric Alexander & Ricochet
Ricochet and Alexander are two names that all signs point towards being guys that Paul Heyman wanted to push but Vince McMahon put an end to any momentum they'd built up.
Since losing the aforementioned match to Thorne & Vink, they've barely been seen, which is absurd considering just a few months ago they'd both been in championship programs with the likes of AJ Styles for Alexander and Brock Lesnar for Ricochet.
It's been reported by several wrestling news sites that the pair are being talked about for MVP's group, and the only thing I'd be cautious with here is if it's going to be a completely heel stable. Neither of these guys' in-ring style is optimal for a heel with all their fast-paced high-flying offence.
Instinct tells me Alexander would pull it off a bit better than Ricochet just because he's a bit bigger, and prohibiting Ricochet from being able to fly is not something I'd want to do.
Maybe you could have MVP try to convince them to join, Ricochet rejects, but then Alexander turns on him and sides with MVP? I don't think that would be too bad an option, but only if they can come up with something decent for Ricochet to do afterwards.
Either way, both of these guys deserve something to do, and if this is it, that's great.
---
So, Is It A Good Idea?
In one word – Yes.
The most vital thing with any stable is that all the members fit. It's no good trying to shove someone in there just to give them something to do. There has to be some form of relationship or reason for that to happen, and if that's there, then great.
We've seen over the last few weeks and months that stables on Raw do work. Zelina Vega had Andrade, Angel Garza and Austin Theory as a trio, which now seems to be disbanding, thus making room for a new one.
There's also Seth Rollins' group of followers, which currently consists of Murphy and Theory. Rezar of AOP is out injured and that means they've also pulled Akam from TV for some reason.
The difference with that one is it's very much a case of a leader who is a top wrestler in the company, and his backup. This pitched MVP group would be more of a business venture and him seeing all his clients as equals – or at least based on their individual successes.
Is there anyone else you can think of who you'd like to see in this group that I didn't mention? Or do you think the idea all together is a bad one and no such group should exist at all? Let us know your thoughts on Twitter.