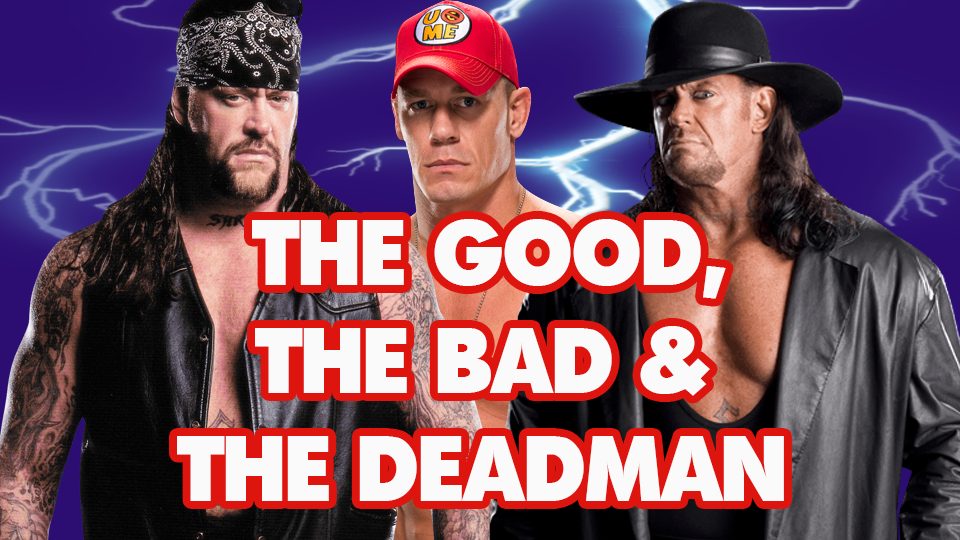 Let's take a minute to talk about Mark Calaway; literally a living legend within the realms of professional wrestling, or, sports entertainment, whichever side of the fence you sit on. The 'Deadman', as he's fondly identified, has had a long and illustrious career, starting way back in the age of the territories in the early 80s and even having a spell in early WCW before striking gold with the WWF as the Undertaker character we love, hell, even worship today.
It was Survivor Series 1990 where the wider world got to witness the Undertaker's debut and what a debut it was… his western mortician gimmick (the first of several incarnations of the 'Deadman') struck fear into the hearts of both the fans and his opponents. Over the years, however, his legacy grew along with not only the fans adoration for him but the respect he's earned from his peers.
This started unknowingly all the way back at WrestleMania VII where on his first outing on the 'Grandest Stage of Them All', he defeated the legendary 'Superfly' Jimmy Snuka, convincingly may I add, and from there, arguably the greatest running wrestling gimmick of all time was born; the 'Streak'. The 'Streak' needs no introduction… I don't need to give you a run-down of the 'Streak' through the years… the 'Streak' became its own entity, parallel to WrestleMania itself in terms of stature and appeal.
https://www.youtube.com/watch?v=MKsV9Z0AWsw
Shawn Michaels may have had the nickname 'Mr. WrestleMania' but we all knew deep down that title belonged to the Undertaker… for the two were symbiotic. The idea of WrestleMania without the 'Streak' was absurd, and that mindset was held up for a staggering 24 years! Yet on April 6, 2014, after 21 victories, to the dismay of many, the 'Streak' was shockingly put to bed by a challenging Brock Lesnar. '21-1′ sent shockwaves around the world and questions were asked, conspiracy theories were talked of, reasons, excuses, the lot… no one could believe that the 'Streak' had come to a legitimate end. Sadly it was the case and in the years that have followed, something just hasn't felt quite right.
Following that loss, he took a whole year out, literally only reappearing the next WrestleMania to answer a challenge from the then hot Bray Wyatt, but the match didn't feel right, it was lacking. The fact that the match (held in an outdoor arena) was still more or less in daylight took a lot from the spectacle as we were dealing with two primarily dark characters.
A year later, 'Taker returned again as a form of punishment aimed at a returning Shane McMahon, with Vince McMahon declaring the two go at it inside Hell in a Cell to determine Shane's position in the company. Bar a few high spots it was just another HIAC spectacle…entertaining but, we all knew Shane was going to lose so it was ultimately pointless.
This brings us up to last year and this is where things get a bit confusing. It's a tradition within wrestling that the veteran on his or her way out, does the 'job' for the younger up-and-coming wrestler, taking a loss and giving them their win, their moment… and that is exactly what happened at WrestleMania 33. Roman Reigns; the current corporate golden boy/poster boy/top guy/face of the company, however you want to put it, has had a momentous push over the past couple of years, much to the detriment of many a fans opinions on WWE, and it reached new heights on the night of April 2, 2017.
In the main event of WrestleMania 33, Roman Reigns pinned the Undertaker in a clean victory, for what was only 'Taker's second-ever loss on the 'Grandest Stage of Them All'. In doing so, he ultimately retired. From the ovation of the crowd to chants of "Thank You Taker!" and the fact that he left his coat, hat and gloves in the ring before breaking character to kiss his wife, Michelle McCool, and making his exit, for all intents and purposes, The Undertaker was done; he was retired and we'd seen the last of him. This time really was the end of an era… or so we thought.
https://www.youtube.com/watch?v=QNJmzxoUhaA
On January 22, 2018, Monday Night Raw celebrated its impressive 25th anniversary and as per usual during these nostalgic events, we got to see some old friends and familiar faces. Steve Austin returned to drink some beer and deliver a Stone Cold Stunner to an aging Vince McMahon, DX returned and had a nice little spot with the Balor Club as well as Scott Hall, which, for want of a better phrase, was "Too Sweet". The 'Million Dollar Man' Ted DiBiase had a fun little spot flaunting his riches playing Poker with the roster backstage… and then we had the Undertaker.
In what was rumored to be his final appearance, the 'Deadman' delivered his final promo, a farewell speech… but that turned out to be nothing more than hollow character verbiage. He spoke of digging holes and burying his opponents, listing off legends he's defeated and he declared they should all finally rest in peace. That's all well and good but the moment was ruined by Jim Ross on commentary asking the TV audience "Was that a warning?". Straight away you've gone from retirement promo to rumor and speculation and it left a lot of questions lingering, spoiling the moment. The fact the crowd was chanting "One more match" didn't particularly help… and that brings us to now.
Following a spate of bad luck and under-achievement, John Cena found himself without a match at WrestleMania 34 this year. How can that be? I hear you ask. It's John Cena, he bleeds WWE! Well that, my friends, is why this makes for such an interesting angle. He failed to win the Royal Rumble, missing out on the main event spot at WrestleMania. 'No problem' thought John, he has the Elimination Chamber to fight for. He lost in that too, now things were desperate. John remembers he's a free agent so he strolls over to SmackDown Live and finds himself winning a spot in the WWE Championship match at Fastlane. Well, wouldn't you know it, he lost that too. In his quest for title shots at WrestleMania, 'Big Match John' has not been involved in any rivalries as he's been too busy glory hunting.
Now, having squandered not one, not two, but three opportunities, John Cena faces sitting out of this year's WrestleMania, even joking about it on Raw, sitting with the fans and sipping one of their beers during a promo. But then he went and did it. As a last resort, he went against all protocol and officially called out the Undertaker, very personally, for a match at WrestleMania. As much as the crowd popped, logistically this is a headache for wrestling fans as no one really knows A) what's going to happen and B) what the point in last year was now. Well here's some speculation for you.
There are two moments that, despite being a year apart, need to be taken into consideration for this match to have any credibility before we even start. Firstly, last year, we all saw it, the Undertaker 'retired', literally leaving everything in the ring. We'd seen the 'Deadman' say goodbye to the WWE Universe. Secondly, also equally important, we need to address the tone of John Cena's promo where he called the 'Deadman' out.
Cutting a promo and calling someone out is second nature in professional wrestling. It's what you do, it boosts rivalries, it draws heat, and so on and so on. There are so many boxes you can tick but what's striking about this promo was the content within. Cena blatantly referenced 'Taker's wife and the fact he was on Instagram. Some of you may be inclined to think "So what?". Well think about it, it's all about kayfabe and, in this instance, breaking it. The Undertaker as a character is renowned for never breaking kayfabe and being 100% professional, sticking to his character, never swaying, never showing cracks in his persona. He's from Death Valley, he's paranormal, he's not meant to come across as just some guy, he is an entity… or so we thought.
https://www.instagram.com/p/Be9Si7Bhtjl/?hl=en&taken-by=mimicalacool
At the beginning of this article, I referred to the Undertaker by his real name; Mark Calaway, and that's the person John Cena was talking to. This wasn't designed to bring the 'Deadman' back from the grave, this was aimed at Mark and the last time we had any sort of in-ring action with 'Taker that had his wife and real-life circumstances involved, he wasn't the 'Deadman' at all…he was the 'American Badass'.
The Undertaker retired, leaving his hat and coat in the ring. It wasn't the Undertaker retiring, however, it was the gimmick and while we never thought we'd see Mark Calaway compete in a WWE ring again, we neglected this prospect. Yes, to some, the idea that he can return with another gimmick after his send-off, as well as the age he is, is a bit farfetched and that he should stay retired… but think about the possibilities for this match and its build-up. John Cena got personal, and he's expecting an angry 'Deadman', but he's certainly not expecting an 'American Badass' in kayfabe terms.
Cena is desperate for a fight at WrestleMania and there are few people that will bring a fight like the former WWE Hardcore Champion. This automatically gives Undertaker a kayfabe advantage going into the match and seeing as WrestleMania returns to the Superdome this year, the very place Undertaker lost the 'Streak', what would be a more fitting way to give him another send-off as Mark Calaway, the wrestler, not the gimmick. Even more so in the place where, at the 'Show of Shows', it technically all ended.
Not only that, WWE has recently announced that entering this year's Hall of Fame is none other than Kid Rock. Take one guess who sang "American Badass", which The Undertaker used as his entrance music during this period of his career… coincidence? I think not. Kid Rock will be at WrestleMania for the ceremony so it makes perfect sense that he'd perform this song on the night for 'Taker's return.
With a couple of weeks left until WrestleMania, who knows how the Undertaker will actually respond, but it's interesting to think that maybe, just maybe, Mark Calaway will polish his motorcycle and head to the ring as the 'American Badass' one last time to really teach Cena a thing or two about 'Hustle', 'Loyalty' and more importantly, 'Respect'.