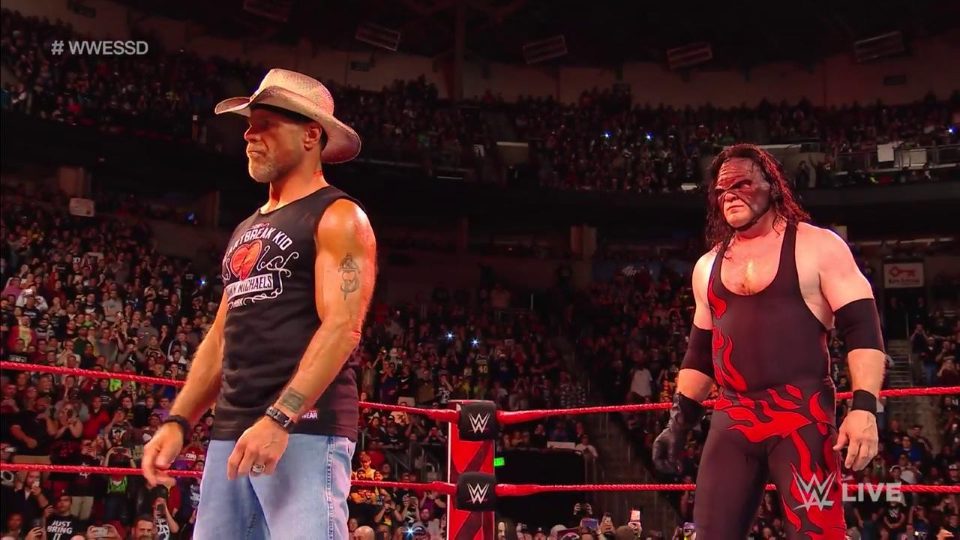 04:13am
And that wraps up the final episode of Raw before Super Show-Down. It was… a bit naff to be honest.
There was far too much fluff – looking at you Konnor, the B-Team, Bayley etc..
The repeated teases in each faction is very interesting, but the decision making throughout made completely zero sense from start to finish.
The ending of this show saved it.
Thanks for following along with our live coverage of the October 1, 2018 edition of Raw!
Make sure you check back tomorrow for SmackDown and on Saturday for Super Show-Down!

04:09am
Michaels talks about how he will always pick Triple H over anybody, and claims that 'Taker made it personal when he asked HBK to make the choice between him and Trips.
IT'S GOTTA BE KANE! Kane appears behind Michaels, lands a right, and 'Taker joins his brother in the ring.
Just as it looks like a two-on-one situation, Triple H also joins the fray. After a few seconds of chaos, Kane and 'Taker both land chokeslams on the DX members.
I've got to admit – this is quite cool.
Triple H tries to get back to his feet, but 'Taker nails him with a Tombstone, standing tall before the two clash at Super Show-Down this Saturday.
Very interesting indeed…

03:54am
Bayley picks up the win with a Bayley to Belly after Bálor Slingbades Jinder on the outside.
Up next, it's Shawn Michaels making his return to hype up Undertaker vs. Triple H at Super Show-Down. I expect both Mean Mark and Big Paul to come out here, and maybe even Mayor Kane?
#BigRedMachine @KaneWWE in one corner, @ShawnMichaels in the other…

It's #Undertaker vs. @TripleH for the LAST TIME EVER this Saturday at #WWESSD! #RAW pic.twitter.com/LFlJMv3tMu

— WWE (@WWE) October 2, 2018

03:50am
Michael Cole just called Sunil Singh, Ranjin Singh. Best Raw ever.

03:46am
Up next it's Bayley vs. Alicia Fox because reasons.

03:43am
After a long, boring match, Owens wins with a roll-up after an Elias distraction.
I've been complimentary of Raw in recent weeks.
This show has been dreadful.

03:26am
Lio Rush saves the day, who after a bit of banter with Elias and KO, introduces his "man" Bobby Lashley.
Lashley takes on KO up next.
Lashley & Cena vs. Elias and KO on Saturday.

03:22am
This heat is incredible.
Elias and Owens are incredible.
This is fantastic.
"It doesn't make sense, like having a basketball team in Seattle.
They're trying to talk over them and hype up Super Show-Down. It ain't working.

03:08am
This is what watching Raw often feels like:
UP NEXT: @IAmEliasWWE leads @FightOwensFight to the ring for a showdown with @fightbobby on #RAW! pic.twitter.com/WNAM812JO9

— WWE (@WWE) October 2, 2018
03:04am
Dolph Ziggler runs to the ring to cost Rollins the match, and it's chaos time.
No, not the New Japan faction, just a load of blokes battering each other, as all six men involved in Raw's biggest match at SSD go at it.
It's Strowman, McIntyre and Ziggler who very much stand tall, and end the segment with the patented Shield fist bump.
02:46am
Big match up next.
After Braun refers to Ziggler as a "weak link," McIntyre is set to take on Rollins after the break. On free TV. Again.
02:43am
WWE is teaming with Susan G. Komen to fight breast cancer:
Breast cancer is #unacceptable, so join the fight against it with @SusanGKomen. pic.twitter.com/0lu47sjfIH

— WWE (@WWE) October 2, 2018
02:36am
Scenes.
"If I wasn't such a nice guy, I MIGHT be #UniversalChampion right now." – @TheDeanAmbrose to @WWERomanReigns #RAW pic.twitter.com/eCzmuiBEBu

— WWE Universe (@WWEUniverse) October 2, 2018
02:35am
The B-Team won, that sucks OH WAIT IT'S AoP.
They're absolutely massacring the B-Team from behind.
Drake Maverick is no longer cosplaying as Akam and Rezar. Good.
AoP land a Super Collider on the B-Team, Drake looks happy, and that's it for that.
02:30am
Oh. It's the Revival.
They didn't get an entrance.
Konnor did.
Despite the Revival having a phenomenal match last week.
Good!
02:26am
It's the B-Team! They still exist apparently.
They're "in action" next.
So they're either squashing jobbers, or getting squashed by AoP.
02:24am
They're actually promoting Evolution for once.
In the worst way possible.
Good Lord.
"When it comes to meeting my heroes, #Stratusfaction is NOT guaranteed." – @AlexaBliss_WWE #RAW pic.twitter.com/gslCKVgU3I

— WWE (@WWE) October 2, 2018
02:21am
Konnor just won again.
Erm.
02:19am
Michael Cole: "Konnor is such a large man."
Cheers Geoff.
The crowd is completely silent here.
02:17am
The Ascension just got a full entrance.
It's 2018.
02:13am
Up next it's Bobby Roode vs. Konnor.
Konnor beat Chad Gable last week.
I am still confused, angry, and absolutely baffled by that.
02:10am
After a decent match, Ronda picks up the win, as was probably expected.
She's very, very good.
This Saturday, we'll see the Riott Squad take on Ronda and the Bellas at Super Show-Down.
Should be erm… interesting. I guess.
02:05am
Ruby Riott with the Fishhook there.
Must have been studying her Randy Orton tapes.
https://twitter.com/totaldivaseps/status/1046928681401241601
02:00am
Ronda's now getting booed purely because of her association with the Bellas.
Well done to whatever geniuses thought this would work.
01:56am
Up next after the break, it's Ruby Riott vs. Raw Women's Champion Ronda Rousey!
Apparently the Bellas will be there because of course they will.
#RAW #WomensChampion @RondaRousey has The @BellaTwins in her corner as she battles @RubyRiottWWE NEXT! pic.twitter.com/38GMfgpXjw

— WWE (@WWE) October 2, 2018
01:54am
That was a fantastic little match there.
Both Roman and Dolph excel in making their opponent look good, and they've both just done it in tandem.
Nearfalls aplenty, Roman picks up the win with a Spear (which was very nearly ruined by a Kevin Dunn camera cut).
It's now 1-1 in tonight's Shield v McZigMan series, and it all hinges on Rollins vs. McIntyre later tonight!
01:43am
Quick question – Why would Corbin make the matches non-title?
And shouldn't Ziggler be angry that it isn't?
That's two questions but whatever. Zigman is on top as we hit the commercial break.
01:40am
Before Roman and Ziggler kicks off, Seth and Dean are having a bit of a domestic.
Ambrose basically threatens Rollins because Roman cost him the match, stating "I could be Intercontinental Champion right now."
Hmmm….
Roman wanted to put his Universal Title on the line against Dolph, Corbin objects though, and the non-title match is underway!
01:34am
Oh, hold on a minute.
McIntyre and Ziggler come out onto the stage joined by Baron Corbin.
Corbin makes two more matches for tonight. Rollins will take on McIntyre later, but up next it's Roman Reigns vs. Dolph Ziggler!
01:32am
It's Strowman's turn to hit a [finishing maneuver] OUTTA NOWHERE as he hits a Running Powerslam to Dean.
He can't follow up with a pin, but shortly after lands a second and wait IT'S THE BIG DAWWWGGGG.
Roman hits Braun with a SuperMan Punch, and is joined by Seth Rollins to clear Strowman out the ring.
This does however mean Ambrose lost the match by DQ. At least he didn't die, I suppose.
01:29am
Braun continuing on the offensive. before Dean hits a Dirty Deeds OUTTA NOWHERE. Oh wait, that's someone else's thing isn't it.
Despite Braun kicking out at two, Ambrose hits a Suicide Dive and and is now on top!
01:24am
Matt Hardy with life's important questions here.
I RT'd because I have a brain.
Who'd you like as GM of #RAW?

RT for #BROKEN Matt Hardy
LIKE for #WOKEN Matt Hardy

— MATT HARDY (@MATTHARDYBRAND) October 2, 2018
01:22am
First commercial break of this affair, and Braun is very much in control early on.
Ambrose looked to take out the big man's leg but to next-to-no avail as the 'Monster Among Men' remains in charge.
01:17am
A quick reminder of what's still to come later in the show before this first bout kicks off.
TONIGHT… #RAW ?? pic.twitter.com/ZFDQu4WxZO

— WWE (@WWE) October 2, 2018
01:15am
Dean explains, in a really round-about way that only a LUNATIC like him could, that he is happy in the Shield and they'll always stick together. That sounds like something someone who is planning to leave the Shield would say, right?
Anyway, just before Ambrose can leave the ring, Acting GM of Raw Baron Corbin comes out and gives Ambrose three match options for tonight:
vs. Seth Rollins for the IC Title
vs. Roman Reigns for the Universal Title
vs. Braun Strowman
After some deliberation, Ambrose turns the tables and asks for a match against Baron Corbin himself. Which was rather stupid considering Corbin is quite literally the one that makes the matches.
Corbin decides Ambrose can get Strowman, and guess what, it's happening RIGHT NOW!
I mean after the commercial break, sorry everyone.
01:03am
Raw kicks off with Shield member Dean Ambrose!
What will he have to say about last week's shenanigans and the Shield's upcoming clash against Strowman, Ziggler and McIntyre at Super Show-Down on Saturday?
Hello and welcome to WrestleTalk's live coverage of the October 1, 2018 edition of WWE Raw, which just happens to be the red brand's go-home show for this Saturday's WWE Super Show-Down, which I'm quite looking forward to. Well…. parts of it at least.
Before the show starts, feel free to check out our full preview for tonight's show, but here's a quick rundown of what's in store:
Ronda Rousey vs. Ruby Riott
Shawn Michaels says words about Undertaker vs. Triple H
Lio Rush's man vs. Kevin Owens
Something involving the Shield and/or Strowman, Ziggler & McIntyre and/or Baron Corbin and/or AoP and/or the entire Raw heel roster
Other guff
What are you looking forward to on tonight's edition of WWE Raw? Let us know in the comments below or via Twitter and Discord.