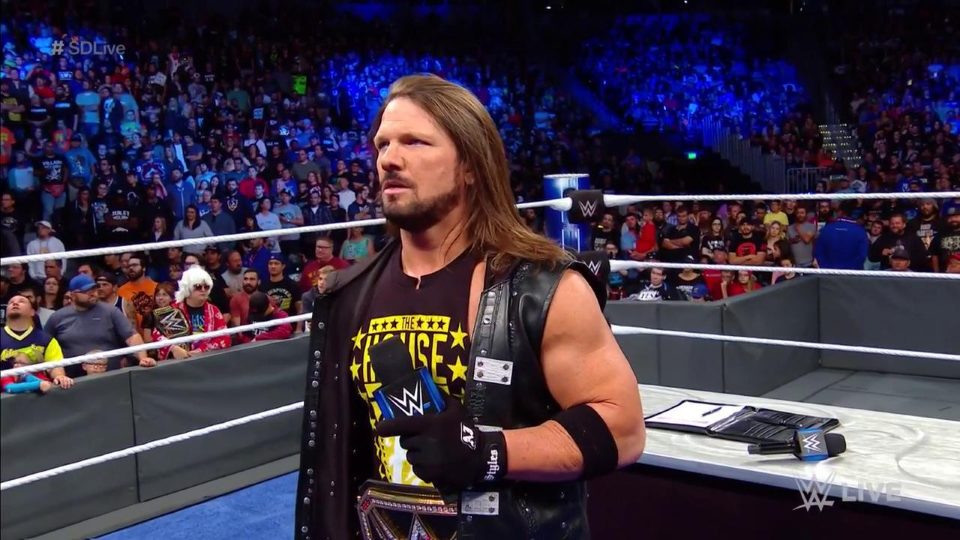 03:04am
And that wraps up a very good episode of SmackDown.
Solid in-ring action throughout, and a few genuinely compelling storylines going on too.
Thanks for following along with our live coverage tonight, hope you enjoyed the show as much as I did. See you next week!

03:03am
Right then, Joe rang the doorbell to the Styles house, said "Daddy's home" down his phone and the show went off air.
SmackDown is mad right now.

02:58am
So, Joe didn't turn up to SmackDown tonight to sign the contract.
He's at AJ's house instead. I'm sure he just wants to mow the lawn or something.

02:52am
Closing out the show, AJ Styles and Samoa Joe will sign the contract for their anything goes match at Super Show-Down for the WWE Championship.
What could possibly go wrong?

02:49am
A pretty convincing win for Becky there with the Dis-Arm-Her.
Not much else to say.
Oh, Milwaukee update: Next week, Aiden will present video evidence of whatever this situation is.
What happens in Milwaukee…#SDLive #AidenDay

— Matthew Rehwoldt (@DramaKingMatt) September 26, 2018

02:39am
Up next, Lana takes on the SmackDown Women's Champion Becky Lynch.
#Milwaukee

02:37am
Orton nails a draping DDT to the outside on Tye, and once the 'Viper' leaves, Shinsuke follows up with a Kinshasa.
Something's going on here.
02:35am
Well, I was right, but not how I expected.
Randy Orton just turned up mid-match, attacked Dillinger from behind and is now battering him around ringside.
What's the deal with Orton and Nakamura's opponents?
02:31am
Next up, the 'Perfect 10' Tye Dillinger takes on the United States Champion Shinsuke Nakamura.
I expect this to last about three minutes.
02:25am
Naomi and Asuka came out on top in that one, surprise surprise.
The IIconics were as annoying as expected.
We're also gonna get Lana vs. Becky Lynch tonight, because… Milwaukee I guess.
https://twitter.com/totaldivaseps/status/1044757275548758019
02:17am
Up next, it's Naomi and Asuka vs. Absolution in tag team action!
The IIconics are on commentary. Oh God. Good luck everyone watching with the sound on.
02:09am
After a very emotional few minutes and Aiden explaining why he turned on the Bulgarian – the main reason being Lana, the 'Shakespeare of Song' drops a bombshell.
He criticizes Lana for being dishonest before posing the question:
"Are you going to tell him about that one night in Milwaukee?" *mic drop*
Holy crap, it's going off.
And I love it.
01:55am
Up next, Rusev demands answers as to why Aiden English turned on him last week.
Just batter him Rusev pal.
01:53am
That was quite a short match, but still pretty decent.
Sheamus picked up the win with a Brogue Kick, meaning the Bar are now individually 2-0 up on their Super Show-Down opponents.
Get in the ZONE, the CELTIC ZONE, @WWESheamus! #SDLive @WWECesaro pic.twitter.com/fEZsBk7Jpr

— WWE Universe (@WWEUniverse) September 26, 2018
01:45am
Before the match underway, New Day and the Bar are now engaging in the #SaySomethingNiceChallenge, coined by Big E.
Sheamus ain't having though. He wants to foight. Because he's Irish.
Sheamus vs. Big E is on!
01:36am
Up next, one half of the Bar, Sheamus, takes one one third of WWE SmackDown Tag Team Champions New Day, Big E.
It's been a bit spicy on Twitter between these two recently.

01:32am
After a couple of nearfalls for Truth, Miz nails a Skull Crushing Finale, but instead of going for the pin, hits a Daniel Bryan-esque running knee for the win.
Great opening quarter to tonight's show!
"I'll do ANYTHING to win! ANYTHING? YOU GET ME?"@mikethemiz wasn't lying as he uses one of @WWEDanielBryan's signature moves to defeat @RonKillings on #SDLive. pic.twitter.com/oXS1hBbed3

— WWE (@WWE) September 26, 2018
01:27am
We're into the first commercial break of this bout, and it's been quite an entertaining one.
Daniel Bryan on commentary is adding an extra dynamic, and solid in-ring work from former tag partners Miz and Truth is making for a good opening match.
01:17am
Miz isn't very happy here.
Truth challenges him to a match for custody of Miz TV, before once more calling a dance break.
Miz takes the opportunity to vacate the situation, but Paige orders him back to the ring for his match against Truth, and it's up next!
01:12am
Relatable.
#TruthTV is giving me life #WWE #SDLive ????????

— Dasha Kuret (@DashaKuret) September 26, 2018
01:12am
The Miz makes his way onto the stage to quell Bryan's thoughts, and the crowd once again erupts in "Truth TV!" chants, which R-Truth is more than happy to gloat about.
01:09am
Bryan is mid-answer to Truth's really insightful first question, when Carmella points out that it's time for the seven-second Truth TV dance break.
Can tell these three are loving this. And so am I.
01:05am
The 'Fabulous Truth,' as they're known on Mixed Match Challenge introduce their guest, Daniel Bryan!
Bryan will of course face The Miz at Super Show-Down on October 6.
01:04am
SmackDown opens with Miz TV!
Oh no, it's R-Truth and Carmella.
Massive "R-Truth" chants reverberate around the arena as Ron introduces us to 'Truth TV' with a "What's Up?!"
12:54am
Quick update here with the show just minutes away.
If you weren't already excited, Naomi and Asuka will be taking on Absolution in a tag team match.
Anyone remember when Paige said Absolution was dead and the two were no longer allowed to team together? Those were the days, eh.
12:30am
Good evening and welcome to WrestleTalk's live coverage of tonight's WWE SmackDown Live!
Before the show begins, make sure you check out our preview of what's in store, but here's a quick rundown:
WWE Champion AJ Styles and Samoa Joe sign a contract for their Super Show-Down clash
WWE US Champion Shinsuke Nakamura vs. Tye Dillinger
The latest in the Rusev Day saga
Probably something between Becky and Charlotte that makes no sense whatsoever
What are you looking forward to on tonight's show? Let us know on Twitter and Discord!