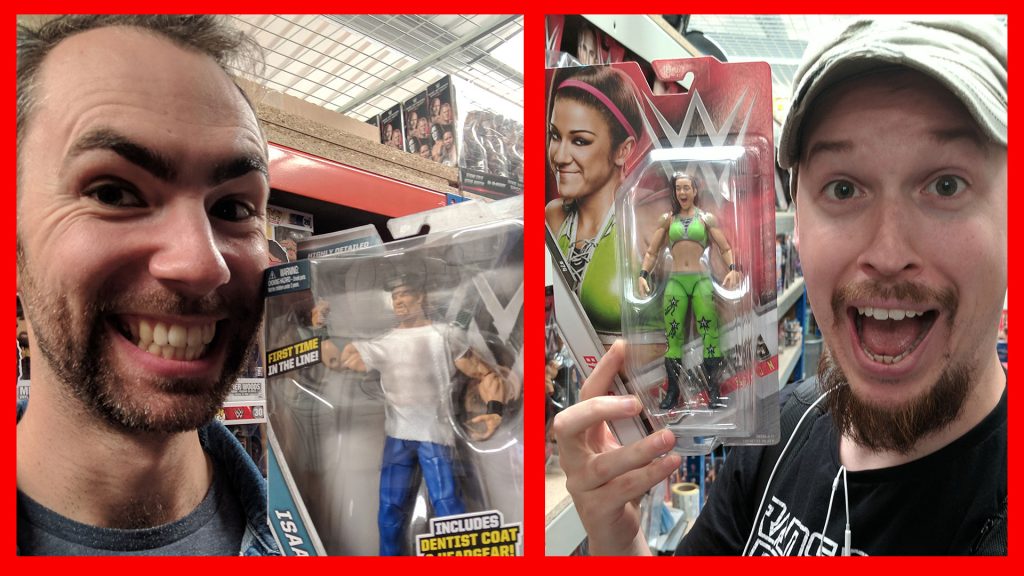 "SHELF WARMERS?" I asked, repeating the words back to Richard. The phrase was somehow both comforting and vaguely sexual at the same time. Like a snug pair of fluffy gloves, but also like what old men would call woman's breasts in the 70s.
I was projecting.
"The figures that don't sell" he explained. "Shelf warmers. They sit on the shelf."
"That's distinctly not as sexy," I thought, my inner-Sid James slightly crushed.
We were in the top secret headquarters of Richard's action figure business, Wrestling Shop—a UK-based business dealing in WWE memorabilia and merchandise. Behind the Union Flag curtain we'd walked through just 20-minutes before, sat row after row of replica belts, WWF CDs, and—the vast majority of stock—Mattel WWE action figures.
I don't know if there were thousands of figures in there. I forgot to ask—and I've got no reference point for what thousands of boxed toys looks like—but I wouldn't be surprised. Especially including the two other rooms downstairs. Lacking a definitive number, I'll do a WrestleMania III.
There were 93,173 figures in attendance.
A few stats did stick with me, though. Mattel release roughly 30 new figures every month; around 300 new toys every year. Richard, helpfully, did the maths for me. "That's 3,000 every decade," he calculated, simultaneously in awe and slightly overwhelmed.
I heard Luke's muffled voice on the other side of a display stand. He was whispering sweet nothings to a Bayley Pop! Vinyl figure.
"30 new figures every month?!" I asked, taken aback. Unlike WWE DVDs, which mostly stay in print, supplies always being restocked, Mattel release figurines as limited runs. There was only a finite number of the Dolph Ziggler Elite Collection Series #48 on the shelf by my knee. The production lines would never make ones like him again.
A sobering, lonely thought. And one that impulsively made me want to purchase Dolph from Richard there and then.
Of course, that's the gimmick. By having a limited one-off run, Mattel are appealing to the obsessive collector mentality of dedicated fanbases.
A clatter banged down the other end of the store. Luke hadn't taken off his backpack, and he was obliviously knocking over items in his wake.
"Oli! Oli!" he yelped excitedly, hurrying over to where we stood. "They've got a Renee Young!"