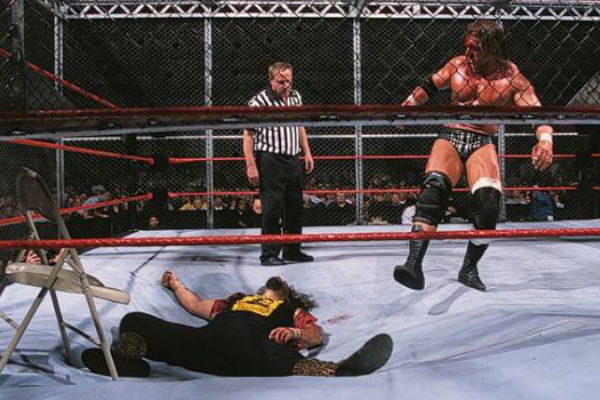 The oft-cited "Road to WrestleMania" stretches from January's Royal Rumble through the early-spring's grand spectacle, with plenty of time in between for WWE to ignore that dream supercard that you fantasy booked one night during a 40-minute shower, and instead book a WrestleMania that was intentionally designed to piss you off. Or so you'd probably claim.
In between the Rumble and 'Mania, the company squeezes in a pay-per-view or two that usually helps shape that road. From the time Shawn Michaels wagered his title shot at the February 1996 In Your House, through Goldberg's exhausting, emotionally-draining 20-second victory over Kevin Owens at Fast Lane a year ago, WWE has made this pit stop an annual staple.
Looking back through the years, here were the ten greatest of those designated pit stops.
10. No Way Out 2008
WWE may as well have begun the Elimination Chamber event branding here, since February pay-per-views would be equipped with two Chamber matches for the foreseeable future. Raw and SmackDown each instituted their own Chamber bouts (SmackDown's first ever Chamber match in fact), each to determine the World title contenders for WrestleMania 24.
Those Chamber matches buoyed a decent enough show. Undertaker and Batista's understated year-long rivalry culminated when "The Dead Man" pinned Batista to win a lengthy blue-brand Chamber, while Triple H polished off Jeff Hardy to take Raw's version to close out the night. It's one of those shows that isn't remembered as fondly as perhaps it should be.
9. In Your House: Final Four (1997)
The WWE World title picture had been thrown into disarray, due to Shawn Michaels' forfeiture of the gold (via "losing his smile"), and the four-way match set to determine the WrestleMania number one contender would now be for the WWE Championship.
In a year where WWE produced genuine five-star epics as well as matches bordering on it (Hart-Austin, Michaels-Taker, Stampede ten man), the Final Four match pitting Bret Hart, Steve Austin, Undertaker, and Vader is criminally overshadowed. The highly-intense, blood-laden brawl was a fitting end to a pay-per-view with quality title bouts in Rocky Maivia vs. Hunter Hearst Helmsley (IC) and Owen Hart/Davey Boy Smith vs. Doug Furnas/Phil Lafon (Tag).
8. No Way Out 2006
Arguably WWE's best match of 2006 came from what ultimately amounted to a stop-gap SmackDown offering. Kurt Angle and The Undertaker blended WWE main event-style brawling with MMA-inspired submission exchanges. The half-hour match likely deserves credit for showing the potential that submission-based offense could have in matches that feature larger-than-life heavyweights.
The 2006 No Way Out, like every other SmackDown pay-per-view that year, proved to be highly underrated. The epic main event only capped off a quality night that included a very good Chris Benoit/Booker T United States title bout, and an equally-good Rey Mysterio/Randy Orton match, even if the ending to that one left a sour taste.
7. Elimination Chamber 2013
For the first time in nearly ten years, The Rock would be wrestling on a secondary WWE pay-per-view. In what would turn out to be CM Punk's last WWE Championship match ever, he put Rock over in a match comparably on par with their Royal Rumble encounter.
As for the rest of the night, once you got past, "Why is Jack Swagger earning a title match at WrestleMania?", you were left with a high-quality secondary showcase. The Shield won their second-ever pay-per-view match over a super-team of John Cena, Sheamus, and Ryback, while Swagger's Chamber match win, while irksome, was at least in the confines of an impressive brawl.
6. Elimination Chamber 2014
Historically, it was the final pay-per-view prior to the launch of WWE Network in the United States. The pre-Network era ended with a bang, even if many fans were irked by WWE's failure to put the championship on Daniel Bryan that night.
For the most part, the 2014 Chamber event was a two-match show, but they were a superb pair of matches. Randy Orton's successful defense of the WWE belt inside the Chamber took a backseat, however, to a classic battle between factions. The Shield and The Wyatt Family's six man tag had been highly-anticipated for weeks, and the match overdelivered, with Seth Rollins' daredevilry turning him into a bonafide star.
5. No Way Out 2009
One year after the concept of same-night dueling Chamber matches manifested, WWE just about perfected the formula with two domed-cage skirmishes, each participated in by Edge. In a year where the World titles changed more than an individual's underwear, Edge managed to hold both World Championships in the span of three hours on one given night.
Picking the better match among the WWE Championship Chamber (won by Triple H) and the World Heavyweight (won by Edge) is akin to picking the better movie between Godfather I and Godfather II. Even Randy Orton's match with Shane McMahon was intense and enjoyable, if you can get past the fact that Shane's strikes are more business-exposing than any whistleblower.
4. No Way Out 2004
You have to wait until the final three matches, but the 2004 No Way Out ultimately finds a major groove. In succession, the last trio of bouts goes: Cruiserweight extravaganza, match where John Cena submits, and respected workrate God wins first career World title. That description alone is enough to warm many hearts.
No matter, most people will remember this show as the night Eddie Guerrero improbably pinned Brock Lesnar to become WWE Champion, less than two years after battling back from drug and alcohol issues. It was an inspirational sight to see Guerrero conquer the wrestling world against all odds, and that alone would be enough to give this event high marks.
3. Elimination Chamber 2011
You wouldn't necessarily think that a 61-year-old getting a WWE Championship match would help a pay-per-view reach greatness, but it happened at the 2011 Chamber event. Jerry Lawler's storybook attempt at dethroning The Miz came up just short, but not for a lack of great storytelling. As far as underrated WWE Championship bouts go, Miz/Lawler easily makes the cut.
The two Chamber bouts were also of high quality, particularly the SmackDown version once it came down to Edge and Rey Mysterio. Certainly, the event was far better than the overdone, underwhelming WrestleMania 27 that followed, and it looked to possibly be WWE's best event of 2011 until a little show called Money in the Bank came along.
2. No Way Out 2000
Given that the last two matches broke more than a few hearts (particularly the main event), it's hard to feel sentimental about the 2000 No Way Out, outside of a critical point-of-view. The popular Rock losing his WWE title shot, and Mick Foley being forced into retirement, provided the kind of deadly one-two shot to the liver that even Bas Rutten couldn't administer.
Alas, the event was an in-ring spectacular, capped off by Foley's loss in a violent Hell in a Cell bout to Triple H. Meanwhile, the undercard demonstrated the windfall of the Radicalz' jump from WCW, and the advancement of promising in-house talent. Edge/Christian vs. The Hardyz, Kurt Angle vs. Chris Jericho, and Rikishi/Too Cool vs. the aforementioned Radicalz helped balance just one of many great events from the year 2000.
1. No Way Out 2001
Sandwiched in between maybe the greatest Royal Rumble ever and definitely the best WrestleMania ever, you might think on first glance that the secondary No Way Out would be little more than just-another-B-show, a "downtime placeholder". Instead, the 2001 rendition rates up there with the greatest pay-per-views in WWE history.
Steve Austin vs. Triple H, Three Stages of Hell? Borders on five stars. Kurt Angle vs. The Rock, WWE Championship? A few degrees off perfection. Chris Jericho's IC Title defense against Chris Benoit, Eddie Guerrero, and X-Pac? Would've been the best match of most pay-per-views. Even Stephanie McMahon and Trish Stratus' spirited brawl overachieved to an insane degree, showing how WWE could almost do no wrong in the late days of the Attitude Era.