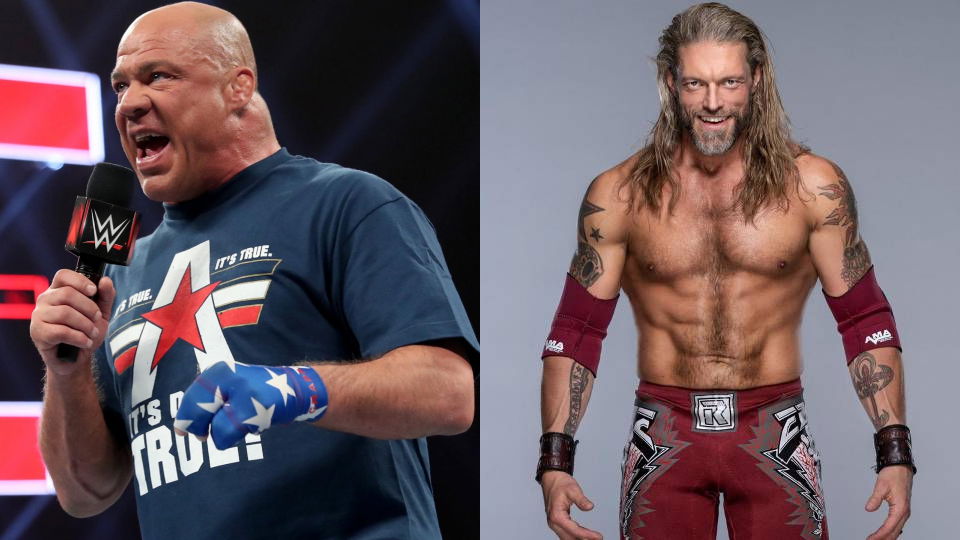 In today's Q&A here on the site, we discuss the brand new AEW signing, plans for the WrestleMania main event, and more of your questions answered!
@garrettfrench85 – Who do you guys think AEW will sign tonight at Revolution?
Louis Dangoor (WrestleTalk Reporter):
Until the news broke that Christian is no longer under WWE contract, I was very much under the assumption that it was going to be Kurt Angle debuting for AEW tonight. However, I now think it's a 50/50 between Christian and Angle, and I cannot decide who I tink it's going to be. If you had to ask me now, I'd say Christian, but I'm not sure. Elswhere on the card, I see Ethan Page debuting in the ladder match.
Sanchez Taylor (News Writer):
For the longest time (probably like a day), I was convinced that this was all a troll by Big Show, and he'd be the "Hall of Fame worthy" signing. With how Tony Khan has talked about the signing, I'm not sure this is the case. I think that Christian would be the safe choice, but I cannot forget Kurt Angle after his recent video. Saying all that, I'd love for it to be Big Show, just to see how fans react.
@FPL_Tips_FPL – Who has been the best World Champion out of Kenny Omega, Finn Balor, Roman Reigns and Bobby Lashley.
Louis Dangoor:
Bobby Lashley has only been champion for six days, so I can't say him, and Finn Balor's reign has been hampered by injuries. For me, it's a toss up between Kenny Omega and Roman Reigns, and I may upset a lot of AEW fans in saying this, but I'm going to go with Roman Reigns. For me, he's helped elevate guys like Jey Uso up the card, and delieverd whenever asked in TV segments or PPV. He's been great.
Sanchez Taylor:
Kenny Omega, closely followed by Finn Balor. While Omega was a great good guy, I love him when he's being the arrogant opportunist. It also cannot be ignored that Omega's title run has literally opened doors for AEW and the company may never be the same. Balor is an underrated champion. Every match he's been in since becoming champion has been excellent, despite having an injured jaw for most of them.
@WFLADaisy – What headlines each night of NXT TakeOver (if it is two nights) and each night of WrestleMania?
Louis Dangoor:
For me, I'd like to see Adam Cole beat Finn Balor for the NXT Championship next week, so I'd go for Finn Balor vs. Karrion Kross on night one, and Adam Cole dropping the title to Kyle O'Reilly on night two. For WrestleMania, I'd like to see Sasha Banks and Bianca Belair main event night one (as long as Reginald stays far away), and clearly Roman Reigns vs. Edge for night two.
Sanchez Taylor:
I think it's quite likely that Adam Cole wins the NXT Championship on Wednesday. If he does, Night 1 should be main evented by Finn Balor vs. Kyle O'Reilly. This match would be a No.1 Contender's match, with the winner (Kyle O'Reilly) facing Cole in the main event of Night 2. Saying that, I'd love to see an Io Shirai vs. Toni Storm rematch main event one of the nights. For WrestleMania, I think Sasha Banks and Bianca Belair should close the first night, and Roman Reigns vs. Edge the second.
@Walu2go – Do you think Jimmy Uso will return soon?
Louis Dangoor:
Jimmy was reportedly set to be cleared around January/February, so I'd be pretty surprised if we don't see Jimmy Uso before WrestleMania 37, potentially even as soon as Fastlane.
Sanchez Taylor:
I think Jimmy Uso is returning very soon. I don't think Fastlane will finish without us seeing Jimmy in some capacity.
Is there anyone not under contract that AEW should hire who would benefit them greatly?
Louis Dangoor:
To their credit, there isn't really a feasible free agent, probably apart from the one that is going to debut tonight, who I think AEW needs. While some indie talent could be good, AEW doesn't "need" them. Apart from someone like CM Punk or Brock Lesnar, I'm not sure who else AEW could get.
Sanchez Taylor:
One person I would've said before was Meiko Satomura. AEW have some extremely talented women on their roster, so somebody like Satomura not only would've taught them lots, she would've brought more eyes on the division. WWE claiming her was a big loss for AEW in my opinion. I can't think of a male free agent who would revolutionise the promotion as they're very good at creating their own stars. I'm ready for this answer to age badly following the signing tonight at Revolution.
Is the NXT Women's Tag Team Championship a wise idea?
Louis Dangoor:
I actually think it's an awful idea. Less is more, and I think it would be more beneficial to have one set of women's tag titles, but have the titles proeprly float across all three brnads as they are supposed to. However, in saying that, AEW has more female talent than the main roster, so it's not the worst idea in the world, but it isn't something I'd have done.
Sanchez Taylor:
NXT have proven that they have a varied roster of women. Although they could dedicate a portion of their competitors to tag team wrestling, what does that do for them? The current WWE Women's Tag Team Championship should just come to NXT for longer. With possible main roster appearances, the WWE Women's Tag Team Title would mean more than an NXT version of the championship because it wouldn't have the glass ceiling of being stuck on NXT.
If you think of any questions you want us to answer next week, send them to @LiamFWinnard on Twitter or email liam@wrestletalk.com. We'll also post a reminder tweet from @WrestleTalk_TV next Sunday and get replies from there too.