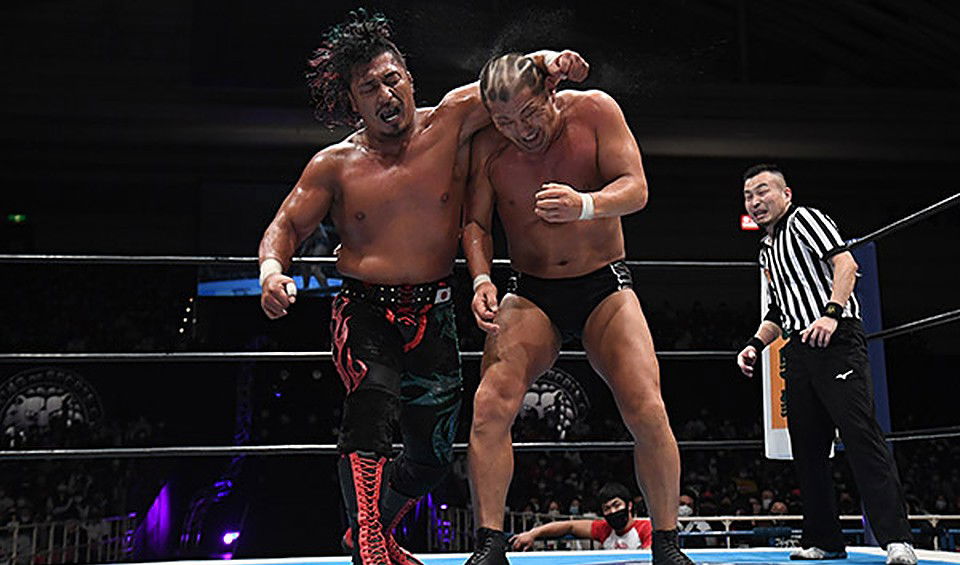 New Japan Pro Wrestling officially started their Road to Wrestle Kingdom with their Power Struggle show in Osaka. With six matches featuring some of the top wrestlers in the company, it has set up some stories going into January.
With a range of matches with different implications, here are all the Power Struggle bouts ranked.
---
6. Kazuchika Okada vs. Great O-Khan –  Special Singles Match
As many people expected, the match between Kazuchika Okada and Great O-Khan was probably the weakest of the night. However, it was always going to be a bout more focused on storylines and the future rather than the actual wrestling which was average.
Unsurprisingly, O-Khan came out with Ospreay who was dressed in a suit and drinking champagne. Yet, that was the only time Ospreay played a part in the match choosing to sit ringside. He seemed to have assumed that O-Khan would make easy work of the Rainmaker.
Initially, that did seem to be the case with O-Khan's power seeming to dominate in the ring. However, both Ospreay and O-Khan quickly remembered why Okada is one of the best in the world. With his athleticism and experience, the Rainmaker eventually got the win via referee stoppage using his Money Clip submission.
The main point of this match came after Okada had won. Ospreay made his way into the ring and challenged the Rainmaker for a match at Wrestle Kingdom.
---
5. Toru Yano vs. Zack Sabre Jr. – Provisional KOPW 2020
As expected, the match between Toru Yano and Zack Sabre Jr for the King of Pro Wrestling trophy was a bit of fun on a serious show. With the stipulation set for 'No Turnbuckles'. It was something that was always going to be crazy.
The match seemed to start the same way as the G1 Climax. Zack and Yano seemed to be wrestling. However, things escalated very quickly. Yano soon became aware of how dangerous exposed turnbuckles are. At one point, Yano even tried to tape them back onto the ring.
In the end, Yano found yet another ingenious to pick up the win.
As both men fell to the outside, Zack managed to trap Yano through the barricade in a painful submission. However, unbeknown to ZSJ, Yano was making use of that time. After Yano dashed back to the ring, Zack tried to get up only to realise that his shoelaces were tied together. Unlike in the G1, he was unable to get free before the 20-count.
Once again, Yano had won by count-out and left the Young Lions to deal with a very angry ZSJ. With Zack chasing Uemura out of the arena with scissors in his hand frustrated, it was a fitting end for New Japan's most unpredictable title.
---
4. Jay White vs. Kota Ibushi – IWGP Heavyweight and Intercontinental Right to Challenge Contract
Jay White and Kota Ibushi have always put on some stand-out matches. Although this bout for the G1 Tokyo Dome contract was still good, it might have fallen short compared to their previous meetings.
That is not to say that it was not a good match. As always, White and Ibushi brought out both the best and worst in each other. White targeted Ibushi's mid-section to weaken his endurance. Ibushi tried to counter this by using his speed and athleticism. We saw suplexes, chops and magnificent strikes from both men as fans saw how much of an underrated striker White is.
After an exchange where both men attempted to use their finisher, the match came to an abrupt ending. White managed to roll Ibushi up and, with the help of the top rope, got the win without the referee noticing his blatant rule-breaking.
With this win, White once again made history by being the first man to successfully beat the G1 winner for the contract since it was first introduced. Going forward, the big question is what will Ibushi do? Technically, he did not lose the match because Jay cheated. But, with Wrestle Kingdom so close, what is the Golden Star going to do?