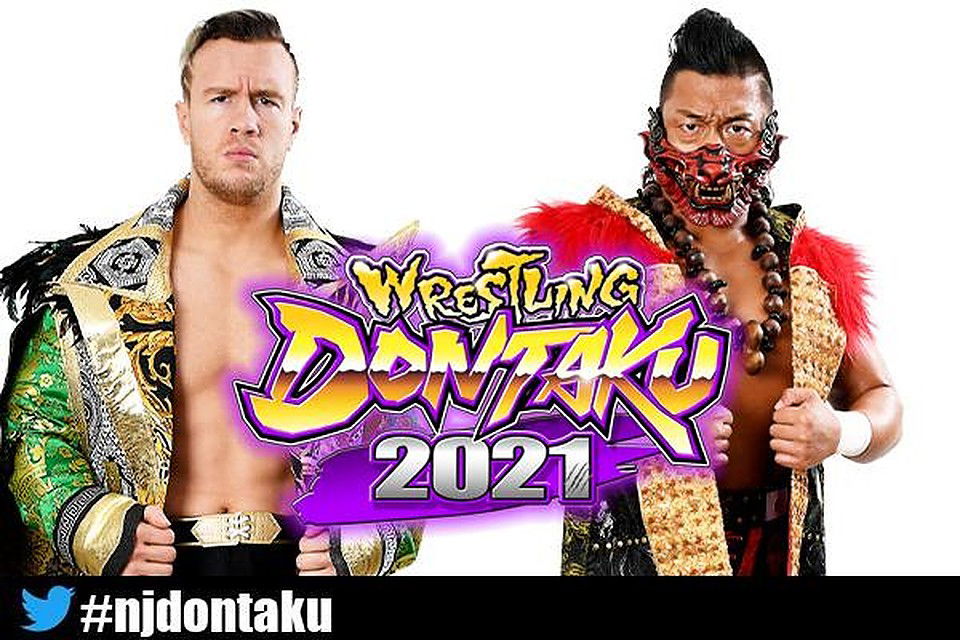 After New Japan Pro Wrestling's Sakura Genesis show, the company went straight into their annual Wrestling Dontaku tour. With a series of feuds set up, the "Road To" shows have featured some important warm-up and special singles matches.
Alongside this year's two big Dontaku shows, there is a special Wrestling Satsuma no Kuni card. With this announcement, there are even more high calibre matches featuring some of your favourite wrestlers.
Here is a look at all the title matches you can expect during the 2021 Wrestling Dontaku Tour.
---
EVIL vs. Toru Yano – Provisional King of Pro-Wrestling Trophy (April 28, 2021)
Since the KOPW concept was created, Yano has managed to get past every opponent in wild matches. His bout against EVIL is no exception with the "Creation of Darkness Blindfold Match." Four blindfolds will be put on each corner post and, for a decision to be rendered, the opponent must be blindfolded.
It seems as if this might be the wildest stipulation seen. Combining both men's identities of darkness and chaos, neither man will be at an advantage. Even with the addition of Dick Togo on the outside, nothing is certain as Yano has proved that he can beat any odds thrown at him.
With a stipulation as random as this, there is no doubt that both men are going to thrive in such a chaotic environment. Many fans will want to see a Yano victory because he has taken this concept and made it his own. There is no doubt that if EVIL wins the match, it will take on a very different tone and might not have the same lightness fans have come to love.
---
Roppongi 3K vs. El Desperado and Yoshinobu Kanemaru – IWGP Junior Heavyweight Tag Team Championship (April 28, 2021)
Once again, it feels like history is continuing to repeat itself with the IWGP Junior tag titles. Due to the lack of teams in the division, New Japan is once again giving us Roppongi 3K versus Suzuki Gun's duo of El Desperado and Yoshinobu Kanemaru.
As always, the talent within this match is second to none. On the Roppongi 3K team, there is a mixture of traditional high-flying, Japanese strong style and a power-based offence. Both Desperado and Kanemaru prefer a mat-based style with a strategy to win by any means possible. It is a combination fans have seen several times but is always effective.
The only difference in this match is that the result will impact a bout later in the tour. YOH is set to challenge Desperado for his Junior title and this match has the potential to alter the direction of the bout. If Roppongi 3K wins, it gives YOH a lot of momentum going into the match. If the CHAOS duo loses, Despy has the advantage and can use his renowned mind skills to help keep his belt.
Despite the lack of diversity, there is no denying that fans will be treated to a great wrestling match. The two teams will have to pull everything out of the bag to give viewers something new. Yet, if they manage to bring out the best in each other, it will be easy to forget that we have seen this match many times before.
---
Jay White vs. Hiroshi Tanahashi – NEVER Openweight Championship (May 3, 2021)
With two of the company's top stars battling for the NEVER singles title, the division has never been more important than it is now. With Hiroshi Tanahashi holding the belt, more eyes have been drawn to a division that has been previously overlooked. Whenever there is any attention, you can bet that Jay White wants a piece of it.
For many fans, Jay's career has been linked with Tanahashi since returning from his excursion in 2018. Over the years, the two have had many high-stakes matches for the IWGP Heavyweight Championship and during tournaments.
After beating Tanahashi during the New Japan Cup, Jay started a new chapter to their story by challenging for the NEVER title. The two were involved in many verbal clashes and a battle of abs to get fans even invested in the rivalry. Despite Jay not being around for the warm-up shows, fans are invested in a battle of personalities and styles.
The two wrestlers are on an equal footing with wins and losses in their length rivalry. Tanahashi is out to prove that he can still raise the prestige of a New Japan title. Jay wants to ruin the Ace's dreams and put an end to his career once and for all at Wrestling Dontaku.