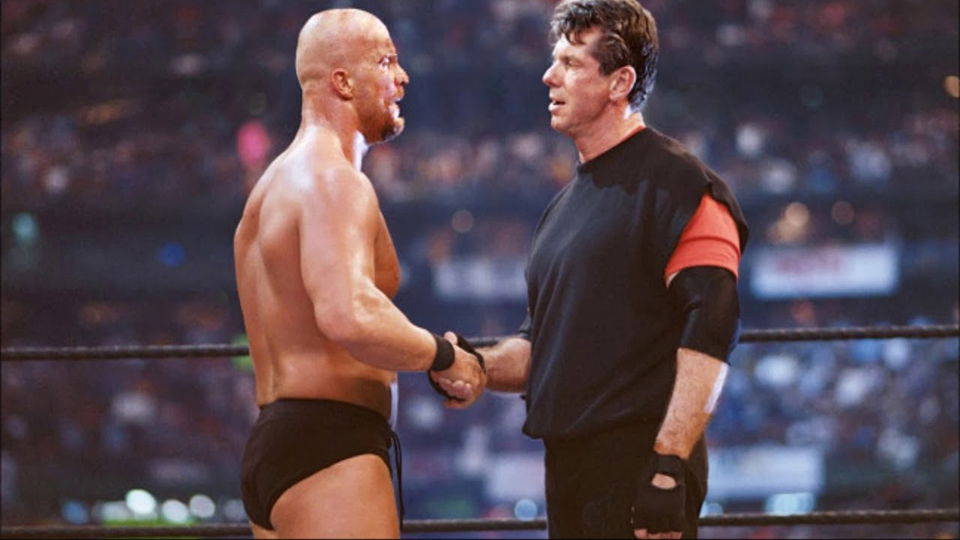 Sakura Genesis – April 1, 2018
Kazuchika Okada's reign as IWGP Heavyweight Champion was one of the greatest title reigns in wrestling history. One of the best matches during that reign came on this day in 2018 when he defended his title against Zack Sabre Jr. at Sakura Genesis. The benefit of New Japan Pro Wrestling is having so many great stars with very different styles. Sabre was a perfect example of that as the two put on a fantastic main event match.
Surprisingly, their match was not the best on the show. Rather the IWGP Junior Heavyweight Championship match between Will Ospreay and Marty Scurll, which received a five star rating, earns match of the night honours. This is the match where Ospreay injured his neck performing a Spanish Fly off the apron but pushed through the pain to finally defeat his rival.
---
Supercard of Honor XI – April 1, 2017
Supercard of Honor XI was the tale of one match and the tale of two sets of brothers. Hot off their run as Broken Matt and Brother Nero in Impact Wrestling, the Hardys made the jump to Ring of Honor in March 2017. They quickly defeated the Young Bucks to become ROH World Tag Team Champions and the stage was set for Supercard of Honor XI.
The Hardys put their titles on the line in a Ladder Match. This was a real passing of the torch moment from one high-flying team to another and it was truly an unbelievable match. The Ladder Match these two teams put on trumps the Ladder Match the next night at WrestleMania by a significant margin. If you haven't seen it, check it out.
---
NXT Takeover: Orlando – April 1, 2017
In one of the most forgotten NXT Takeover events in history, Orlando put on a stacked card with very little historical significance. No titles changed hands on this show as Bobby Roode, Asuka, and the Authors of Pain all retain their titles.
This was during a time when interest in NXT had fallen after most of their roster was promoted in the 2016 brand split. It would take until the Summer when Undisputed Era made their debut for interest to pick back up but if you go back and watch this show you won't be disappointed.
---
NXT Takeover: Dallas – April 1, 2016
When NXT Takeover: Dallas aired it was one of the best Takeover events in history. Since then it has fallen a few notches but it remains a very good show. Sami Zayn and Shinsuke Nakamura put on an incredible match than gave WWE fans a taste of New Japan Pro Wrestling's style.
Nakamura's entrance was one of the coolest visuals in WWE and the match was even better. In addition to this match, Asuka became the NXT Women's Champion and American Alpha became the NXT Tag Team Champions. It is a very solid card and unfortunately, it remains one of the peaks of Nakamura's WWE tenure four years later.
---
WrestleMania XXVIII – April 1, 2012
After a year-long build, John Cena finally squared off with The Rock at WrestleMania XXVIII on this day in 2012. The match itself was long and kinda clunky but people were there to see The Rock win and so they were happy. The show drew a massive buyrate for the promotion as the dream match captured the ire of hardcore and casual fans alike.
Also on the show was a gem of a CM Punk vs. Chris Jericho match, Daniel Bryan losing to Sheamus in 18 seconds, and the End of an Era Hell in a Cell match. If you ignore the first hour, WrestleMania XXVIII was a very enjoyable show.
---
WrestleMania 23 – April 1, 2007
From one highly successful WrestleMania to another, WrestleMania 23 broke WWE's buyrate records with its Battle of the Billionaires showcase. As future US President Donald Trump and Vince McMahon squared off in a hair match with each side represented by a WWE star, fans eagerly waited to see who would get their head shaved. In the end, it was McMahon who walked out of Ford Field with a shiny chrome dome.
While there were entertaining bouts throughout the show, the two that stand out are the two World title matches. Batista vs. The Undertaker was a great compact championship match that saw The Undertaker's streak extend to 15-0. The main event was equally as great while being about twice as long. John Cena and Shawn Michaels battled over the WWE Championship and despite Michaels throwing everything he had at young Cena, it was not enough.
---
WrestleMania X-Seven – April 1, 2001
What many consider the best WrestleMania in history, WrestleMania X-Seven could also stake its claim at being the best show in wrestling history as well. The card for this even is stacked with an array of different styles. Kurt Angle and Chris Benoit put on a technical masterpiece, TLC II was an insane car crash, Triple H and The Undertaker had a great brawl, but finally it was Steve Austin and The Rock that sealed the deal.
The two stars who represented the Attitude Era clashed in the main event of the Era's finale. This was the best match the two ever had together but what is most significant is the finish. Austin, feeling stale after four years as a babyface, elected to turn heel and join Vince McMahon. It was something fans did not want to see and many WWF fans turned the show off soon after.
---
WrestleMania VI – April 1, 1990
For its time WrestleMania VI was a hell of a show with a great main event. You may not think it by looking at it on paper, by Hulk Hogan vs. Ultimate Warrior was the best main event in WrestleMania history until 1996.
The two behemoths battled over the WWF and Intercontinental Championships in the main event and in the end it was Ultimate Warrior who walked out of Toronto victorious. His run as the top star of the WWF lasted less than a year but for this night his coronation was a hell of a moment.