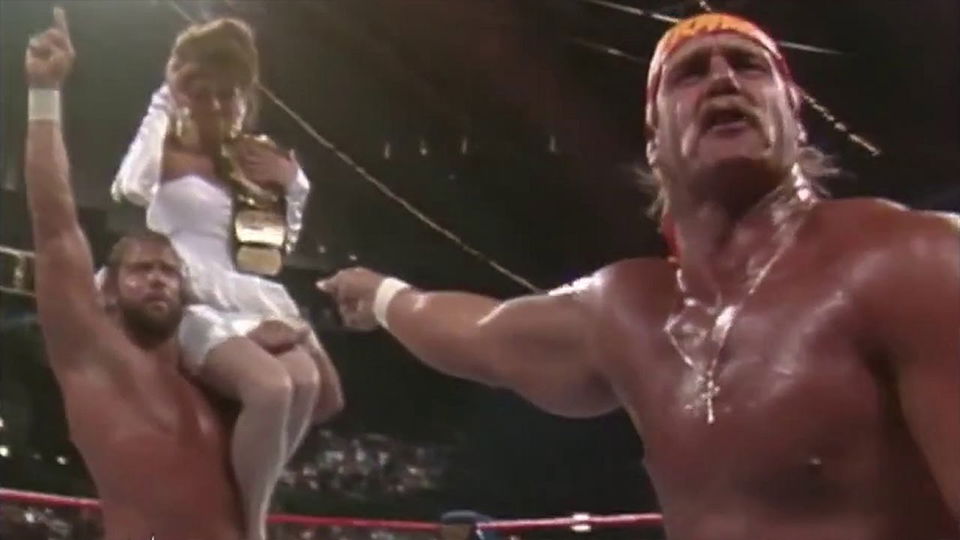 Samoa Joe's Final Ring of Honor Appearance – March 27, 2015
One of the greatest stars in Ring of Honor's history was Samoa Joe. He remains their longest reigning World Champion in history, holding the title for 645 days in 2003-2004. Joe had multiple tenures with the promotion and his last one came to an end on this day in wrestling history.
ROH always runs their Supercard of Honor shows over WrestleMania weekend. In 2015, Samoa Joe challenged Jay Briscoe for the ROH World Championship at Supercard of Honor IX. This is one of the more forgotten Supercard of Honor shows in history but it stands out as significant as it was Joe's ROH swan song.
---
WrestleMania IV – March 27, 1988
One of the most volatile days in the war between WWF and NWA was March 27, 1988. We will get into why that was in a minute but first, let us remember the event that was WrestleMania IV.
While the show itself was very poor, the memory of 'Macho Man' Randy Savage winning the vacant WWF Championship remains a classic moment to this day. The title was vacated after foul play from evil referee Earl Hebner in January of 1988 and a tournament was held at WrestleMania to decide the new champion.
Savage won and held Miss Elizabeth on his shoulder as Hulk Hogan attempted to steal as much of the spotlight as he could.
---
Clash of Champions – March 27, 1988
On the other side of the coin you had Clash of Champions, main evented by Ric Flair and Sting. A much better show from an in-ring standpoint, the main event was one of the top matches of the year.
This was the night that Flair made Sting a superstar. They wrestled 45 minutes and went to a draw, allowing Flair to retain the World Championship. The match did wonders for Sting's career and before long he found himself on the mountaintop.
The Midnight Express also defeated The Fantastics on the show in another great match and Barry Windham and Lex Luger were able to defeat Arn Anderson and Tully Blanchard.
If you were a fan of NWA wrestling, you knew which channel you were watching this night.
But that illustrated the problem. After the WWF created Survivor Series in 1987 to counter-program NWA's Starrcade event, NWA returned the favour on this night. The issue was the war between the two promotions was angering the cable and pay per view companies. They were losing money with the promotions splitting the wrestling audience and they were told to knock it off.
What memories do you have from this day in wrestling history? Let us know on Twitter!