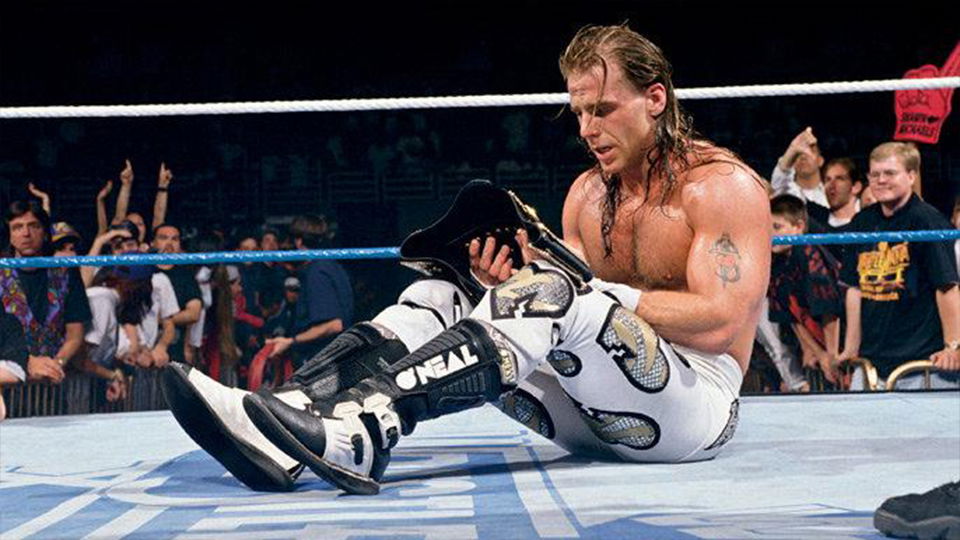 Colt Cabana Wins RevPro British Heavyweight Championship – March 31, 2013
Colt Cabana has not had as much championship success as you might think given his lengthy career. He was unable to capture the ROH World Championship during his time in Ring of Honor but on this day in 2013, he managed to win the RevPro British Heavyweight Championship at High Stakes.
Cabana had said he would never return to RevPro if he couldn't beat Sha Samuels but at the end of the match he managed to lock in the Chicago Crab and force the submission.
---
Davey Richards vs. Michael Elgin gets 5 Stars – March 31, 2012
The best match of WrestleMania XXVIII weekend did not come from WWE, but rather Ring of Honor. Davey Richards put his ROH World Championship on the line against Michael Elgin in one of the greatest matches in ROH history.
This was before Elgin had broken through as a top player in ROH or New Japan Pro Wrestling and this match put him on the map for many fans. He didn't manage to win the ROH World Title but his and Davey Richards' performances have stood the test of time.
---
Ric Flair Retirement Ceremony – March 31, 2008
One of the greatest careers in wrestling history came to an end at WrestleMania XXIV when Shawn Michaels retired Ric Flair. It was one of the most special retirement matches in history, but the ceremony the next night was perhaps more special.
At the end of Raw in 2008, Flair made his way to the ring to say goodbye before Triple H halted the proceedings. Triple H let Flair know that many more people than just the fans want to say thank you. He then brought out the Four Horsemen, Harley Race, Dusty Rhodes, Ricky Steamboat, Greg Valentine, John Cena, Chris Jericho, Batista, and Shawn Michaels. They all shared a moment with the 'Nature Boy' and then the rest of the roster emerged to chant "Thank you, Ric".
It remains one of the most special Raw moments ever.
---
Supercard of Honor I – March 31, 2006
One of Ring of Honor's longest-running yearly events is Supercard of Honor. With rare exceptions, ROH has run Supercard of Honor every year since 2006. On this day in 2006, the inaugural event took place. While the main event saw Bryan Danielson retain the ROH World Championship against Roderick Strong in a 56-minute classic, the six-man tag team match stole the show.
Dragon Kid, Ryo Saito, and Genki Horiguchi defeating CIMA, Masato Yoshino, and Naruki Doi in another one of Ring of Honor's best matches. The match received yet another five star rating after wowing the crowd in a 20-minute Japanese match. Check it out if you can, it is great fun.
---
WrestleMania XII – March 31, 1996
Shawn Michaels' boyhood dream came true on this day in 1996. WrestleMania XII is essentially a one-match show, but at least the one match was the best WrestleMania main event to this point. Michaels and Bret Hart engaged in the first-ever Iron Man match in WWE history and wrestled just over an hour in the WrestleMania main event.
After wrestling to a stalemate when time expired, the match was restarted with sudden death rules. Michaels quickly hit a pair of Superkicks to win the WWF Championship for the first time. The match is a matter of taste but Michaels' entrance and celebration are both true WrestleMania moments.
---
WrestleMania I – March 31, 1985
Eleven years earlier than that was the show that started it all. One of the biggest shows in wrestling history was WrestleMania I. The culmination of Vince McMahon's initial vision to expand his business, WrestleMania was a tremendous success and much of that success is due to the use of celebrities in promotion and execution.
The likes of Muhammad Ali, Liberace, and Cyndi Lauper helped make the show feel special, but Mr. T was the biggest star. The biggest star of 'The A-Team' was set to be Hulk Hogan's partner in the main event of the show against Roddy Piper and Paul Orndorff and he was essential in the promotion of the show.
If this show had failed, who knows what wrestling history would be like.
What is your favourite moment from this day in wrestling history? Let us know on Twitter!