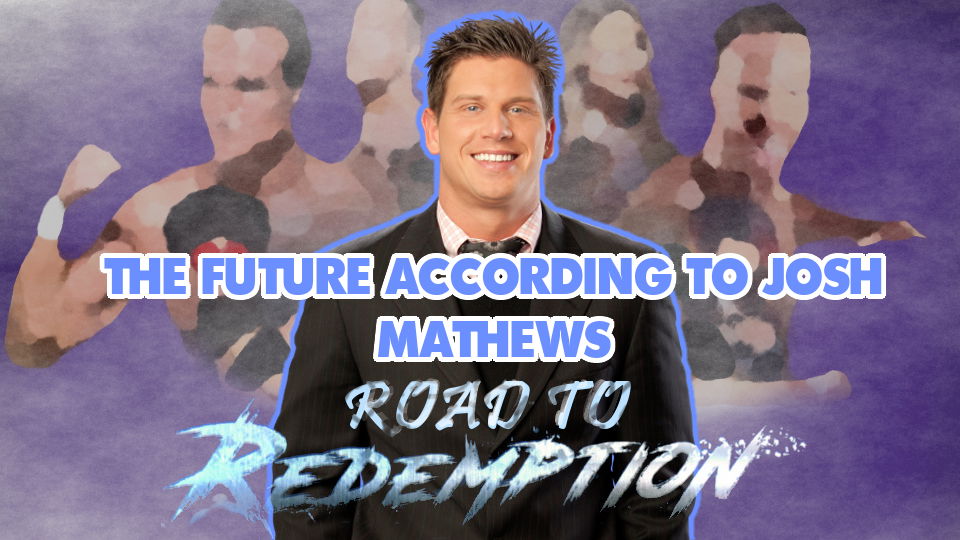 Over the next week, while we ride the road to Redemption, we are taking a look at some of the things that Impact Wrestling has been doing – and some areas that they can do more – to maintain their positive momentum.
In this article, we take a look at a recent interview with Impact play-by-play commentator, Josh Mathews.
In an interview with the Wrestling Epicenter, Josh Mathews answered several questions hot on the minds of those of us who keep up with everything going on in Impact Wrestling. Although the interview doesn't necessarily give us anything we didn't already know, it gives a great insight into the state of Impact as a business and the potential of their creative trajectory.
The interview jumped straight into asking Mathews' opinion of the new creative team of Don Callis and Scott D'Amore, which he immediately responded by saying it was making a huge difference:
"I think the impact it is having is tremendous. It has given Impact the forward momentum it has needed for quite some time. There has been so many false starts over the past few years."
It's great to hear someone so heavily associated with Impact acknowledging their shortcomings over the past few years, which Mathews wasn't shy to go into specific detail on throughout the interview. It has been no secret that Impact, previously known as TNA, had difficulties during 2016 based on some significant financial problems leading to a change in ownership. Since then, the promotion has made several attempts to re-brand and reinvigorate Impact, the latest being the hiring of Don Callis and Scott D'amore to lead their creative direction.
"The long answer to your question is that I'm extremely excited about where we could be going. Just the positive momentum! The ratings have been up throughout the month of March. We've sold more VIP packages for Redemption with still a few weeks to go than we did for January's. So, things are looking in a great direction. We're doing great with our ticket sales for WrestleCon. Everything is looking like we're going to succeed. That is a good opportunity for us to all take a collective breath."
It was announced back in December 2017 that Callis and D'Amore had become Executive Vice Presidents of Impact Wrestling. At the time, a change was sorely needed in the creative direction of the promotion to help the business build up after a few years of difficulty. So far it has been evident that a new approach has been taken, and it looks like it is paying off as Impact shows growth in their weekly television ratings. We recently saw a Title vs. Title match between Austin Aries and Matt Sydal in the main event slot that brought in the highest ratings in two years.
To remain transparent, it is apparent from my weekly Impact Review that I don't agree with all of their current creative directions. The overuse of under-built championship matches have been my main concern, but as I have said numerous times it is great that they are trying new things and really focusing on creating the best matches they can each and every week.
The Mathews interview went on to discuss a number of other changes to Impact, including the recent introduction of a Twitch channel and use of the Global Wrestling Network as ways to give people access to the rich history that the company has. If you haven't checked out the Twitch channel yet, it is a great free way to catch up on both the historic archives of Impact and TNA as well as some of the latest weekly episodes, so check it out.
Towards the end of the interview, Mathews is asked about how he sees the relationship between Impact and Ring of Honor changing in the near future. For those who missed it, earlier in the month Austin Aries dropped in on the ROH 16th anniversary event, leading some to speculate that Impact had become open to talent moving between promotions – much the same way that ROH and NJPW have allowed movement between their respective promotions.
"As for the companies (Impact Wrestling and ROH), I think that has to be something that has to slowly evolve and play out and make sure everyone trusts each other and that everyone understands that everyone wants this to be an opportunity for everyone to succeed. On April the 6th, you're going to get your first taste of that when Impact Wrestlng faces Lucha Underground at WrestleCon. And, we'll all be together!"
Overall the event on April 6 was seen as a success, despite the 'no-show' by main event contender Alberto El Patron.
We are keen to see how the future of Impact Wrestling unfolds, and if Josh Mathews was right about the trajectory they will be taking from here on out.
You can hear the complete interview in the video below.