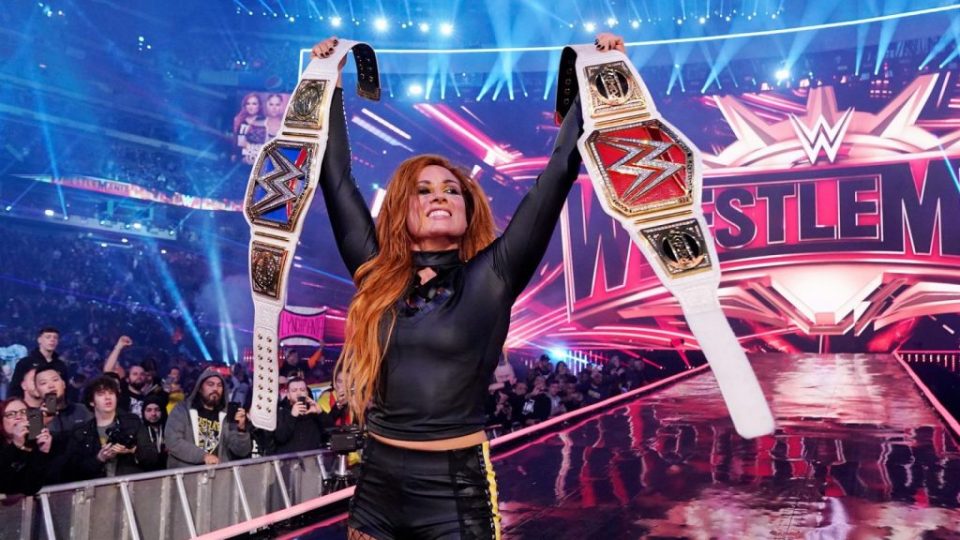 From 2010 to 2019 there have been 13 different Royal Rumble winners.
Today we take a look at all of them and where their careers are now, after winning one of the most important matches in the entire business.
Were they able to take advantage of the World Championship match at WrestleMania? Are they still relevant today? All these questions will be answered here.
---
Royal Rumble 2010: Edge
The 'Rated-R Superstar' Edge won his first and only Royal Rumble in 2010 in an epic affair.
Returning from injury, he eliminated former tag team partner Chris Jericho and lastly John Cena to win the 30-man battle.
However, he would later unsuccessfully challenge for the title against Jericho at WrestleMania.
In April 2010, now on Raw, Edge turned heel against Randy Orton after being caught up in the Nexus storyline.
At WWE TLC in December 2010, now being babyface again, he captured the World Heavyweight Championship one more time in a TLC match.
He successfully defended the World Title against Alberto Del Rio at WrestleMania 27, before announcing his his retirement the night after because of a neck injury.
These days, Edge is a WWE Hall of Famer, married to former Divas and Women's Champion Beth Phoenix, and is a regular guest on WWE programming.
Recently a report surfaced that Edge would be able to return to the ring, something the man himself has strongly denied.
---
Royal Rumble 2011: Alberto Del Rio
With Alberto Del Rio, WWE hoped to have found the next big Mexican wrestling star.
Dubbed 'Mexico's Greatest Export', he was immediately pushed to face the biggest stars of the promotion.
In 2011 he then won the first ever 40-man Royal Rumble, going after Edge at WrestleMania for the World Heavyweight Championship, a match he lost.
Later that year he was drafted to Raw and captured the Money in the Bank briefcase. He successfully cashed it in to win his first WWE Championship.
During his career, Del Rio won the WWE Championship and the World Heavyweight Championship twice. He was released in 2014 for slapping backstage personnel.
He returned in 2015, alongside Zeb Colter, capturing the WWE United States Championship twice during this tenure with the company.
By 2016, Del Rio left WWE again. A year later he would unify the Impact World and GFW Global Championships in TNA.
Since then, he mainly has been making public appearances in Mexico. In 2019 it was announced he and Chavo Guerrero would start their own wrestling promotion called Nación Lucha Libre.
---
Royal Rumble 2012: Sheamus
He is known as the 'Celtic Warrior', but by 2012 WWE had turned him into a babyface.
After winning the Rumble, Sheamus beat Daniel Bryan in 18 seconds to capture the World Heavyweight Championship at WrestleMania.
Since then he has always managed to repackage himself, dipping back into the main event picture from time to time.
Today he is a former four-time World Champion, as well as a former two-time WWE United States Champion.
However, his best work came alongside Cesaro as the celebrated tag team 'The Bar'. From 2016 to 2019, the duo captured tag team gold five times.
Following WrestleMania 35 in April 2019, Sheamus was out with an injury, believed to be close to retirement. However, he fought back and WWE currently runs vignettes hyping up the Irishman's singles return.
---
Royal Rumble 2013: John Cena
Cena won the Rumble for a second time in 2013, after he already won in it in 2008.
He went on to face The Rock at 'Mania for the World Championship that year.
The wrestling world is quite aware of Cena's unreal amount of accomplishments.
He is a record 16-time World Champion and also a record five-time WWE United States Champion.
Around 2016/2017, he semi-retired from the ring and now is focusing on his acting career.
---
Royal Rumble 2014: Batista
The 'Animal' Batista is also a very accomplished man in the world of WWE.
Much like Cena, he already won the Rumble before this decade. In 2005, his victory cemented his meteoric rise to the top the the promotion. In 2014… not really.
WWE planned to give Batista a babyface return, but neither himself nor the fans were into the idea. His push failed and Daniel Bryan entered the planned 'Mania 30 main event between Batista and Orton, to win the WWE World Heavyweight Championship.
Batista later left WWE again, after already doing so in 2010. He would return in 2019 for one final match against Triple H, which he lost. In 2020, Batista will be inducted into the WWE Hall of Fame.
Pop culture has come to love the former six-time World Champion for his stellar performances as Drax the Destroyer in the Marvel Guardians of the Galaxy movies.
---
Royal Rumble 2015: Roman Reigns
The former member of the Shield was always groomed to be WWE's next big star.
With his 2015 Royal Rumble victory, WWE wanted to cement this, but fans in attendance heavily rejected the idea, with Reigns receiving massive boos after winning.
The following years Reigns was constantly pushed in matches against Brock Lesnar, even becoming the second man to ever beat The Undertaker at WrestleMania.
During this time, Reigns became a Grand Slam Champion, he captured the World Title three times, as well as the Universal Title, the United States Title, and the Intercontinental Title.
Reigns also held the WWE Tag Team Championships alongside Seth Rollins while still being part of the Shield.
After overcoming his second leukaemia diagnosis, Roman Reigns is now back and WWE has slowed down the aggressive push for a more natural elevation back to the top.
Currently the 'Big Dog' is feuding with King Corbin on SmackDown, and is one of the favourites to win the 2020 Rumble and go on to face "The Fiend" Bray Wyatt at WrestleMania.
---
Royal Rumble 2016: Triple H
After winning the Royal Rumble in 2002, this was the second time Triple H won the match.
Since WWE was unable to find a proper heel that seemed like a legitimate threat to Roman Reigns that year, Triple H returned in in-ring action in order to be that man.
In this specific Rumble match, Roman Reigns had to defend the WWE Championship, entering from the #1 position. Triple H lost the one-on-one for the title at WrestleMania.
Currently the 14-time World Champion is Vice President of Talent Relations & Creative in WWE and also is responsible for the NXT brand.
In 2019 he entered the WWE Hall of Fame as part of D-Generation X.
---
Royal Rumble 2017: Randy Orton
The 'Viper' is the third man on this list to become a two-time Royal Rumble winner in this decade, after already winning it in 2009.
Orton went on to face Bray Wyatt for the WWE Championship at WrestleMania 33 and won.
These days Orton still regularly performs on WWE TV, currently feuding with AJ Styles on Raw.
As a 13-time World Champion, the 'Apex Predator' has basically won everything there is to win in WWE at this point.
---
Royal Rumble 2018 (Men): Shinsuke Nakamura
The former IWGP Heavyweight Champion became the first Japanese winner and first former NXT Champion to win the Royal Rumble.
Nakamura went on to face AJ Styles for the WWE Championship, where he lost and turned heel on Styles after the bout.
The former two-time WWE United States Champion currently reigns as the Intercontinental Champion on SmackDown.
He even introduced a new championship design in 2019.
---
Royal Rumble 2018 (Women): Asuka
The 'Empress of Tomorrow' became the first woman to ever win a Royal Rumble match.
Asuka unfortunately was beaten by Charlotte Flair at WrestleMania, ending her undefeated streak. In late 2018 she recovered by capturing the WWE SmackDown Women's Championship at TLC.
When it came close to WrestleMania 35, WWE quickly took the title off Asuka and put it on Charlotte Flair, again.
Later in 2019 Asuka formed a tag team with Kairi Sane, the Kabuki Warriors. They won the WWE Women's Tag Team Championships and turned heel.
During the 2019 edition of TLC, Asuka defended the titles alongside Sane in the main event TLC match against Flair and Becky Lynch.
---
Greatest Royal Rumble 2018: Braun Strowman
When in Saudi Arabia in 2018, WWE thought it would be fun to hold a third Royal Rumble in 2018.
For the first time, 50 men were able to enter the Rumble, a match Strowman eventually won.
Nothing came off it though, and Strowman has still yet to win a singles title in WWE.
---
Royal Rumble 2019 (Men): Seth Rollins
In order to face Brock Lesnar for the Universal Title at WrestleMania 35, the 'Architect' seemed to be the best fit to win the Rumble in 2019.
Rollins, who was already a former multi-time champion before winning the Rumble, beat Lesnar in the opener of WrestleMania and won the Universal Championship.
His run as champion, however, did not connect with the fans. He lost the title to "The Fiend" Bray Wyatt in Saudi Arabia in October.
Currently Rollins is a freshly turned heel, who is working together with the AOP against Kevin Owens.
---
Royal Rumble 2019 (Women): Becky Lynch
THE 'MAN' was the only correct option to go for at the 2019 Women's Royal Rumble event.
After winning it, she headlined WrestleMania alongside Charlotte Flair and Ronda Rousey and became the first woman to capture both the Raw and SmackDown Women's Championships at the same time.
Becky still holds on the the WWE Raw Women's Title to this day.
Which of these Royal Rumble winners was your favourite? Let us know on Twitter or on Discord!