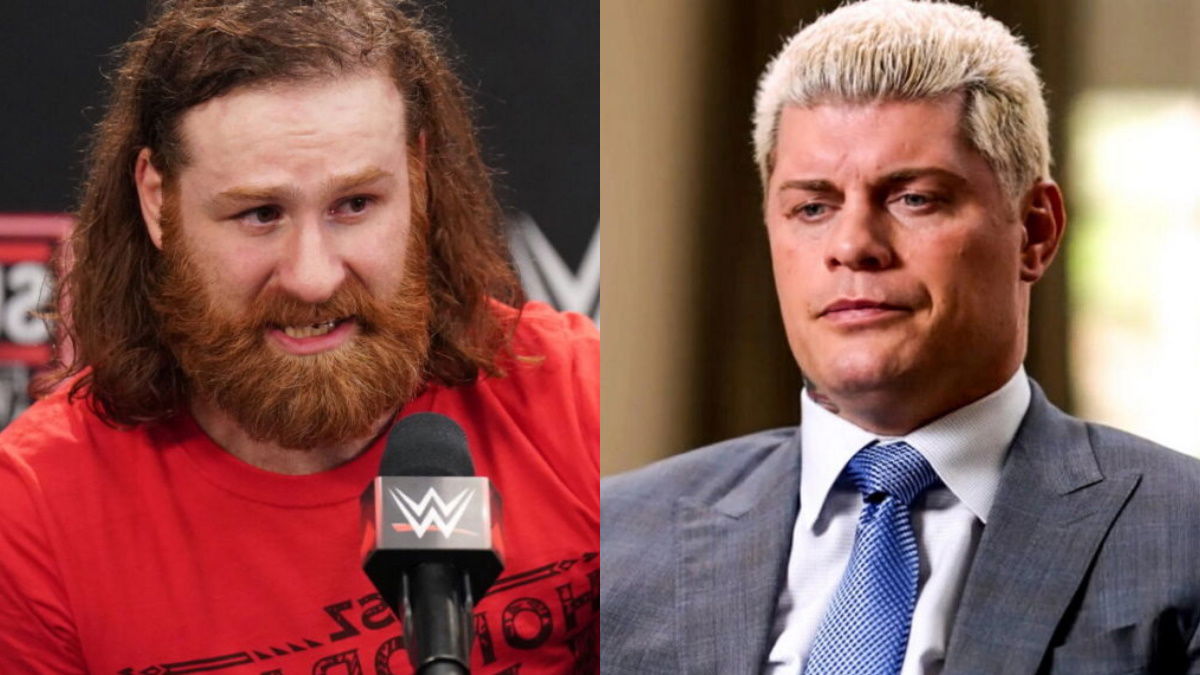 A look at the ongoing controversy involving Sami Zayn and Cody Rhodes, as well as what it means for the main event of WrestleMania 39.
It's getting close to decision time as the Road to WrestleMania heats up, so let's take a look…
Should Roman Reigns Face Sami Zayn At WrestleMania 39?
The current main event of WrestleMania 39 has Roman Reigns defending the Undisputed WWE Universal Championship against Royal Rumble winner Cody Rhodes, and although WWE fans are high on Rhodes, some of them aren't 100% on board with that match.
Why? Because Sami Zayn exists. And Sami Zayn has been embroiled in a storyline with Roman Reigns and the Bloodline for not far off a year – a storyline many are calling WWE's best for over a decade if not longer.
And it all just feels like it's peaking at the perfect time to culminate in a WrestleMania main event… but it doesn't look like that's going to happen.
The Sami Zayn story is one akin to Bryan Danielson/Daniel Bryan in 2014 and Kofi Kingston in 2019 – both times where the fans got behind someone and WWE decided to role with it and have them win the WWE Championship at the biggest show of the year.
The question is whether the same thing will happen here, and it seems like, this time, the answer might be no.
There's already a Reigns vs Zayn title match set for Elimination Chamber on February 18 (WrestleMania takes place on April 1 and 2), and that'll be happening in Zayn's own hometown of Montreal, Canada.
Which is kiiiind of like a WrestleMania moment, except 1) he's not gonna win, and 2) it's so close to WrestleMania that nothing will compare. If this was happening in October or something it'd be great, but all you have to do is wait another month-and-a-bit and we'll get the ultimate payoff to this story that everyone wants to see.
How To Book Sami Zayn Vs. Roman Reigns At WrestleMania 39
There are a few options, and the first one is, well, not changing anything. That mean Reigns beats Zayn to retain the title at Chamber, and then, presumably, drops it to Rhodes at Mania.
Meanwhile, from what we can assume is the current plan, Zayn teams with Kevin Owens at WrestleMania to beat the Usos for the Undisputed WWE Tag Team Championship.
Which would also be a big deal… just not as big a deal as winning the big one.
If WWE does want to go with the fans and have Zayn in the Roman mix at WrestleMania, there may be two ways that can happen.
The first is that we all remember there are two nights of WrestleMania – could we get Reigns vs Zayn one night and Reigns vs Rhodes on the other? There are definite downsides to that, you have to work out which way around to do them, and we all know that night two is always the REAL main event anyway.
The other option is you simply ADD Zayn to Reigns vs Rhodes and make it a three-way. Yes, Rhodes won the Rumble so people would probably complain he's not getting a fair shot, but it wouldn't be the first time it's happened (see Bryan in 2014).
If WWE does decide to stand firm and go with the original vision, is there a risk that fans could turn on Cody and on WrestleMania as a whole? That all probably depends on how we get there.
If WWE can make us WANT Zayn & Owens vs the Usos to the point we actually forget we could have gotten Zayn vs Reigns instead, that would probably be the perfect scenario from the company's perspective.
And that may well be achieved at Elimination Chamber, or in the weeks that follow with whatever happens between Jey Uso and… everyone else.
But even if that does happen, when we look back on the Bloodline storyline in months and years to come, this feeling will probably always linger. The feeling that the REAL culmination here was Sami Zayn defeating Roman Reigns at WrestleMania.
It's not necessarily all over after WrestleMania though, there's still time for everything to evolve. Will this story get the culmination it deserves? It might be a while until we get our answer.
Think you're a wrestling mastermind? Well you can prove it by taking quizzes in our brand new quiz section! Don't forget to tweet us your results!