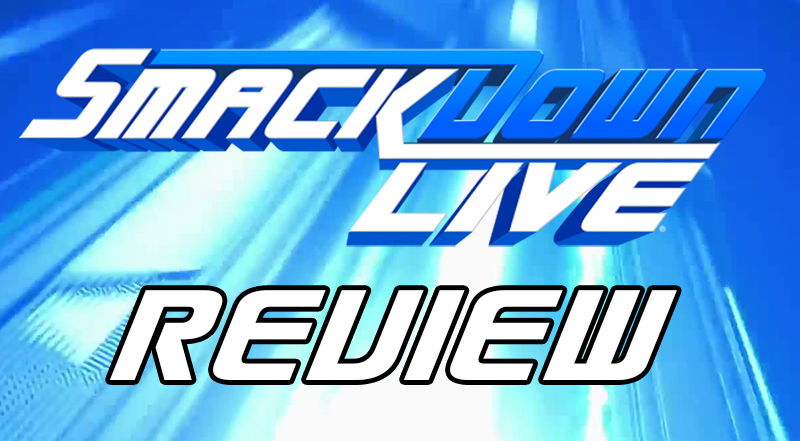 Imagine there are two siblings and one is really good looking and smart, while the other has been arrested 14 times by the age of 11. The parents probably favor one of them above the other.
Well, that's what WWE feels like at the moment.
Although RAW sometimes puts together pretty mediocre shows, there's never a complaint about the stars on show, nor the ability to get the crowd going when needed. Watching SmackDown Live on the other hand, feels as though the writers plan a big main event and then just forget to write the rest of the show until five minutes before going on air.
Once again, SmackDown finished with a great main event – a five-way featuring the Fastlane title match competitors sans John Cena, won by Sami Zayn after a Helluva kick on best buddy Kevin Owens, basically confirming that he won't be winning on Sunday. More intriguingly however, this could be the start of a Kevin Owens face turn, now that Sami seems to be heeling it up all on his own.
I'm not saying I really want to see a babyface Owens, but then I didn't think I'd like a heel Zayn, so I'm willing to be surprised.
The show kicked off with what could have been a good segment if the crowd had cared. Ruby Riott and Charlotte's match on Sunday doesn't exactly leave me drooling at the jowls, and after tonight it looks like I'm not the only one.
Ruby went for the classic, "Your dad is famous so you are famous," line, which, now that Charlotte is arguably the best female performer on the entire roster (other than Lana), it just feels a bit weak.
I'm sure it will be a perfectly decent match, and there's the chance that Carmella could FINALLY cash in her Money in the Bank contract, but at face value, I'm just not that interested.
Randy Orton then lost to former WWE Champion (even typing that feels weird) Jinder Mahal after distraction from Bobby Roode, which almost certainly means Orton will win on Sunday . . . Great.
Again, it's hard to care about a match when the build has been so lackluster. Roode doesn't work as a babyface and Randy hasn't changed his move set since the extinction of the dinosaurs – it's just not that interesting.
From then on it was the Kevin and Sami show. The two had a great backstage segment, in which Sami looked like the helpful sidekick to superhero Kevin. They ended with one of the most genuine hugs, complete with happy hug noises, that I have ever seen. These two are great.
Thankfully, after Becky beat Carmella – almost confirming Carmella will cash-in on Sunday – Naomi and Natalya brought us back to earth with one of the worst backstage segments I can remember.
They both sounded like they had learned their lines so well that when they actually said them it sounded like two Google Translate voices having an argument. I've never been keen on either woman's promo ability, and all this has done is probably set up a five-minute pre-show match for Fastlane.
But let's not focus on that, because the rest of the show from that point was pretty good really.
AJ came to the ring and cut his most babyface promo ever, saying he was going to win for the WWE fans because they deserved to see him face Nakamura.
"That's very kind of you," shout the crowd.
"What a top guy," they cheer.
*record scratch* . . . they boo.
Dolph Ziggler came out to say Dolphy things about how he's Dolph, which set up a match between the two men. No matter what your opinions on Dolph are, the two men are both brilliant in the ring, and before Sami and Kevin interfered for the DQ finish, it was a very good TV match.
After the interference, Shane McMahon came out to a lukewarm reaction (a recent trend), to announce the main event fatal-5-way. The only man missing from the match was John Cena, but you can't blame him for needing a rest. I mean, he had to beat Goldust on RAW.
Although it could have felt like the Fastlane main event had been given away a week early, it was still a very fun match. Hopefully Sunday's show will be okay if the main event lives up to expectations.
In general then, a fairly poor show with a good main event, as usual.