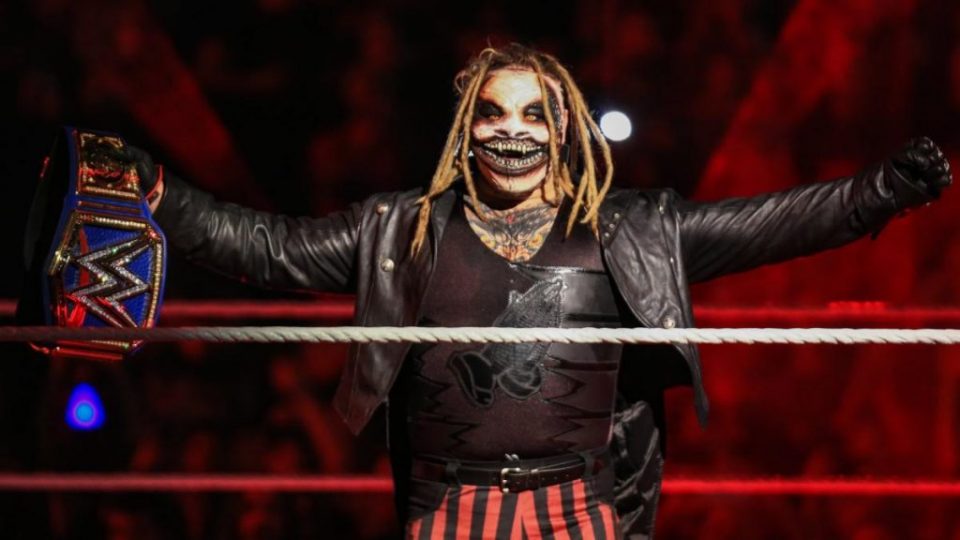 Bray Wyatt's "Fiend" persona had his debut match against Finn Balor at last year's SummerSlam and has traveled on quite a bumpy path since.
His match against Balor proved how sinister and menacing this new demon on the block could be. From the revamped entrance music, to the beheaded lantern, to the annihilation of Balor, "The Fiend" was going to be the biggest threat to anyone that has a history with Wyatt.
Then WWE catapulted him to the moon. We all loved him but we knew there was a big problem with strapping the title on him early. He would have to lose it.
When he finally vanquished Seth Rollins for the Universal Championship at Crown Jewel 2019, his title run did have a nice start. It would have been better if Hell in a Cell hadn't happened the month prior.
He started off by crushing The Miz and Daniel Bryan, but by February 2020, it was looking to be "The Fiend" vs. Roman Reigns at WrestleMania 36. For some strange reason, plans changed and instead it was Goldberg vs. "The Fiend" at Super ShowDown.
Obviously, "The Fiend" was going to destroy this legend to move into his feud with Reigns, right? Nope. WWE pulled the plug on Wyatt and Goldberg became champion. To add salt to the wound, he only held it until WrestleMania to lose against Braun Strowman.
Wyatt has been feuding with Strowman over the title for some time now. He lost as Sweater Bray at 'Money in The Bank'. Then he won in his personal cinematic 'Swamp Fight' at 'The Horror Show at Extreme Rules'.
Their conclusive match takes place at this week's SummerSlam, which could lead to "The Fiend" recapturing the Universal Title. If so, who should he challenge?
Here is 'Six Potential Opponents If "The Fiend" Bray Wyatt Wins At SummerSlam':
---
6. Jeff Hardy
Hardy has just finished his rivalry with Sheamus and is currently in a feud with AJ Styles over the Intercontinental Championship. Once this is over, a rivalry against "The Fiend" does seem like a chilling story to tell.
They are quite similar in some way also: They both share alter-ego's and they will go beyond their limits to hurt their opponents. So imagine if they fought each other?
Wyatt also has that history as former tag team champions with Jeff's brother, Matt Hardy, as a member of Deleters of Worlds. Wyatt has been targeting people of his past, so Hardy fits in.
Furthermore, we have only seen glimpses of Hardy's alter egos in WWE. His appearances as Brother Nero and Itchweeed have been limited to cameo appearances but this could be an opportunity to revive the characters.
Finally, the thought of one more main title run for Hardy will have fans on the edge of their seats.
---
5. Shorty G
On the July 31 edition of SmackDown, Shorty G seemingly turned heel to capitalize on the King's Ransom over Matt Riddle's head.
Or so we believed… as he was still acting babyface on the August 14 episode. This could imply a tweener character for Gable and add an extra layer to his character. He will do whatever it takes to make it to the top.
Well, if he wants to reach the top then a rivalry against "The Fiend" is a must!
Gable has been forced to go along with the ridiculous name of Shorty G because, well, he's short. People like Sheamus and Baron Corbin have made fun of him for it, but in this feud, "The Fiend" could use these negative thoughts as weaknesses to attack Gable from the inside of his mind. Like most of Wyatt's rivalries, his opponent is not just facing him but is in a battle against themselves.
Wyatt can destroy Gable, retain the title in a good showing of good vs. bad. Then the tables will turn. Wyatt is notable for "Hurt" and "Heal" on his gloves. He can change wrestlers character in defeat. This could lead to Gable's full-blown heel turn, which would serve a much-needed, fresh character for Shorty G.
---
4. Matt Riddle
Vince McMahon is reportedly high on Matt Riddle. This should mean there is no doubt he will challenge for the Universal Championship at some point.
Therefore, Riddle's and Wyatt's paths could cross soon enough.
This could be a cringe-worthy feud or it could be absolute brilliance, it all depends on the booking.
Riddle has the comedy, drama and athleticism to a T and should convey some humourous stuff to counter the Firefly FunHouse. I can imagine him starting up his own "FunHouse" just to play with Wyatt. Not sure if Riddle's Funhouse would be fit for a PG audience but who knows?
It would be unusual but unusual in an exciting way. Please give us this rivalry!