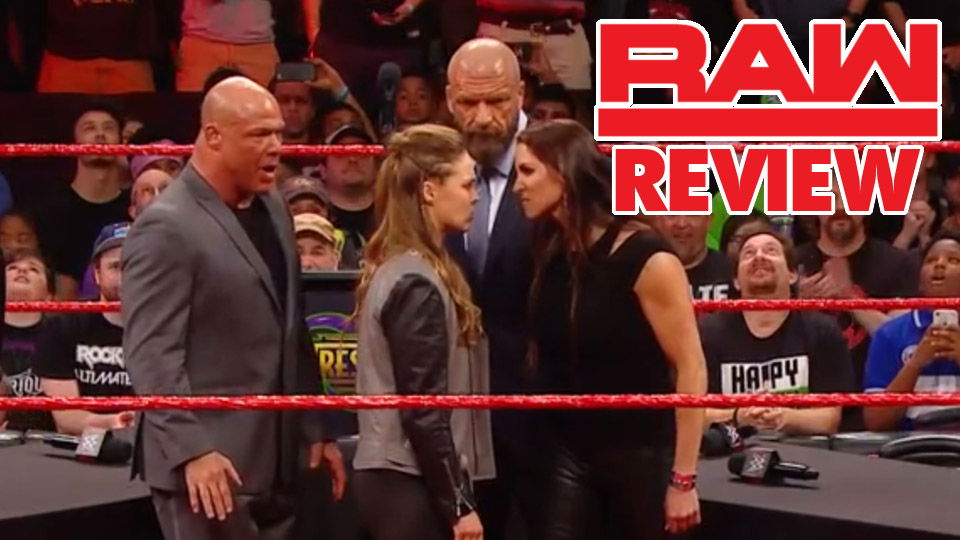 There we have it folks, the last Raw before WrestleMania and it was, well, just like any other show really. Lots of talking, and very little wrestling.
Thankfully, Seth and Finn were there to steal the show as usual, so even though there was a lack of it, the wrestling we saw, for the most part, was very good.
But let's start with one of the non-wrestling segments, and the funeral directing elephant that was most certainly not in the room.
Where was The Undertaker? I mean, chances are he's still going to have a match with Cena at WrestleMania, but you can't really see how they're going to introduce it.
Is John just going to be sitting in the crowd and realize the guy in the hat and over-sized black coat in front of him is 'Taker? I guess John could turn up on SmackDown Live tonight to try one more time.
It would just seem a bit contrived if he turned up for 20 minutes for one match. I know they want to sell tickets, the network, and pay-per-views, so the looming threat of The Undertaker is a ticket seller, but the build has been completely one-sided, and people are starting to think that he is a "coward."
Oh whatever, if he returns at WrestleMania no-one will complain.
Anyway, the show started with an incredibly long segment which involved Triple McMahon and Stephanie H having a meeting with Ronda and Kurt, for some reason hosted by Jonathan Coachman.
Cocky heels Steph and Trips were cocky and heely, and Ronda and Kurt were babies with faces. This whole segment could have been cut by about 10 minutes, given how it ended.
At least we know Ronda can take a bump well, after Stephanie McMahon (who will probably also win the WrestleMania Women's Battle Royal), sort of threw Ronda through a table. It wasn't a chokeslam, it was more of a chuck.
Hopefully, this isn't a sign that Stephanie is going to get too much offense in on Sunday because that would be really quite stupid.
Still interested to see what gear Ronda wears. My guess is it's more likely to be something like her UFC gear, rather than Carmella's one-piece.
We'll keep going through the better segments before we get to the bad, because boy was there some bad and pointless stuff on this week's show.
Braun Strowman is amazing. His back and forth with Seamus and Cesaro, who are also damn good too by the way, was one of the highlights of the night.
Braun coming out as "Brains Strowman" made me laugh out loud at a wrestling show for the first time in ages, just because it was so brilliantly dumb. We still don't know who his partner is going to be on Sunday, but the more he beats up The Bar on his own, you think it could just be some random jobber.
OR, James Ellsworth?
Speaking of giant chaps who do the graps (not Ellsworth), Brock Lesnar came to the ring for the night's main event and was protected by Raw's usual random assortment of uninterested bodyguards.
Paul Heyman hit a promo in which he, of course, called Roman a B****, before Roman came out to interrupt. The band of uninterested bodyguards let Roman through and then we were gifted an uninteresting mini-brawl.
Superman punch x 4, and then Roman is F5'd. Fine, I guess they had to make both look strong somehow, but I'm losing interest in the feud because of the inevitability of the result. It will be WrestleMania's main event, and as that's around 5.30am in the UK, I hope I don't fall asleep during.
On to the best part of the evening for me. The Seth Rollins vs. Finn Bálor match.
Was this ever going to be anything other than brilliant? The two men can go in the ring like nearly no-one else, and they have unbelievable in-ring chemistry. Although I hope The Miz wins on Sunday, now that his child has been born, it wouldn't surprise me if he was planning on taking some time off.
This match is going to be one of the highlights of the weekend, which is saying something given the pretty crazy card we're being handed.
Can not wait.
Onto the bad and pointless now.
Matt Hardy beat Goldust for some reason. Whatever.
Elias beat Heath Slater for a similar reason. Yep.
Asuka and for whatever reason, Dana Brooke, beat Alexa Bliss and Mickie James, because, well, it's Asuka. Imagine if they'd ended the streak?
Bliss was then once again chased by Nia Jax, who earlier in the night featured in an interview segment with Renee Young, talking about her match. It made me really want Jax to squash Alexa, but I think Alexa is brilliant too, so whatever happens, I won't cry too much.
But let's end with what is one of the most baffling and lazy things I have seen in the WWE for a while.
I know they had to change the name of the WrestleMania Women's Battle Royal, but they've still had weeks to prepare a trophy for it.
I have genuinely never seen a more boring looking trophy in my life. It looks like a pair of y-fronts painted gold. It also seems to be made out of kinder egg plastic. The André trophy looks stupid enough, but this one is just ridiculously dull.
Anyway, after we saw that, Bayley beat Sonja Deville, meaning she won't be winning the battle royal. After the match, as usual, Absolution beat down on Bayley until Sasha ran down for the save.
Bayley and Sasha, replicating their squabble from last week also then started fighting, so it looks like the payoff to this year-long feud will be in the battle royal. Presumably, they'll eliminate each other and then have a match on Raw. Wow, thrilling.
Anyway, forget all that. It's WrestleMania on Sunday and the card is stacked. Yippee!