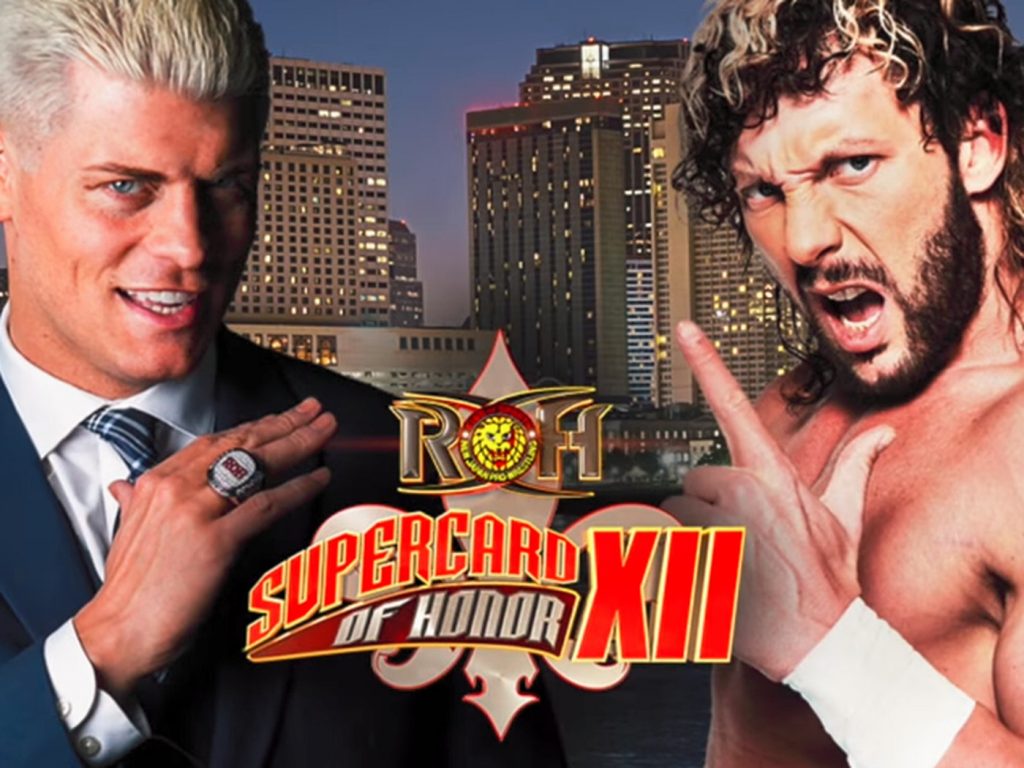 By Jamal Niaz
In one of the weekend's most anticipated matches, Kenny Omega finally faces his former Bullet Club teammate Cody Rhodes at Supercard of Honor XII tonight. This will be the culmination of a brilliantly executed long-term feud that will have fans salivating at the prospect of seeing these two superstars finally get there hands on each other in New Orleans.
The Match

Saturday

In front of the biggest crowd in @ringofhonor history!#ROHSupercard pic.twitter.com/ZY1zZOgZF2

— Cody Rhodes (@CodyRhodes) April 2, 2018
The seed for this match was planted last June at New Japan's Dominion event and the tension has been steadily growing ever since. During Dominion, Cody attempted to throw in the towel during Omega's stellar sequel with Okada. The match ultimately ended in a draw but Cody's actions seemed to give the impression that he wanted to jeopardize any chance of Omega winning and by having Omega lose this would fully assert himself as the leader of the Bullet Club.
It was clear that Omega took offence from this as he also tried to 'help' when he attempted to get Cody's wife, Brandi, to throw the towel in during Cody's match with Okada at the G1 USA Special. Cody also failed to get the win over Okada and the rift between himself and Omega continued to be apparent for the remainder of the year.
https://youtu.be/oEyKr6ju-CE
Cody finally showed his true colors at New Beginning in January when he attacked Omega after Omega's IWGP United States Championship loss to Jay White. Kota Ibushi came to the aid of Omega that night which spelled the end of Omega's time in the Bullet Club and reunited the Golden Lovers. This led to the match between Omega and Rhodes being made official for Supercard of Honor XII and is arguably the biggest headliner in the event's history.
https://youtu.be/77lDZowYpLQ
The pair has shared the same ring in numerous tag matches since New Beginning with Cody and Hangman Page recently picking up a win over Omega and his Golden Lovers partner, Kota Ibushi, at Sakura Genesis. The interesting part of this match is whether it will really just involve the two men scheduled to compete or if the rest of the disintegrated will play a deciding factor in determining who is victorious.
It's highly possible that the Young Bucks show their allegiance to Kenny Omega and help him win as they teased a turn on Cody Rhodes at Sakura Genesis last week. Equally, Hangman Page and Marty Scurll could aid Cody and lead him to victory. I believe that Cody will somehow steal the win in what will be the first in a series of singles matches across the summer.
Where does Cody vs. Kenny rank in your most anticipated matches of the weekend? Who do you think will win? Let us know in the comments below or on Twitter here.