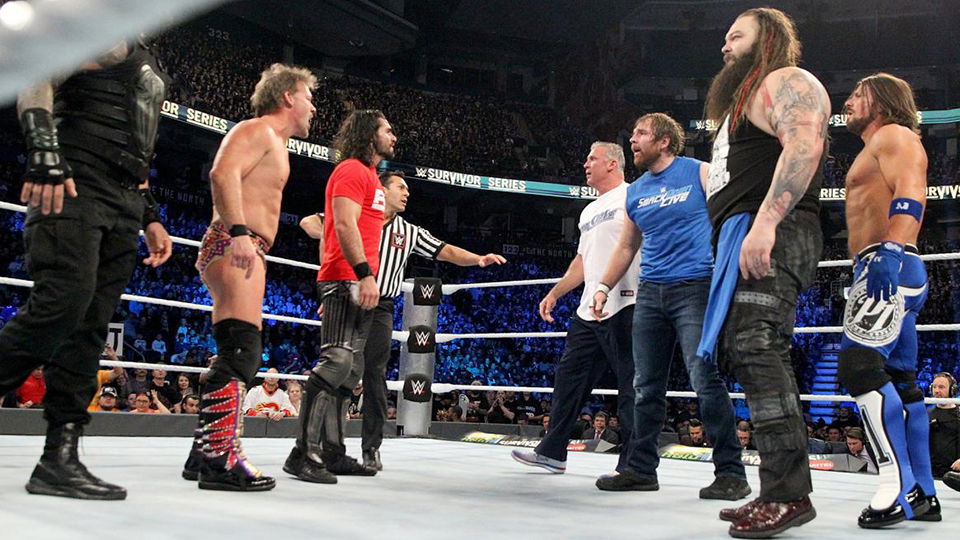 Despite the fan excitement for the annual Survivor Series show being down due to the meaningless Raw, NXT and SmackDown 'bragging right' feuds, it's undeniable that there have been some incredible matches since the WWE Draft in 2016.
There is almost always at least one match of the year contender per show, solidifying Survivor Series as one of the biggest and most exciting pay per views of the year. Taking this into consideration, here's a list of the ten best Survivor Series matches since 2016.
---
Honourable Mention – Brock Lesnar vs. Goldberg – Survivor Series 2016
The wrestling community erupted like possibly never before when Goldberg quickly squashed Brock Lesnar in one minute and 26 seconds at Survivor Series in 2016. While this could've made the top ten, this could definitely be argued to be more like an angle, with there being many more incredible matches in the last four years that just shouldn't miss out.
Nonetheless, this felt so different from WWE's usual predictable booking. It brought so much buzz with the controversy around squashing Lesnar that it had to be mentioned. This set up one of the greatest feuds of the last ten years, with an outstanding short match finishing the feud at Wrestlemania 33.
---
10. Raw (Kurt Angle, Braun Strowman, Finn Balor, Samoa Joe and Triple H) vs. SmackDown (Shane McMahon, Randy Orton, Bobby Roode, Shinsuke Nakamura and John Cena)  – Survivor Series 2017
This match features some of the best superstars in WWE history, with Kurt Angle, Triple H, Randy Orton and John Cena, aligning or facing off with the present stars such as Finn Balor, Samoa Joe, Bobby Roode and Shinsuke Nakamura. Despite the focus being heavily on the McMahon family, the face-offs we get here are so memorable and brought so much excitement for fans.
While this doesn't get as much credit for its spots as the prior year, within this you had Shinsuke Nakamura going one on one against Finn Balor, Team SmackDown putting Braun Strowman through a table and Kevin Owens and Sami Zayn attacking Shane McMahon. This match was a lot of fun and would've been higher if it wasn't for the awkward ending with Braun Strowman choking Triple H which felt like it went on for a long, long time.
---
9. AJ Styles vs. Roderick Strong vs. Shinsuke Nakamura – Survivor Series 2019
One of the most exciting prospects from last year's show, AJ Styles vs. Roderick Strong vs. Shinsuke Nakamura sounds incredible. The mix of Styles' high-flying offence, Strong's back targeting move set and Nakamura's strong style, this match included unique spots to a triple threat match that haven't been seen before. With some real stiff wrestling, the action was fast-paced with every superstar having some time to shine.
There were some nice references to AJ's and Shinsuke's feud from the year prior, Sami Zayn was lingering on the outside, as well as the surprising victory for Strong, this suited everyone's characters perfectly. For three superstars who have travelled the globe, what else would you expect other than a great match.