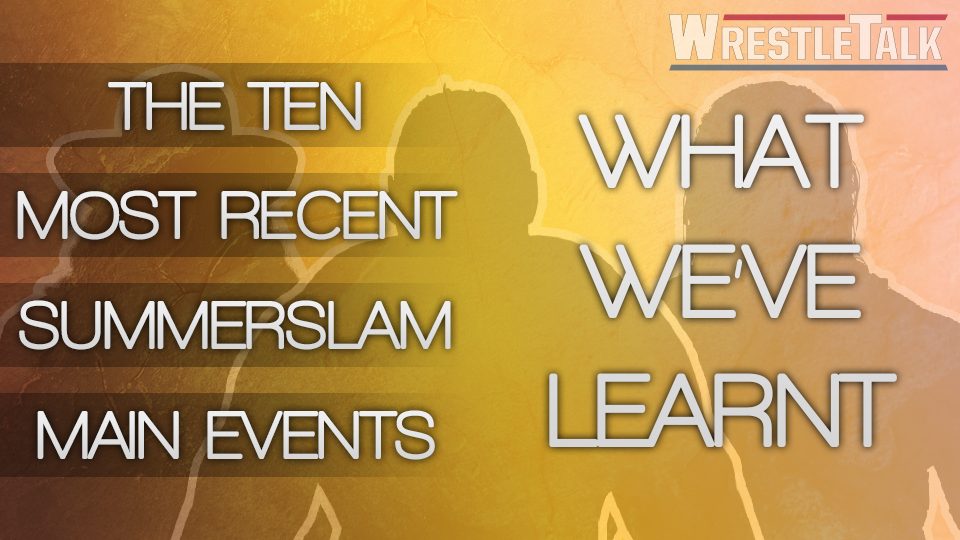 'The Biggest Party of the Summer.' 'The second biggest pay-per-view of the year.' 'That one thing that happens in August that isn't my birthday.' WWE SummerSlam goes by many names, and some of them are ones I don't make up. The grand event is always rife with fun matches, big moments and great competition, and nothing should encapsulate that more than the main event. The final match on the card is crucial in determining a show's success, often making or breaking the event. With that in mind, join me as we take a look back at the ten most recent SummerSlam main events and see what transpired.
2008: The Undertaker vs Edge – Hell in a Cell
We kick off this list with an amazingly hardcore, brutal contest between The Undertaker and Edge inside Hell in a Cell. The build for this match was pretty convoluted so I'll just keep it simple and brief.
Edge and Vickie Guerrero were dating, and Edge beat The Undertaker to have him 'banished from WWE.' During Guerrero and Edge's wedding reception (yep, that was a thing that happened), it was revealed that Edge had been cheating on Vickie, so Vickie reinstated The Undertaker and made a match between the two at SummerSlam. There were many, many more unnecessary wrinkles in that story, but we don't need to talk about those.
The match itself was crazy. Despite WWE just becoming a PG product the month prior, some parts of the product took a while to catch up, such as this bout. There were chair shots to the head, blood, tables, ladders, ring steps, a Spear through the cell wall, a Spear through an announce table, a Chokeslam through two tables stacked on top of each other, it was insane.
Despite Edge looking very strong during the match, Undertaker had a convincing victory with a Spear, con-chair-to, Tombstone combination. After the match, it looked as if 'The Deadman' was done as he stood on the stage, but he came back down to the ring, set up two ladders and stood on one as he Chokeslammed Edge off the other, sending him through the ring. He then set the hole on fire using his demon powers, because he's The Undertaker, I guess. This was fun.
What we learnt: WWE has changed a ton in the last ten years, and probably for the better for the competitors' health.