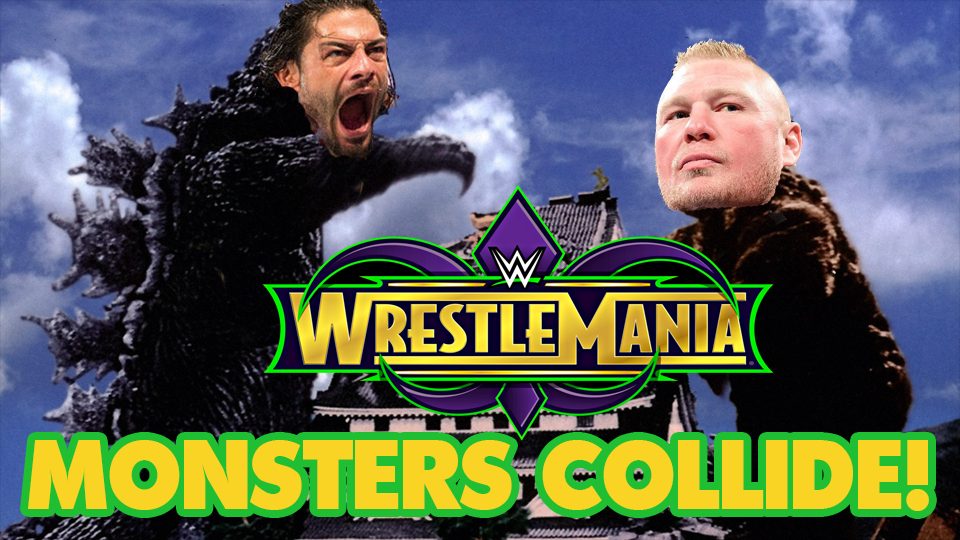 Roman Reigns vs. Brock Lesnar; more than a battle, more than a feud… this is a war four years in the making, and we're on a collision course for April 8, 2018, where at WrestleMania, the 'Grandest Stage Of Them All', the Everest of wrestling, these two monsters collide, like King Kong and Godzilla, for the WWE Universal Championship.
We all knew it was coming, let's be honest. WWE has made no attempt to hide the fact they are pushing Roman Reigns to be their next big thing, hell they've been trying for years now much to the dismay of a large proportion of fans, but this confrontation was set in stone back last year before we were even finished with WrestleMania 33! In the year that's proceeded it, it's been all about the character build and in some cases regarding Roman, a lack thereof. It's the 'Beast' vs. the 'Big Dog', the F5 vs. the spear and this time there is no Seth Rollins to cash in a Money In The Bank contract, this time we WILL have a decisive victory.
https://www.youtube.com/watch?v=QmqYCUEvczg
Let's firstly look at Brock over the past twelve months; given his part-time contracted status he's still seen as the attraction in WWE's eyes, the big fight champion who shows up to dispose of any would-be contenders swiftly and mercilessly, and he's been pretty effective in this role.
Looking back to WrestleMania 33, he took revenge upon a returning Goldberg in what was a surprisingly well delivered rivalry, pinning the former WCW Superstar for the WWE Universal Championship, this is where the ball started rolling and Brock's character went through a steady but noticeable development. He was still Brock, he was still the 'Beast', but the storytelling was all about that F5; he hit's that once and, I'm sorry but, it's goodnight. He used it to put away Samoa Joe at Great Balls Of Fire in what was a brilliantly intense, heated rivalry between the two (despite the abysmal pay-per-view name), aided by some superb promo's from Joe and Paul Heyman, really putting the fight over.
At Summerslam he was victorious again in a fatal four-way match including Joe, Braun Strowman, and Roman Reigns, this time pinning Reigns, setting the seeds for their continued angle together. At No Mercy, he pinned the ever impressive Braun Strowman in a singles match with just one F5. He then did the same against AJ Styles at Survivor Series in what was arguably one of the matches of the year and then most recently, at the Royal Rumble, he pinned Kane in a brutal triple threat match.
No one could stop Brock, no one kicks out of the F5, no one is taking away his WWE Universal Championship. He comes, he sees and he conquers, it's what he does, remember?
Roman Reigns seems to have not gotten that particular memo, as the 'Big Dog' has had one hell of a year himself and he feels strongly that he deserves to be the WWE Universal Champion. We all saw him defy the odds and defeat the Undertaker at WrestleMania 33, claiming this "yard" as his own, potentially retiring the 'Deadman'.
Ever since then, however, his character has essentially yo-yo'd and that's partly down to WWE and us, the fans, continually being in dispute. They push, we push back, and it's not hard to see that the fans have resented Roman being "the guy" for quite some time now but WWE insist. He's put on consistently good matches but the trouble is, and a lot of fans will say this; his booking.
Reigns meant to be the number one babyface on Raw, but the crowd isn't buying into it. His promos are usually sub-par in delivery and he just doesn't come across as legitimate. Try as they might, WWE has given him several rubs, hell he was officially put over by John Cena! He was also given a WWE Intercontinental Championship run and they even brought back the Shield. While this is all slowly working, one spear and one win at a time, the 'Big Dog' still gets booed out of most buildings.
This leads us up to now; present day, Roman (in a continued attempt to push him) won the recent Elimination Chamber, again pinning a monstrous Braun Strowman, finally setting up his title shot against Brock at WrestleMania 34 and it's only now that his character has some real momentum from a storyline standpoint. He's been build as the defiant bad-ass, the no-nonsense worker, and in ways, it's like WWE are now trying to recreate a Steve Austin type character to get him over.
In recent weeks on Raw, Roman has called out Brock, labeling him as an "entitled piece of crap" and a part-timer, saying he doesn't deserve the WWE Universal Championship as he's hardly ever around. Reigns had repeatedly stated that Lesnar is hiding behind his contract, showing virtually no respect to the business or the fans, that he's only in it for himself and the money. This has actually seen a lot of fans warm to Roman. With Brock's contract due to expire and his long-rumored return to UFC imminent, WWE has actually written this angle incredibly well, it's all been worked like a shoot and finally, we have something we can get invested in; THIS IS GOOD!
In the last couple of weeks, we have seen Roman getting suspended for running his mouth, defying orders and turning up, only to get handcuffed and then beaten-down by Brock taking full advantage. This led to this week's edition where again, he defied his doubters and turned up to Raw in a weakened condition, only to AGAIN be beaten down by Brock, with Paul Heyman likening his client to the mighty King Kong, such is his strength, determination, and ferocity. The writing team here have done a superb job finally cementing these characters.
The elements of realism, the attitude, the disdain for each other, their mutual resentment; it's finally become a match of interest! No longer are the majority of fans complaining that it's just another glorification of Roman, Vince McMahon's pet project, no longer are we simply waiting for WrestleMania to be over so we can finally put this to bed. We're actually looking forward to this match now, and we're excited to see what lies ahead, what shape the WWE landscape will be in, following this brutal, possibly bloody battle. All we do know for certain is this; come April 8, when these two monsters collide, it really WILL be like King Kong vs. Godzilla only this time, we'll have a clear winner.
"Let them fight…"