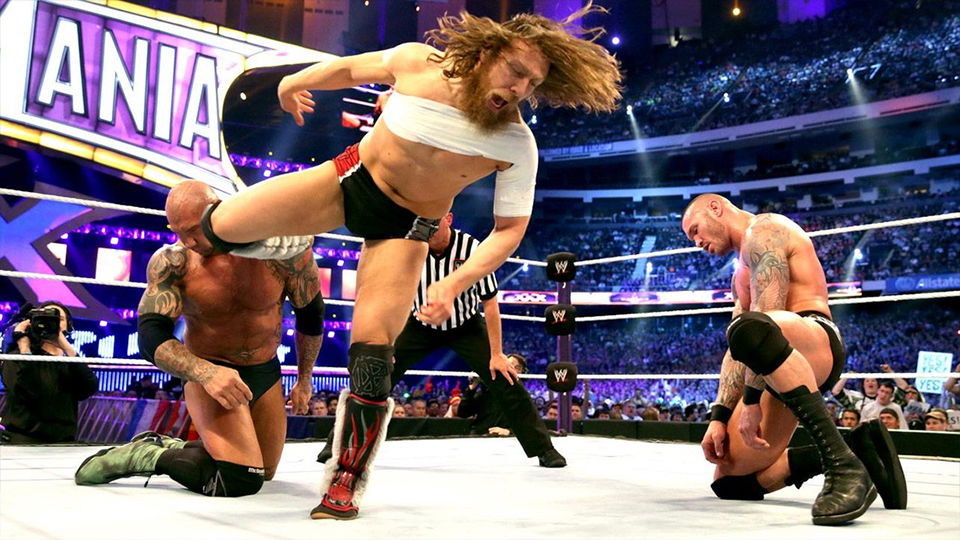 WrestleMania 1 – Hulk Hogan & Mr T. vs. Paul Orndorff & Roddy Piper
The first WrestleMania does not hold up particularly well 34 years later. With that being said, the main event of this show is still enjoyable.
The match is no technical masterpiece and fails to stand out today, but when Hogan pinned Orndorff the Madison Square Garden crowd lost their collective minds. It's still historically significant as the first 'Mania main event, however, there would be far better matches produced in the years to come.
---
WrestleMania 2 – The British Bulldogs vs. Brutus Beefcake & Greg Valentine
This was a dreadful show. Perhaps the worst in history, WrestleMania 2 did very little to build on the success of its predecessor. Instead, the WWF went overboard, deciding to host the event in three separate cities resulting in a particularly poor show.
However, this match was a beacon on this otherwise dark show. The British Bulldogs are regarded as one of the best tag teams in history and they were proving it on this night. Their match against Brutus Beefcake and Greg Valentine was a fine little match where the Bulldogs managed to pull off the win and secure themselves the WWF World Tag Team Championships.
---
WrestleMania III – Randy Savage vs. Ricky Steamboat
This is as close to a home run as you will see on this list. Savage and Steamboat's match for the Intercontinental Championship is considered by many old school fans as the best WrestleMania match ever.
While that point is up for debate, there is no doubt that this was the best match on the show. Savage and Steamboat brought a level of quickness that WWF fans were no used to at that time. In the days of Hulk Hogan and Andre the Giant, these two men put on an athletic match that kept fans on the edge of their seats the whole way. A fantastic bout that should find its way onto anyone's Top Ten 'Mania Matches list.
---
WrestleMania IV – Demolition vs. Rick Martel & Tito Santana
Needless to say, but this match is not as good as the previous one on this list. The fourth iteration of the "Show of Shows" was a dud, and finding a best match from the event was challenging.
This match was fine while also not being anything special. Ax and Smash were able to defeat Martel and Santana for the WWF World Tag Team titles in this 12-minute match. While that might not seem like very long, keep in mind that this was the second-longest match on the show, which featured a whopping 16 matches.
---
WrestleMania V – Hulk Hogan vs. Randy Savage
This match almost wins by default. This was another awful show in the early days of WrestleMania, and the only memorable thing from the show was the main event.
Hogan and Savage reached the peak of their one-year storyline at this event. After forming their team known as 'The Mega Powers' and eventually splitting apart due to Savage's jealousy over Hogan and Miss Elizabeth, they now did battle over the WWF Championship. Their match was adequate although not terribly exciting. Many have said this was the time for Savage to get the win and elevate him to an even bigger star, but it was not to be as Hogan hit the Legdrop to capture his second WWF Title.