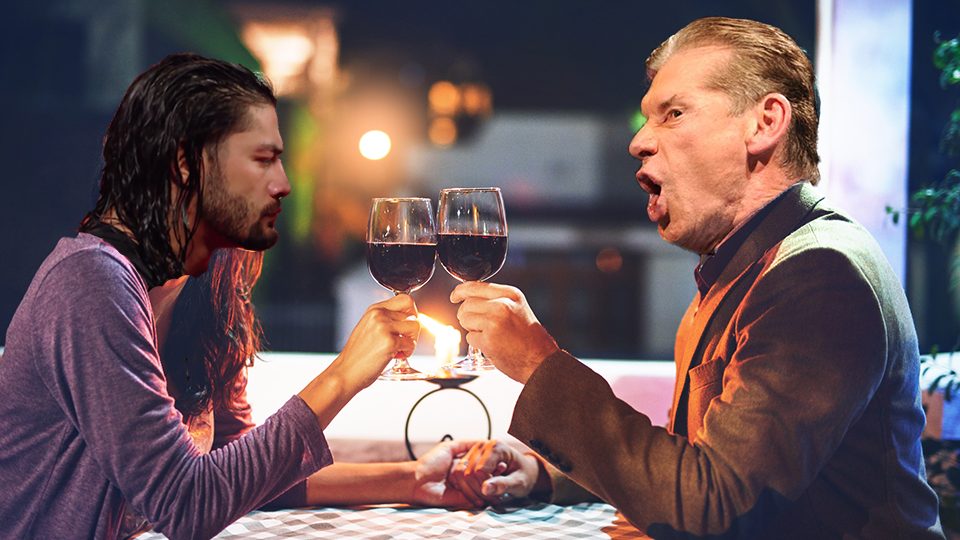 Valentine's Day is just a few days away, but there's still plenty of time to bag yourself the perfect date!
Don't worry if you get tongue tied when talking to the man or woman of your dreams, with these chat-up lines at your disposal, you'll be the coolest guy at KFC while your date groans as you order a bargain bucket all to yourself for comfort.
Don't worry, we've got your back in every possible situation, and what you should do if they react badly.
---
For when you first meet
Line: "Are you Stone Cold Steve Austin? Because you're a stunner."
If it goes wrong: Give them a stunner and pour beer on their face before running away.
Line: *Put arm around shoulder* "This is gonna be good. Woooooooo!"
If it goes wrong: Put them in a headlock and hit a running bulldog.
Line: "What's your name?"
If it goes wrong: Yell "IT DOESN'T MATTER WHAT YOUR NAME IS!" and then hit a Rock Bottom.
Line: (This only works if you're called Paul Heyman) "Wanna be the next Paul Heyman guy/girl?"
If it goes wrong: Shout "I'm just an advocate," and pray that Brock Lesnar is coming to help you.
Line: "Yowie Wowie!"
If it goes wrong: Stare creepily, say "let me in," turn the lights off and run away.
Line: If the guy/girl you were with leaves the date, look around the room until you lock eyes with someone and scream "You're next!"
If it goes wrong: Spear.
Line: If he/she asks how you're going to make it a special night, walk up really close and say "Ruthless. Agression."
If it goes wrong: Hit an attitude adjustment and then head home for a 5 knuckle shuffle.
---
During the date
Line: What did you think of John Cena squashing the entire Nexus in 2010?
If it goes wrong: Leave. They should definitely have an opinion on this or what's the point?
Line: When the waiter asks if you want to see the dessert menu, shout "Feed me more!" while stomping around the restaurant.
If it goes wrong: Tweet Ryback to tell him he wasn't very popular in WWE. He loves that.
Line: If he/she asks you to describe yourself, sing the entirety of Shawn Michaels entrance music.
If it goes wrong: Whisper "I'm sorry, I love you" before super-kicking them.
Line: Instead of offering him/her dessert, just pull pancakes out of your one piece and Frisbee them into their face while saying "don't you dare be sour".
If it goes wrong: It won't.
Line: If dinner goes well, and you fancy a romantic stroll, whip out a guitar and shout to the whole room, "who wants to walk with *insert name*" and hope he/she says yes.
If it goes wrong: Just take anyone who said yes to the initial question.
---
After successfully inviting them back to your place
Line: Every time they take off an item of clothing, shout "OH MY!" in your best Michael Cole voice.
If it goes wrong: Cycle through all other Michael Cole catchphrases until one works.
Line: "Wanna see my impression of Lars Sullivan before he joined WWE?"
If it goes wrong: Start lurking.
Line: If you think he/she is kinky, ask them to get some ropes and a blindfold. Blindfold him/her and then set up a full sized ring in your living room. People love romantic surprises.
If it goes wrong: Start running the ropes endlessly until he/she leaves.
Line: If he/she threatens to leave, offer them hundreds of thousands of dollars and convince them to stay for another 5 years.
If it goes wrong: Bury them.
Line: If you can tell things are getting frisky, have your two best friends come out of the closet. Then say "look like we've got ourselves a tag team match, playas".
If it goes wrong: Inform him/her that they will be going one on one with the Undertaker.
WrestleTalk is not responsible for any of the consequences which may occur if you actually use any of the above lines or moves.