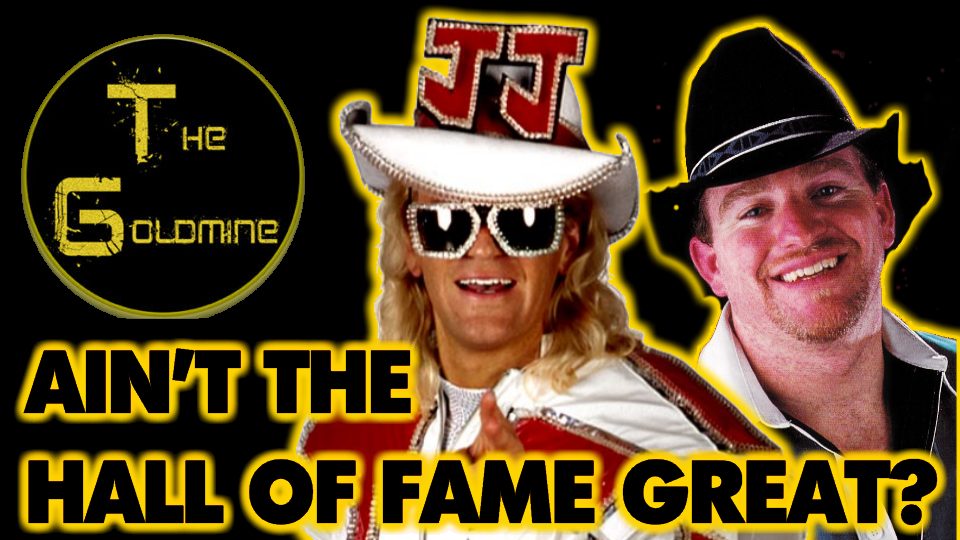 Ain't I great? A lot of you may think I am referring to myself. Well, you're right. But I am also referring to the man who this year will finally be inducted into the WWE Hall Of Fame (and deservedly so), the legendary Jeff Jarrett.
Here's why he is most deserved of this prestigious honor:
Jeff Jarrett's WWE story begins in late 1993 and it came during a time of monumental change. WWE was attempting to re-design their product by implementing smaller wrestlers and Jeff's slender presentation fit perfectly into that new product. Originally, Jeff was introduced to WWE as a country music singer. Personally, I liked the gimmick. It was different than The Honky Tonk Man and at the time was interesting. We discovered years later that it was WWE CEO Vince McMahon who came up with the gimmick. Bravo, Vin-man.
https://youtu.be/Ltm1CpBvAJc
Jeff had a great start in the company and by late 1994, was considered one of WWE's top draws. He engaged in classic feuds with Scott Hall aka Razor Ramon, Sean Waltman aka X-Pac, and Savio Vega.
By 1995, and after only two years with the company, Jeff was Intercontinental Champion. However, WWE felt the need to add to his gimmick. Jeff then introduced us to his sidekick: The Roadie (or as he is now famously known, the "Road Dogg" Jessie James).
It was around spring 1995 when Jeff announced that he had recorded a number one smash hit single "With My Baby Tonight" that had gone platinum. Jeff graciously provided us with a live performance of the song at the July 1995 PPV, In Your House 2 (starring, among others, WWE legend, Todd Pettingill who is another man who should be inducted into the WWE Hall Of Fame). Later that night, Jeff took on Shawn Michaels for the Intercontinental Championship and lost (due largely in part to Michaels's association with "The Kliq" who controlled and dictated all the backstage WWE politics at the time.)
Not long after, it was revealed that Jeff Jarrett did not sing "With My Baby Tonight" but, in fact, Road Dogg sang the song. This left Jeff in a vulnerable position because, at the time, his WWE career was fading fast.
So to recapture credibility and star-status, Jeff went to WCW in 1996. There, he flourished as a U.S. Champion and as a member of the historical wrestling faction, The Four Horsemen. But Jeff's honeymoon, as it were, was short-lived. Jeff's ego got in the way of his further advancement within WCW and Eric Bischoff, former president of WCW, allowed Jarrett's contract expire.
Putting aside pass differences, Jeff returned to WWE in late 1997, shocking audiences in the process and cutting one of the first work-shoot promos on Vince McMahon. During this Jeff Jarrett incarnation he was no longer a country music singer, however, was still linked to being a good-old fashion country boy, of sorts.
For a brief time, Jeff was managed by one of the greatest and most talented managers and bookers and creative personnel in wrestling history, the legend, James E. Cornette. Because of Cornette, Jarret was crowned the new NWA World Champion – in a mind-boggling preliminary organization-invasion angle. Perhaps WWE was attempting to imitate WCW's NWO? This was obviously a bad idea and fortunately did not last very long. Once again Jeff found himself in a vulnerable position. Lack of character or gimmick and a useless storyline. In an attempt to repackage what was left of Jeff Jarrett, Jarrett changed his ring attire and cut his hair. He then also demonstrated a more aggressive attitude-era personality which at the time worked extremely well. Jeff recaptured the WWE Intercontinental Championship and stole his former Four Horseman partner, Steve McMichael's real-life wife, Deborah McMichael. To say that Jeff had heat at the time would be an understatement. However, Jeff's ego once again got the better of him. The night he was scheduled to face Chyna at a PPV in 1999, Jeff held the WWE up for a large payout. Vince McMahon paid Jeff… but then Jeff was fired.
With nowhere else to go at the time and with his best friend Vince Russo running the sinking ship that was WCW, Jeff swam the murky shark-infested waters all the way to WCW and found himself right back in Ted Turner's organization. But this time things were different. Jeff's new character, with his trademark comments such as "slap nuts", pushed him to the top – along with Vince Russo's assistance of course. Jeff had it all. Creative control of his career (in-part) and the WCW world title.
https://youtu.be/FJQP94mCXyY
But then WCW was purchased by Vince McMahon in 2001 and because of their bad history, Jeff found himself out of a job and with nowhere else to go. Fortunately, Jeff had the foresight and money to create TNA Impact Wrestling.
TNA, no matter if you like it or don't like it, you cannot deny its success. Admittedly, the success has passed now but Jeff Jarrett got to live his dream of not only being the number one star in an organization but also owning and booking that organization.
Last year, Jeff had problems with substance abuse and was voted out of TNA. However, this year Jeff's lucky stars have come to the rescue. It was surprisingly announced not long ago that Jeff Jarrett would be inducted into the 2018 WWE Hall of Fame, and how apropos that the man who sang the hit country song that Jeff lip-synched and the man who was once Jeff's sidekick lackey, Road Dogg, will be the man to induct Jeff at WWE Hall of Fame.
In my opinion, and you know that is the only one that truly counts, Jeff Jarrett deserves to be in the WWE Hall of Fame if only for helping Road Dogg to become a current WWE booking agent. But in all honesty, he deserves it because all throughout his career, Jeff stuck it to the "wrestling man" so to speak. Size and a southern accent didn't stop him.
Jeff Jarrett congratulations on being inducted into the WWE Hall Of Fame and I sincerely hope that we get to hear, one more time, "With My Baby Tonight".
Oh and by the way, ain't The Goldmine great!  Ha, ha!