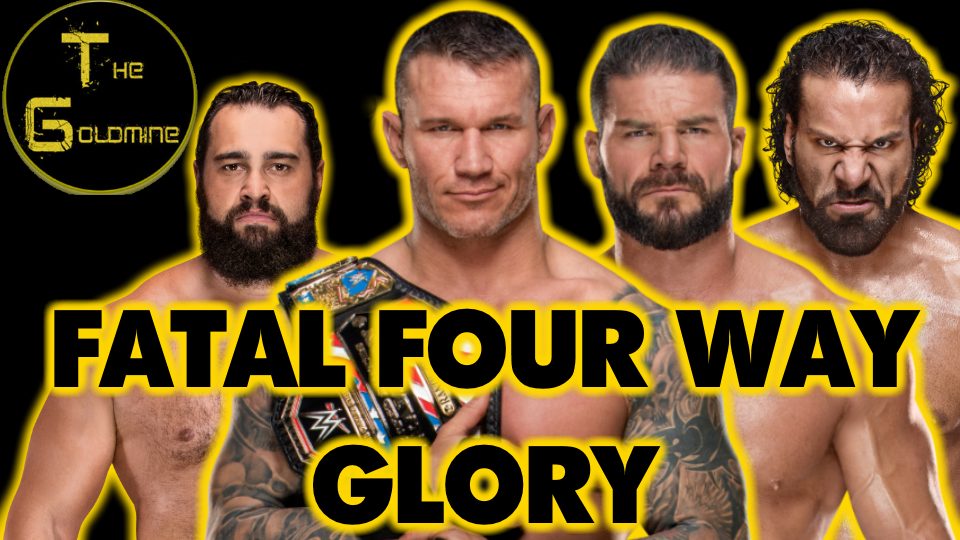 Occasionally, a match is made that pits the greatest wrestlers at the time on the 'Grandest Stage of Them All', WrestleMania.
Take for example Hulk Hogan versus the Ultimate Warrior's "Ultimate Challenge" title versus title match at WrestleMania VI. Or Ric Flair versus Macho Man Randy Savage for the WWE World Heavyweight Title and the honor of Miss Elizabeth at WrestleMania VIII. Shawn Michaels versus Razor Ramon (a.k.a. Scott Hall) in a ladder match for the Intercontinental title at WrestleMania X.
This year, the "it" match pits three of the greatest WWE Superstars currently on the roster and one other jabroni in a fatal four-way match for the WWE United States Championship: 'The Viper' Randy Orton — the current champion — will face former WWE World Champion 'The Modern Day Maharaja' Jinder Mahal, former NXT and WWE United States Champion 'The Glorious One' Bobby Roode and, after the events of last Tuesday's episode of WWE SmackDown Live, Rusev.
When I peruse the current WrestleMania 34 card from top to bottom (and I say current because you never know what might change due to unforeseeable circumstances), I honestly feel that I can predict every other match besides this fatal four-way.
For example, I can see how Charlotte Flair will lose to Asuka, only to have 'Ms. Money In The Bank' Carmella cash in and win the title from the 'Empress of Tomorrow' – a great storyline twist in its own right. Roman Reigns beats Brock Lesnar – yawn. Hopefully, Bobby Lashley runs out and lays out Reigns in about three seconds, setting up an epic Lashley/Reigns feud which culminates in Reigns losing his WWE Universal Championship to Lashley, preferably at SummerSlam. Now that would be good booking.
Randy Orton versus Jinder Mahal versus Bobby Roode versus Rusev, however, has me genuinely perplexed and contemplating various potential outcomes. And that's a really good thing.
In terms of SmackDown Live's contributions to WrestleMania this year, this is the match to watch. There are those who will argue that AJ Styles versus Shinsuke Nakamura for the WWE Championship is the SmackDown Live matchup that will steal the show. (My thoughts, hardly. We all know Nakamura is going to win the title and the match didn't even receive the proper built up to make fans feel truly invested in the outcome.)
Last year, the legendary Randy Orton and future WWE Champion and Hall of Famer Jinder Mahal engaged in a classic wrestling feud that saw perfect character development and a superb storyline arc. It saw Orton and Mahal compete in a series of matches, climaxing at Battleground 2017's Punjabi Prison Match. In the crescendo, Mahal defeated Orton for the WWE Championship in Orton's hometown of St. Louis, Missouri and in front of his father, the legend and WWE Hall of Famer, 'Cowboy' Bob Orton – absolutely brilliant.
https://youtu.be/MF-o1763Imo
"Glorious" Bobby Roode made his debut on SmackDown Live not long after that and since then, has stolen the show with his glitz, guile, and glamour. Roode more recently captured the WWE United States Championship after the 'Showoff' Dolph Ziggler threw a temper-tantrum and relinquished the belt — resulting in SmackDown Live GM Daniel Bryan announcing a U.S. Title tournament which Roode won. Ziggler subsequently returned to WWE without any mention of wanting the title back.
If he had that would have been interesting, but when has Ziggler ever been interesting?
https://youtu.be/ecliyQtC8mQ
Randy Orton is a living legend and is arguably the biggest draw SmackDown Live has had in years – and he's younger than Bobby Roode, AJ Styles and Shinsuke Nakamura.
Then there's Rusev, who was just thrown into the mix this week because he had nothing else going on, which in my opinion swept away a little of the WrestleMania title match's glory. I know there are those of you who think Rusev is great but personally, I don't see anything other than a cheesy catch phrase slogan "Rusev Day" that doesn't make sense. And why is with Aiden English acting as his manager? It's like The Odd Couple on steroids. It doesn't make sense. In my option, Rusev and Aiden were haphazardly thrown together because both were floundering, especially English whose former Vaudevillian tag team partner Simon Gotch was released not too long ago. The two of them will be long forgotten a year from now and many will wonder why anyone cared about "celebrating Rusev Day" at all.
https://youtu.be/WCxmXTrSUoU
Here are possible outcomes I see for this legendary, glorious, modern-day marvel that is the Fatal Four Way match at WrestleMania 34:
Randy loses the belt to Mahal, which sets up a Mahal versus Roode feud, which means Randy is just a pawn in this game to help elevate Roode, Mahal and Rusev – I sincerely hope not. WWE often downgrades legends to help younger talent get over with fans. However, as I stated above, Orton is actually younger than Roode.
Roode turns heel in dastardly fashion, takes the title and continues his feud with both Orton and Mahal that takes us all the way to SummerSlam. I like this outcome as it will help engage fans more with the storyline.
Mahal wins the title clean, disposes of Roode and Rusev and then resumes his feud with Orton. Roode is left in the weeds. The only thing to save him, a heel turn. This signifies the rebuilding of an angry Bobby Roode.
Orton retains the belt, turns heel and becomes the greatest heel on SmackDown Live. He gets back into number one contender's spot for the World Title and wins it while holding U.S. Title — being only the second man do so since Seth Rollins in 2015. Orton is back in his rightful spot – at the top of the WWE ladder.
(WORST CASE SCENARIO) Rusev wins by a fluke. No comment.
All I know is that to me, this is the real main event of WrestleMania 34 and definitely not one to miss by taking a bathroom break. My advice: save that trip for the AJ Styles versus Shinsuke Nakamura match.