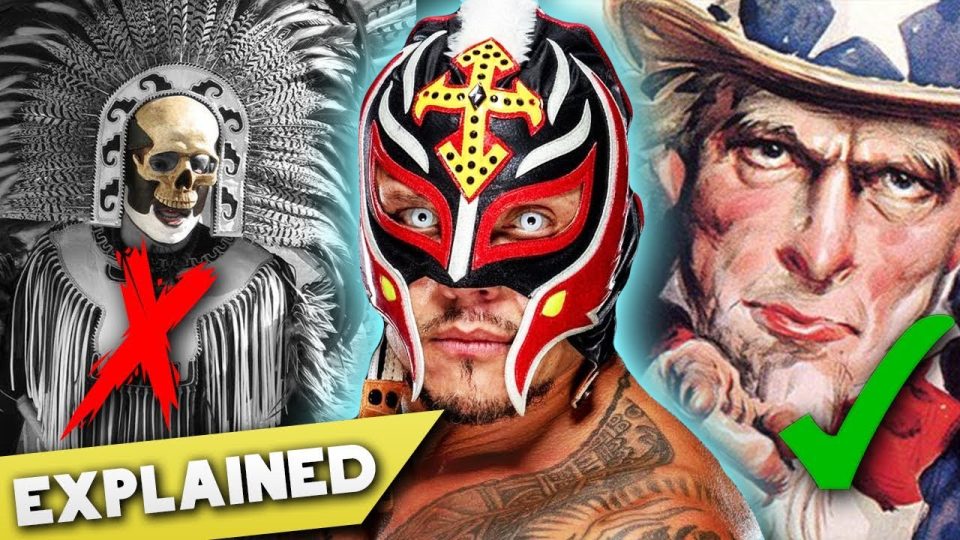 Masks are worn by everyone who's anyone in geekdom:
"That's correct Wendy, we all wear masks metaphorically speaking"
Yeah but like also literally: you've got masked up superheroes, swashbuckling adventurers, ninja turtles, which is a lizard brain bingo. They confer mighty powers that can save the day and no one knows what lies behind the masquerade.
MA-MA-MA-MASK
Which muh-muh-means it can be anyone under the face covering… even you. For kids especially that's a pretty neat feeling, pop on a mask and suddenly you are Rey Mysterio.
But as masks are synonymous symbols of lucha libre it's worth noting where they actually come from. Are they some sacred tradition from thousands of years ago? What do they stand for? And what powers do they confer?
I'm Laurie hailing from partsFUNknown and this is lucha masks explained.
Before we uncover the truth about luchador masks please do consider giving this channel a subscribe, we know a lot of you regularly watch our content, but 50% aren't actually subscribed and Youtube really loves it when people who watch your videos are actually subscribed and then tends to show it to even more people making it easier for us to keep making this type of content, so ipso facto you would be doing us a massive favour Adam will hand write each and every one of you a personal letter of thanks.
Lucha masks feel steeped in Latin American mysticism – they conjure images of ancient masked warriors taking on totemic powers associated with these spiritual figures the masks depict. Giving the wearing of a mask this feeling of a ritual, a tradition that can be traced back thousands of years.
Much like we discovered when we looked at the creation of the green mist, lucha masks actually started life as a US export.
Now masks have been used in wrestling for over a hundred and fifty years if reports of a "Masked Wrestler" appearing at the 1865 World's Fair in Porto, Portugal are to be believed.
Frenchman Theobaud Bauer was said to don his disguise as he toured France as a member of the circus.
But the man credited with popularising the gimmick was Mort Henderson – the story goes that at the 1915 New York International Wrestling Tournament the crowd had grown bored with the action and attendance was dropping until a masked man strode through the audience, seated himself near the stage and issued a challenge to the other wrestlers.