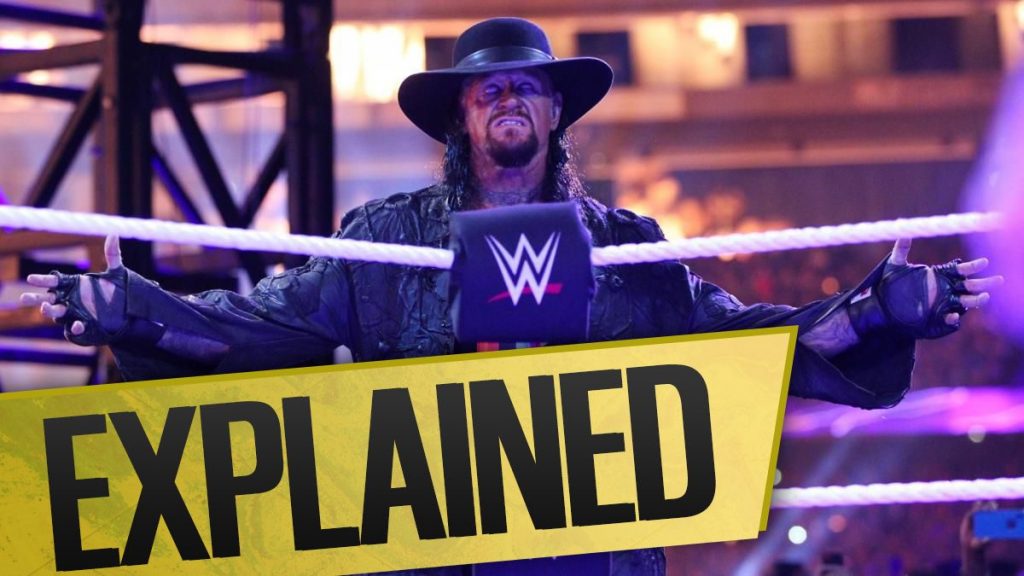 The tolling bell in wrestling is an ill omen for surely for all who hear it death and destruction await.
This grim herald signals the arrival of a creature of myth, legend, infamy – shuffling to the stage, draped in black, creeping fog billowing behind and flanked by crackling bolts of lightning.
Whoever is in the ring looks into the face of death himself.
The Undertaker has been digging holes and claiming souls for 30 years now, after debuting at Survivor Series in 1990.
In that time he has gone through many metamorphoses: from wrestler AND mortician with first day at BIG school tie-vibes, to resurrected revenant out for revenge, a dark preacher who swayed soothsayers, acolytes and bound bloodsucking vampires to his cause, a bit of a wobble after that, get you some stabilisers on that bike Taker, and then back to the big hats, dark coats and air of mystery as he became a living legend in the business.
But what is it about this dark lord that has seen his influence spread throughout all of wrestling, how did the character endure an era in which gimmicks were dying out left, right and centre and why is Mark Calaway's eye-rolling, bell-tolling, soul-owning alter-ego one of wrestling's gods.
---
As befitting a creature that is risen from the grave, The Undertaker has gone through many reincarnations during his 30 years in WWE.
After a two year stint at WCW where he went by the name 'Mean' Mark Callous, he made his ominous debut at Survivor Series in 1990 as the final member of Ted DiBiase's Million Dollar Team and made an instant impression with his pale face, methodical movement and towering size.
The character was an idea that Vince McMahon had suggested, but they hadn't found the right person to portray it until they found Mark.
He was originally known as Kane the Undertaker, but in classic WWE fashion that first name was dropped, they were saving that for something else. Mysteries.
Decked out in a black stetson with a grey band around it, leather gloves and spats, draped in a long black overcoat and his face a grim mask that concealed a barely restrained rage. He was a movie monster brought to life.
A fact that Taker himself has recently talked about with Steve Austin on Broken Skull Sessions:
"As I thought more about the character and what I could do athletically my presentation became, 'I wanna lull people in, I wanna stalk somebody when I get 'em hurt. I want people to feel like the Boogeyman is gonna come down the hallway and grab ya, right?' That's what I was trying and honestly, I don't know why, but it clicked. Michael Myers and Jason Voorhees and Friday The 13th I wanted to be like those guys were like those guys never moved fast at all, but they always seemed to be at the right place when it was time to cut somebody's throat."
The stalk and slay of Halloween & Friday the 13th is something that has inspired quite a few wrestling characters over the years, Bray Wyatt's Fiend has teefed a few tropes for his demonic passenger, which you can find out all about in the episode of Explained here.
A fascination with the macabre was pretty popular in the US at the time as the Addams Family rose to prominence again with Hollywood movies in 1991 and '93.
And when Brother Love handed Taker over to the care of new manager Paul Bearer he got his own Uncle Festus. Taker I guess being the lumbering Lurch in this case.
In Taker's case, the slower pace of a Jason, Michael Myers or even Lurch didn't exactly wow the crowds in the early part of his career – but it was his presence, his way of doing nothing that made him a must-see wrestler.