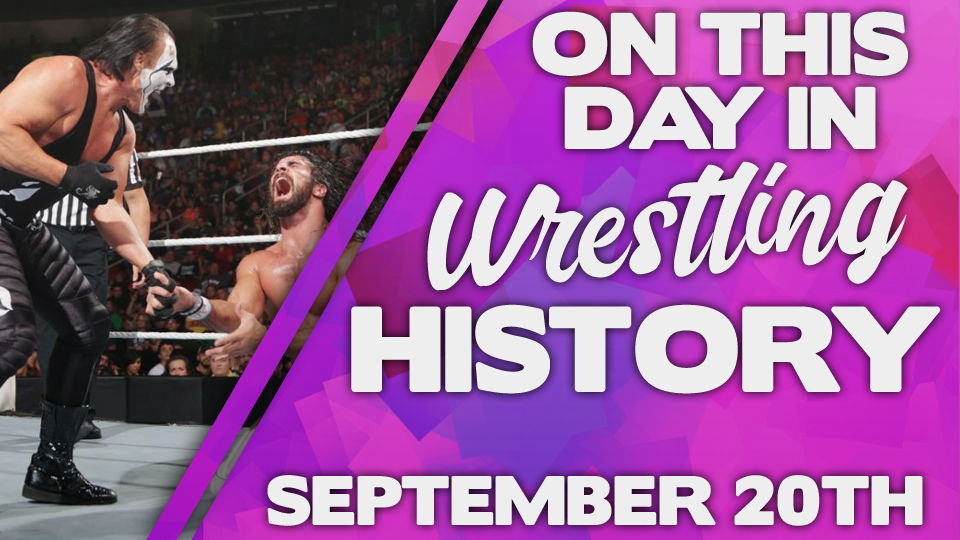 1951: Greg Valentine was born in Seattle, Washington
1958: Arn Anderson was born in Rome, Georgia
1985: Fred Blassie wrestled his final match, losing to fellow manager Captain Lou Albano in a steel cage bout on a WWF Nassau Coliseum house show.
1993: Shinya Hashimoto ended The Great Muta's 400 day run as IWGP Heavyweight Champion, defeating him to capture his first of three titles at G1 Climax Special 1993.
1996: CMLL World Champion Rayo De Jalisco Jr. beat El Gran Markus Jr. in the main event of CMLL's 63rd Anniversary Show at Arena Mexico.
1997: The WWF presented UK-exclusive pay-per-view One Night Only from the NEC Arena in Birmingham. Following choice outings pitting Owen Hart against Vader and Bret Hart tangling with The Undertaker, Shawn Michaels defeated British hero Davey Boy Smith in the main event to capture the WWF European Championship. Fans in the building almost rioted.
1999: The Rock and Mankind, collectively known as The Rock 'n' Sock Connection, defeated The Unholy Alliance (The Big Show and The Undertaker) on Raw to capture the WWF Tag Team Championship for the second time. They lost them the following night's SmackDown taping to The New Age Outlaws.
2004: Snitsky uttered his immortal catchphrase "It wasn't my fault" for the first time on Raw, in response to being blamed for causing Lita to have a miscarriage the week before after he socked Kane with a chair and he crashed into her. It was a different time.
2009: AJ Styles defeated champion Kurt Angle, Hernandez, Matt Morgan and Sting in a five-way dance at No Surrender to capture the TNA World Championship.
2013: Adam Cole downed Michael Elgin in the main event of ROH Death Before Dishonor XI to capture the vacant ROH World Championship.
2015: Sting wrestled his last match, losing to Seth Rollins in the main event of Night Of Champions. Sting was hurt in the match by a Rollins turnbuckle powerbomb, with the injuries severe enough for him to call time on his career shortly afterwards.
2016: Dean Ambrose pinned John Cena in the main event of SmackDown Live and Intercontinental Champion The Miz pinned Dolph Ziggler elsewhere on the show.