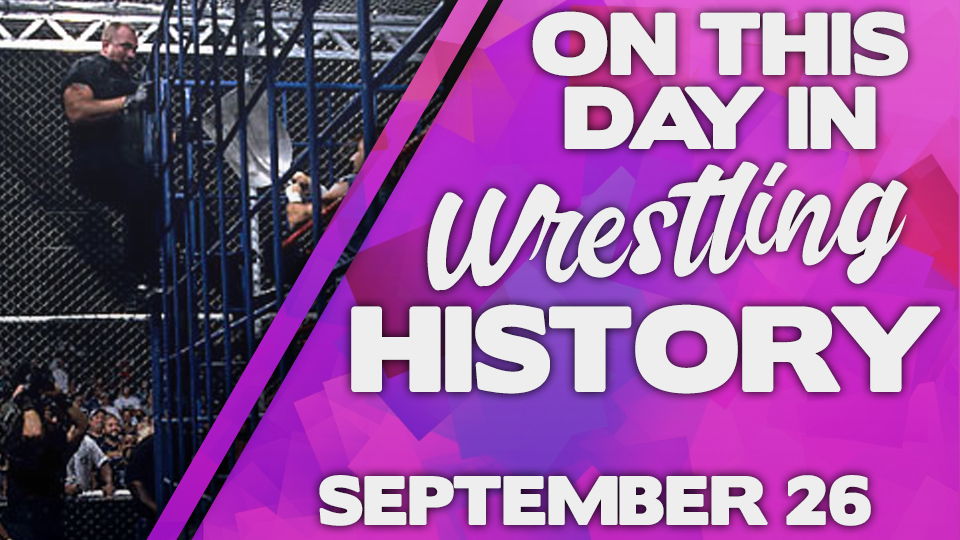 1988: 205 Live standout Buddy Murphy was born in Melbourne, Australia.
1993: Three months after dropping the WWF Title to Yokozuna at King of the Ring, Hulk Hogan pinned Keiji Muto (The Great Muta) on New Japan's Osaka show. Tatsumi Fujima defeated Genichiro Tenryu in the main event.
1994: Razor Ramon beat Tatanka via count out in the only feature match on Monday Night Raw. The rest of the show featured squash match wins for Kwang, 1-2-3 Kid and Shawn Michaels and Diesel. Captain Lou Albano introduced the New Headshrinkers as rivals to Shawn and Diesel at the end. The duo went nowhere.
1999: Triple H regained the WWF Championship in the main event 'six-pack challenge' of Unforgiven. The other five participants were Mankind, The Big Show, The Rock, Kane and the recently returned British Bulldog. The most memorable match on the show was a preposterous Kennel From Hell collision between The Big Bossman and Al Snow. The match was so bad that it received negative three stars from Dave Meltzer. And he was being generous.
2005: Carlito and Chris Masters beat the super team of John Cena and Shawn Michaels on Raw. No other match on the show lasted longer than five minutes.
2011: Intercontinental champion Cody Rhodes won a battle royal to retain his title on Raw. CM Punk beat Alberto Del Rio in the main event. I wonder what price you would get for that match ever headlining a WWE card again?
2016: Raw did one of its worst ratings ever (though not as bad as this week) going up against Monday Night Football and the Presidential Debate. The show was headlined by Kevin Owens and Chris Jericho beating Enzo & Cass in a lengthy main event. The majority of the show was Clash of Champions reruns, with Rusev taking on Roman Reigns and New Day battling The Club. Again.
2017: On SmackDown Live, Kevin Owens defeated long-time rival/best friend Sami Zayn in the main event. In other matches Baron Corbin beat Tye Dillinger, The Usos beat The Hype Bros and Charlotte Flair downed Carmella.
2017: Neville wrestled his last televised match for WWE, defeating Ariya Daivari on 205 Live. He quit the promotion the following week.