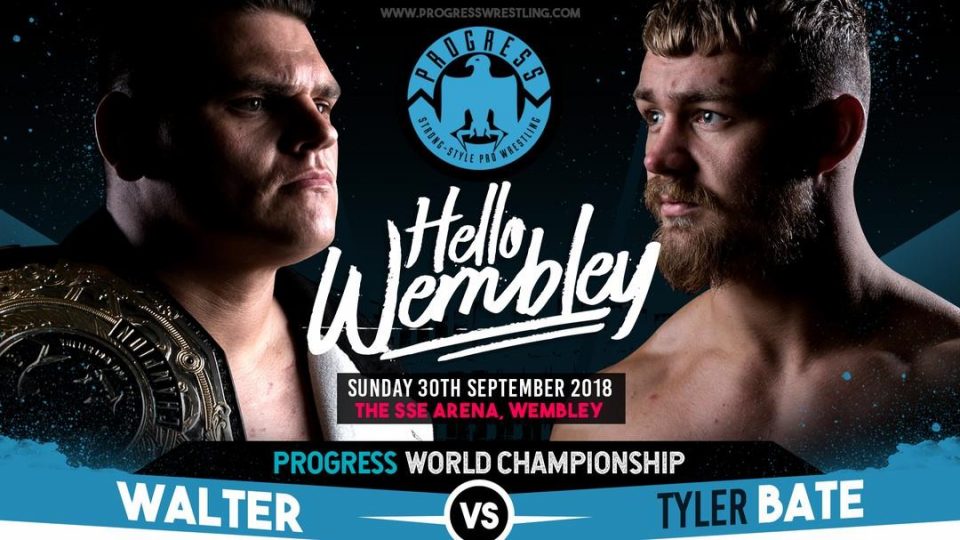 Progress Wrestling has been on a steady incline since 2012, with a boom in popularity and show attendance (playing to almost always sold-out crowds), a successful streaming service, high merchandise sales, a training school and even regular international tours.
The promotion plays Drake's 'Started From The Bottom' before every Chapter show, and the lyrics and message of the song are fairly accurate. Progress was started by a group of three mates who just really loved pro wrestling, and it's only gotten to where it is today because of the effort put in by everyone on the team.
Progress have gone from holding shows in a room barely big enough to fit a ring, let-alone a crowd, to Wembley Arena – and all within the space of six years. Honestly, if that's not impressive, then I'm genuinely not sure what is.
At the time of writing, Hello Wembley still has tickets available. Whilst yes, the show could end up being awful, it's massively unlikely it will be anything but stellar. Progress rarely put on a poor showing and this show has arguably one of, if not the best cards they have ever produced. I feel every wrestling fan should make an attempt to see it, even if on demand.
However, the best way to see Progress is live and in person. If you're not convinced, then here's a few reasons as to why you should be excited.
Talent upon talent

Hello Wembley is the biggest show of the year for Progress, and as such, you'd hope that the card would be suitably stacked. Worry not, as the show is a veritable who's who of British, and even worldwide independent wrestling.
European stars WALTER and Ilja Dragunov feature in major matches against British NXT stars Tyler Bate and Pete Dunne respectively, whilst the Tag Team Thunderbastard gauntlet match features some of the best of British wrestling, American stars such as Timothy Thatcher and David Starr, and even current Progress Tag Team Champions Flamita and Bandido (who recently wrestled in the main event of ALL IN).
If that's somehow not enough for you, then how about a grudge match between Jimmy Havoc and the recently returned (from what many believed to be permanent retirement) Paul Robinson? Or perhaps a triple threat match for the Progress Women's championship between rising star Millie McKenzie, global star Toni Storm and the defending champion – Jinny? There's something to appeal to almost every fan of professional wrestling on the card, and it feels like a legitimately landmark event.
Tables, ladders and chairs

Outside of the standard no disqualification and death matches, gimmick matches are somewhat of a rarity in the UK. WWE seem to feature some sort ladder or cage match every month or two, but in a lot of UK promotions you'd be lucky to get one a year. They usually only take place when the feud at hand has built up enough to genuinely warrant one – and Mark Andrews' and Eddie Dennis' best friendship turned bitter rivalry has done that and more.
The general gist it that Eddie feels as if Mark has left him behind and now looks down on him, so now follows him everywhere he goes – demanding a fight to prove that he's better than Mark once and for all. Mark, obviously isn't too happy about being stalked and violently assaulted every other week – and so the match has been set for Wembley in a contest of tables, ladders and chairs.
The gimmick plays extremely well to both wrestlers – Mark is more than able to pull off insane flippy spots from the top of a ladder, and Eddie has no qualms whatsoever about using whatever he can find to physically break his opponent. Even amongst all the other fantastic matches on the show, this one could be really special.
A last chance saloon
The great thing about independent wrestling is that generally, performers aren't contracted to one specific promotion and can take bookings as they see fit with companies the world over. This is also ironically, one of the biggest problems with indie wrestling.
Basically, as opposed to a company like WWE with a set roster that always travel together and allow fans to see all of their favorites in one go – it can be much harder to see certain wrestlers on the independent circuit as they move all over.
Hello Wembley might be the last chance some fans have to see two wrestlers in particular – that being Matt Riddle and Doug Williams. It's already been confirmed that this will be Matt Riddle's last independent match before moving to NXT, and not only is Doug Williams' Atlas Championship on the line against Trent Seven, but also his career.
Doug has given years upon years of amazing matches to the industry, and some think that he's finally on his way out. Not only would Trent make a fantastic Atlas Champion, but Williams having his final match at the biggest British wrestling show in two decades would be a fairly spectacular way to go out.
To be honest, Hello Wembley is worth attending for that match, even if nothing else.