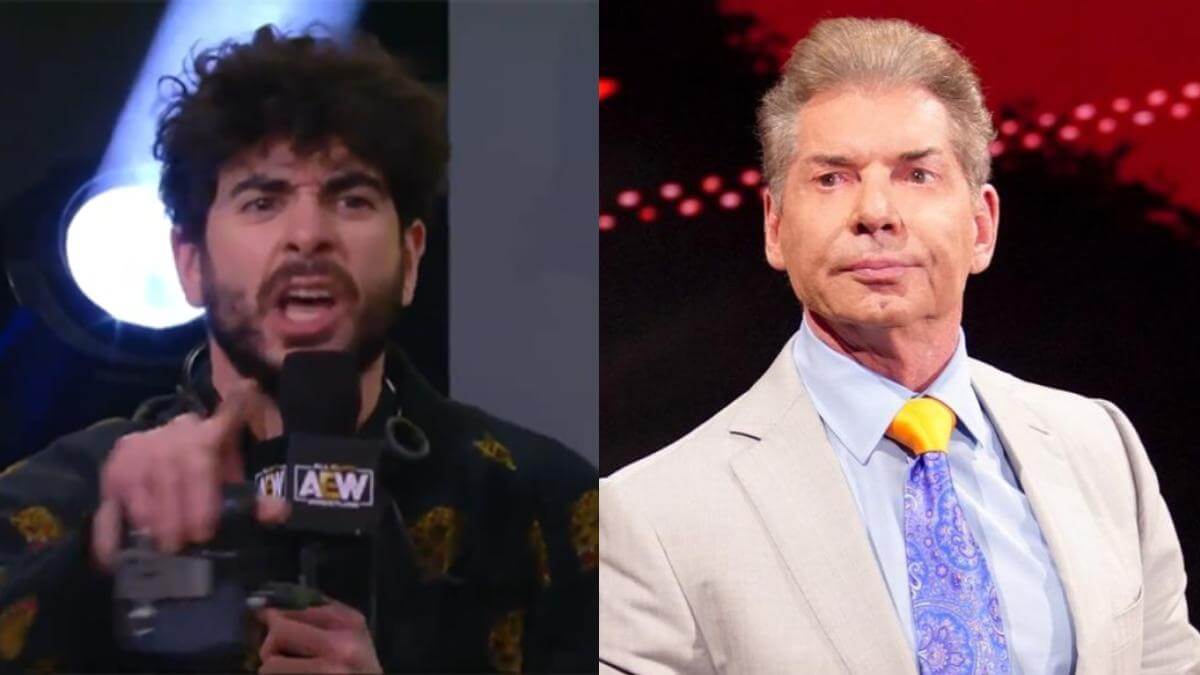 A look at the possibility of AEW's Tony Khan and his father Shad Khan buying or merging with WWE, and potentially working with Vince McMahon.
The upcoming WWE sale is one of the hottest topics in wrestling right now, so let's take a look at it…
Could Tony Khan Buy WWE?
The idea of Tony Khan buying WWE was obviously a product of people's imaginations, but it didn't take long before there was some actual 'evidence-of-sorts' that made it seem like there was an actual real-life chance of it happening.
The first piece of evidence came from Barron's, a sister publication of the Wall Street Journal, which reported:
All Elite Wrestling—the top rival to WWE, led by Tony Khan and family—is in the pool of potential buyers for WWE, a person close to the potential transaction told Barron's, adding that the Khans will likely look for a financial partner to acquire the asset.
So that's just one website reporting something they've heard, but wait… there's more. The following day, CNBC reported:
The Khans, who also own the National Football League's Jacksonville Jaguars and the Premier League's Fulham F.C., could partner with a strategic media company to share the intellectual property while merging the wrestling leagues, said the people, who asked not to be named because the discussions are private.
Even Tony Khan himself has hinted at potential interest. Days before the Barron's story was published, Khan had said in an interview with Brandon Kravitz that he was following the situation "very closely".
At the time people didn't really read much into that, and it sounded like he was just watching from afar rather than actually being involved, but perhaps there really was more to it.
A few days after the reports of him being interested came out, Khan talked on the Maggie and Perloff Show, and said:
"I am interested in the news that there is potentially a sales process and certainly, I think we've shown, when there are acquisitions and transactions, we're capable of making the big purchases.
"AEW is my main focus, but certainly, when that news is out there, it's very interesting. Stay tuned to AEW Dynamite and AEW Rampage, you never know when I'm going to address something."
"On the other hand, it's very preliminary to talk about that process. If there is a process there, which it sounds like there may be, I'm interested in being part of it."
A lot of people have pointed out this could just all be a smart play from Khan to give the impression to the public that he and AEW are in the same league as WWE.
But that's boring and it's a lot more interesting to think about the fact we live in a world where it's actually possible.
Tony Khan & Vince McMahon Working Together?
Yes, I know, it may seem ridiculous, but once again, there's something that offers some substance to this.
Going back to the CNBC report from earlier, that article also stated:
"The Khans are open to discussing a potential role for McMahon, 77, after a sale but haven't yet had those talks, one of the people said."
Just imagine. Vince McMahon sat at his desk, being told what to do by Tony Khan.
I want to watch that instead of the actual wrestling, to be honest.
Look, we all know the most likely outcome is (unfortunately) that Vince is gonna punk us all and sell to someone who guarantees he'll be able to run the company.
That may well mean it'll end up being Saudi Arabia. Joy.
But until that happens, let's just imagine a world where it doesn't, because that imaginary world is much better.
Think you're a wrestling mastermind? Well you can prove it by taking quizzes in our brand new quiz section! Don't forget to tweet us your results!