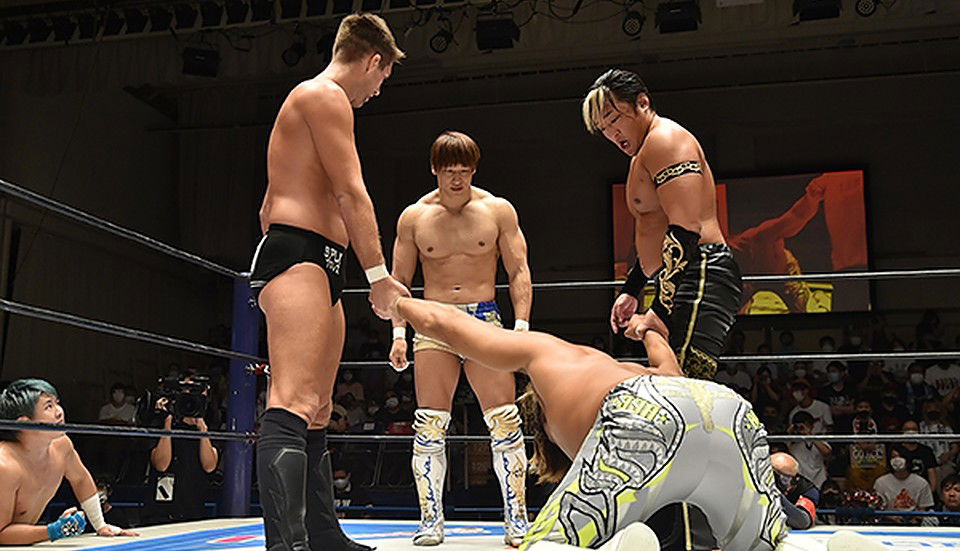 After New Japan Pro Wrestling's EVIL betrayed his faction Los Ingobernables de Japon, one of the many questions raised were the future of the NEVER Openweight 6-Man Championships. These titles belonged to EVIL, Bushi and Shingo Takagi who won them back at Wrestle Kingdom 14 in January. Considering the number of champions and lack of successful defences the titles have, the LIJ trio were on course to break this curse with a long reign.
However, this was not to be.
The titles had to be vacated by the trio and New Japan announced a tournament for the Summer Struggle Tour. With teams spreading over the factions and divisions, it was a diverse line-up a lot of exciting potential matches possible.
---
5. Hirooki Goto, Tomohiro Ishii, YOSHI-HASHI (CHAOS) vs. Togi Makabe, Tomoaki Honma and Ryusuke Taguchi (Hontai) – 7/8/20
Many expected the first-round match between the Chaos trio (Tomohiro Ishii, Hirooki Goto, YOSHI-HASHI) and the team of Ryusuke Taguchi, Togi Makabe and Tomoaki Honma to be an average match with an expected outcome. However, when the bell rang, you saw that all the wrestlers had something to prove.
The first two men in the ring were Tomoaki Honma and Tomohiro Ishii. Honma has always been honest in terms of how he is not yet 100% after returning from his neck injury. But, it didn't stop him from putting up a fight against the Stone Pitbull. They made it a battle of strength with chops, attempted clotheslines and shoulder tackles. With some help from fellow Great Bash Heel partner Makabe, he seemed to get beat Ishii and even added a dual Kokeshi with Taguchi.
Yet, CHAOS quickly got back on top with their teamwork which was really on show during the tournament. Goto used his athleticism, Ishii used his strength and YOSHI-HASHI used his power. Even after some infinite hip attacks from Taguchi, they managed to keep the advantage for most of the match.
Because of this, despite all the heart of the Hontai team, it wasn't enough to beat the CHAOS trio. YOSHI-HASHI managed to get Honma into a Butterfly Lock for the 1, 2, 3 and a place in the next round.
---
4. Hiroshi Tanahashi, Kota Ibushi and Master Wato (Hontai) vs. Hirooki Goto, Tomohiro Ishii, YOSHI-HASHI (CHAOS) – 8/8/20
Like the previous match, fans were treated to another civilised bout. Due to the actions of 'Switchblade' Jay White in 2018, CHAOS and Hontai are closer than ever. This meant that we got a clean and respectful bout.
However, this didn't stop fans from seeing a proper fight.
The match started with Goto and Tanahashi and a series of lock up's and reversals in the centre of the ring. Goto attempted to maintain a strike-based offence as Tanahashi stuck to his high-risk moves to get a quick finish.
One of the best combinations in this match was the renewed rivalry between the 'Golden Star' Kota Ibushi and the 'Stone Pitbull' Tomohiro Ishii. As soon as they both entered the ring, they just started throwing forearms at each other followed by kicks and suplexes. The match also had a lot of tandem offence from each team. The Golden Ace and Wato trio utilised their more high-flying style of wrestling together whereas CHAOS maintained a stronger ground-based offence.
However, as expected, the inexperience of young Master Wato worked against his team. YOSHI-HASHI's hit his patented Karma on Wato to get the win. The match seemed to end respectably with teams respecting each other. However, this isn't the end of the battle between Ibushi and Ishii who seemed to want another fight right at that second.
---
3. TAICHI, Zack Sabre Jr. and Yoshinobu Kanemaru (Suzuki Gun) vs. Hiroshi Tanahashi, Kota Ibushi and Master Wato (Hontai) – 7/8/20
Ahead of this match, tensions were as high as ever between the two factions. After the Suzuki-Gun team of Taichi and Zack Sabre Jr. beat the Golden Ace duo of Tanahashi and Ibushi for the IWGP Tag Titles, the two trios had been at each other's throats. However, there was also some tension between Ibushi and Tanahashi.
The first two men in the ring were Tanahashi and TAICHI. For the first few seconds, it almost looked if Taichi was finding 'The Ace's determination funny.  It almost seemed to work in the 'Holy Emperor's favour as Suzuki Gun took the fight to the outside, somewhere that gives them a distinct advantage. From then, it almost seemed as if Tanahashi was in trouble as his opponents cut off the ring and started targeting his already weak knee.
However, the turning point came when TAICHI and ZSJ tried once again to lure Ibushi to the dark side.  Luckily, the 'Golden Star' knew better than that and lured the Suzuki-Gun members into a trap. From there, it seemed like the Hontai trio found their groove.
With the tag, Ibushi was hot on his feet using his power and agility to get some momentum back on his team's side Master Wato seemed to shine showing off his offence which was a mixture of Japanese and Mexican wrestling. Despite this advantage, Ibushi almost seemed reluctant to let Tanahashi back into the ring. His knee was damaged and this might have been the key to a loss.
In the end, Ibushi realised why it's never wise to doubt 'The Ace'. As the match drew to just over 16 minutes, Tanahashi managed to wrap TAICHI in a Double leg nelson to get the win. He proved how accurate the name of 'The Ace of the Universe' is.