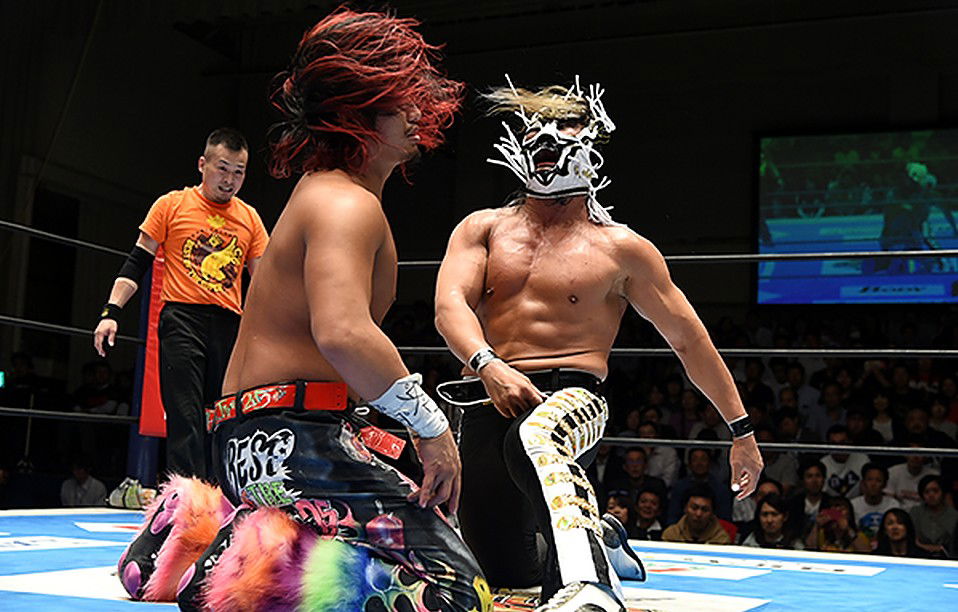 Due to the pandemic, New Japan Pro Wrestling had to postpone their annual Best of the Super Jr. tournament earlier in the year. New Japan later announced that it would take place in November and December alongside World Tag League.
Due to current circumstances, the tournament is much smaller this year consisting of only 10 participants in a single block format. However, there are some amazing matches to expect from the wrestlers whether they are bouts we have seen before or not.
Here are the top 5 matches to look forward to during this year's Best of the Super Jr. 27 tournament.
---
5. Taiji Ishimori vs. Robbie Eagles – November 25th
If there is any match of this card that has a history, it is the bout between former tag partners Robbie Eagles and Taiji Ishimori. It seems almost impossible now to imagine that Eagles started his New Japan career as part of Bullet Club. He seemed to make big waves teaming with Ishimori during the Jr. Tag League in 2018.
However, after making the right move to his new home in CHAOS, there is some unfinished business between the two. What is interesting was that, before El Phantasmo arrived, Ishimori and Eagles seemed to work perfectly together. They both had a style which mixed athleticism, high-flying and submission style offense. They also have similar career lengths and experience levels.
As champion, Ishimori has a lot to lose from this tournament and will be determined to win as many matches as possible. On the other hand, this is a unique and precious opportunity for Eagles. Even if he does not manage to win the tournament, pinning Ishimori guarantees a title shot in the future.
If Ishimori fights a clean match like we have seen many times in the past, this has the potential to be a  match of the tournament candidate. Eagles and Ishimori have a lot on the line in this match. It will bring out the best and worst in both of them.
---
4. SHO vs. Robbie Eagles – November 20th
In a tournament like this, there is nothing more exciting than an inter-faction match. It is going to be the same for the match fans are going to see between CHAOS's SHO and Robbie Eagles. The duo has tagged together and fought against each other in tag matches. Yet, this will be their first singles meeting since Eagles debuted in New Japan.
In terms of style, the two have both similarities and differences in their offense. Both SHO and Eagles are proficient in submission wrestling and have put away many opponents with their range of holds. However, aside from that, there are distinct differences with SHO utilizing his power and Eagles being more of a high-flier.
Looking at both men through their experience in the ring, Eagles seems to have the advantage as one of the leading figures in Australian wrestling. However, SHO has racked up a lot of matches and wins over the past few years in singles matches and against bigger men. It means that both men have an equal chance of winning and it will all depend on whoever gets the advantage early.
Like many inter-faction matches between CHAOS members, this is going to be a very respectful match. However, that does not mean that either man is going to take the other lightly. We have seen what this faction can do when against their brothers. Also, with both men currently partner-less, it could be a chance to scout out a potential tag partner for the future.
---
3. Hiromu Takahashi vs. BUSHI – November 20th
Like the previous bout, the single block format has given fans a first-time match between the two Los Ingobernables de Japon Jr. Heavyweights.
Compared to many of the men in this field, Hiromu Takahashi and BUSHI probably have the most similar style. Both are the epitome of what a Jr. Heavyweight is with offenses combining speed, risk and athleticism. There is also the added unpredictability from two men willing to break the rules from time to time.
It may be easy to assume that Hiromu is going to win this match which is not unreasonable. Since debuting, Hiromu has always been at the top of the Jr. division. Whereas, although BUSHI has been a stable member of the division, has never reached the heights of his tag partner. However, this will only serve to benefit BUSHI who will be more determined to prove how good he is.
This match will be a lot more of a clean game than the Suzuki Gun battle, but neither will hold anything back due to faction loyalty. There is a chance to win a shot at the Jr. Heavyweight title at stake. They will not let that opportunity go to waste.