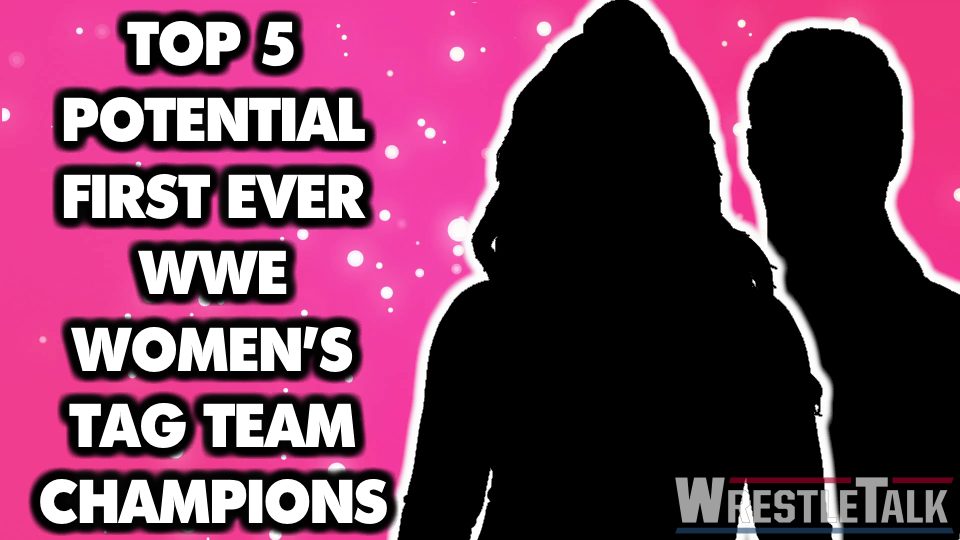 Over the last couple of months, rumors have been rampant surrounding the potential introduction of WWE Women's Tag Team Championships, as the next step in the 'Women's Evolution'.
Not only have there been rumors, but there have also been teases by WWE themselves, both on WWE.com, and on Twitter:
Women's #TagTitles? A championship that needs to be defended each week? This is just the BEGINNING of what we'd like to see @RealPaigeWWE instate as new #SDLive GM! https://t.co/wMgkPWyTaR

— WWE (@WWE) April 20, 2018
With this in mind, in this list we're going to run down the top five potential first ever WWE Women's Tag Team Champions. This list will be compiled of both current teams, and realistic teams that could be created in the advent of bringing in the new titles.
Honorable Mentions
Absolution – Mandy Rose and Sonya Deville – I think these two would fare better as singles competitors.
The Riott Squad – Liv Morgan and Sarah Logan – This could work if Ruby Riott were to win the WWE Raw Women's Championship.
5) Alexa Bliss and Mickie James
There are very few members of the current WWE roster who are being portrayed as such despicable, bullying heels than the pairing of Alexa Bliss and Mickie James.
Not only are they already a current outfit, making them an easy pick in this list, but they have a storied history together, with Bliss being storyline responsible for reintroducing James to the WWE audience in January 2016.
Since then, the pair have had a somewhat bumpy relationship, even squaring off multiple times for former WWE Raw Women's Champion Alexa Bliss' title a few months ago.
During this time, the 'Goddess' often took the 'Mick' (DO YOU GET IT?!) out of James for being "old", although James is in fact only 38, which, just isn't old at all really is it? James would respond by referring to Bliss as having a "biscuit butt".
Fantastic.
Or maybe not.
Either way, although there was no real explanation as to why James and Bliss are now BFFs again, they would make perfect heel champions, with Bliss' cheating tactics and James' experience.
With both ladies being a part of the red brand, there is already potential babyface competition waiting, some of which we'll get to later in this list.
4) The IIconics – Billie Kay and Peyton Royce
The IIconics are absolutely fantastic. The Aussie pairing of Billie Kay and Peyton Royce made their names in NXT, where they were known as the Iconic Duo, by virtue of their brilliant heel work, great sense of humor, and solid in-ring abilities.
Although neither won gold during their tenure with the yellow brand, they both stood out as underutilized talent. Talent which, during the Superstar Shake-up a couple of weeks ago, resulted in their main roster call-up to SmackDown Live.
Since entering the 'Land of Opportunity', the IIconics have been portrayed as a genuine big deal.
During their first appearance, they attacked then-WWE SmackDown Women's Champion Charlotte Flair, which resulted in Carmella cashing in her Money in the Bank contract, to win the title from the 'Queen'.
Two weeks later, and the Aussies were competing in their first main roster match as a tag team, against Becky Lynch and Asuka.
Although having Asuka lose again probably wasn't the best decision, the win does make the IIconics seem like a really big deal, especially to those not familiar with their NXT past.
Although they did lose in last night's main event 6-woman tag team match, Kay and Royce remain undefeated as a pair on the main roster.
Much like Alexa Bliss and Mickie James, the IIconics would be perfect heel champions, using sneaky tactics to escape their challengers.
3) The Bella Twins
Yes, I know the Bella twins are part-timers. Yes, I know the Bella twins are maybe slightly behind most of the WWE women's roster in terms of in-ring acumen. And yes, I know that Nikki Bella just split from John Cena.
But none of this means that they can't be the first ever WWE Women's Tag Team Champions. Let's think about all the best siblings who have been tag team champions. The Usos. The Hardy Boyz. Harlem Heat. The Steiner Brothers.
Maybe I'm taking it a a bit too far with those comparisons, but nothing says "team" more than legitimate blood relation, never mind being born at almost the exact same time.
They both have a storied history in WWE too, enough to make them believable champions among the 'casual' audience. Not only have they been around for nearly ten years, yes, that's TEN WHOLE YEARS, they have a combined three reigns with the now-abolished WWE Divas Championship.
They're also massive stars, not nearly on par with Brie's husband Daniel Bryan and Nikki's ex John Cena, but they are certainly among the most popular female members of the WWE roster.
To prove this, they have a YouTube channel with almost 1.5 million subscribers, where they post things like house tours, because… people are weird.
The Bellas have also represented WWE outside of the squared circle, with the most recent example being Nikki Bella's participation on Dancing with the Stars in late 2017, and also their reality TV show Total Bellas.
Whichever role they play, be it idolized heroes or bullying heels, the Bellas make up for their lack of in ring ability, in their character work and relationships with the fans, and after everything they have been through with WWE, maybe they deserve to be crowned the first ever WWE Women's Tag Team Champions.
2) Natalya and Ronda Rousey
Although they are a relatively new pairing and can't really be considered a tag team yet, there is no denying that Natalya and Ronda Rousey world be a great fit to become the first ever WWE Women's Tag Team Champions, and instantly elevate the straps to be of significant importance.
The 'Queen of Harts' Natalya already has a fantastic WWE résumé. She has been with WWE for over 10 years if you include a run in developmental, and is a former one-time WWE Divas Champion and WWE SmackDown Women's Champion.
Ronda Rousey on the other hand is a global superstar. During her time in UFC, the 'Baddest Woman on the Planet' established a reputation as one of the biggest names in sport.
She made her WWE debut at WrestleMania 34, and I think I speak for everyone when I say she was the most impressive part of the match of the night.
The two became real-life friends during Rousey's pro-wrestling training, where Natalya helped mold 'Rowdy' Ronda into a sports entertainer.
This relationship made it's way onto TV, when on the Superstar Shake-up edition of Raw, Natalya was drafted to the red brand. It seems Nattie's fellow women's division wrestlers aren't a fan because for two straight weeks she has been viciously attacked.
The first being an ambush at the hands of Absolution, and the second being a targeted attack by Mickie James.
Never fear though, because Rousey wasn't far behind, and twice came to the aid of the Hart Dungeon graduate.
While I do think it's more likely that the two may become enemies and square off against each other in a singles match, having them win the WWE Women's Tag Team Championships would immediately add prestige to the titles.
Not to mention the elevation of Natalya's dwindling career and awarding Rousey championship gold mere weeks after her debut.
1) Bayley and Sasha Banks
I know what you're thinking.
In recent months, Sasha Banks and Bayley haven't had the best of relationships.
Banks eliminated Bayley from the Royal Rumble match, the 'Boss' also betrayed the 'Hugger' in the Elimination Chamber match which resulted in the latter being eliminated, and Bayley gained a measure of retribution by eliminating Banks from the WrestleMania Women's Battle Royal.
Despite this, they have still consistently saved each other from multiple ambushes during this time period, and just last Monday were on the same team in a 10-woman tag team match in the main event of Raw.
It is popular belief that the original plan for WrestleMania 34 was to have Bayley and Banks square off in a one-on-one in a singles match. This of course didn't happen, and is likely being saved for another big event.
This means they need to pass the time before their match, be it at either SummerSlam 2018 or possibly even WrestleMania 35. With them both remaining on the red brand post Superstar Shake-up, there's little WWE can do to keep them apart.
Simple resolution: Don't.
Two weeks ago on the Superstar Shake-up episode of Raw I mentioned earlier, the Riott Squad (Ruby Riott, Liv Morgan and Sarah Logan), emphatically made their first appearance on Monday nights by attacking Banks and Bayley.
WWE  have already set up a way for them to come together in the interest of achieving a common goal, that being, defeating the Riott Squad. Banks lost out to Riott on this past Monday's edition of Raw, so maybe she'll realize she needs a helping hand to overcome the troublesome trio.
Once that's done, the two can come to the realization that they are a great unit and pursue tag team gold. Both are former champions, with Banks boasting four WWE Raw Women's Championships, and Bayley a one-time winner of the same prize.
The story really does write itself. They can go on a run with the titles, be it to SummerSlam, or even 'Mania, and when they lose them, they implode.
This eventually leads to a big time match, and let's face it, they do have a history of putting on classic bouts. Their match at NXT TakeOver: Brooklyn is regarded as on of, if not the, best women's wrestling matches of all time.
What do you think of our list? Who do you think should be the first ever WWE Women's Tag Team Champions (if they do introduce the title)? Let us know in the comments below or on Twitter here, and as always, have a spiffing Rusev Day.