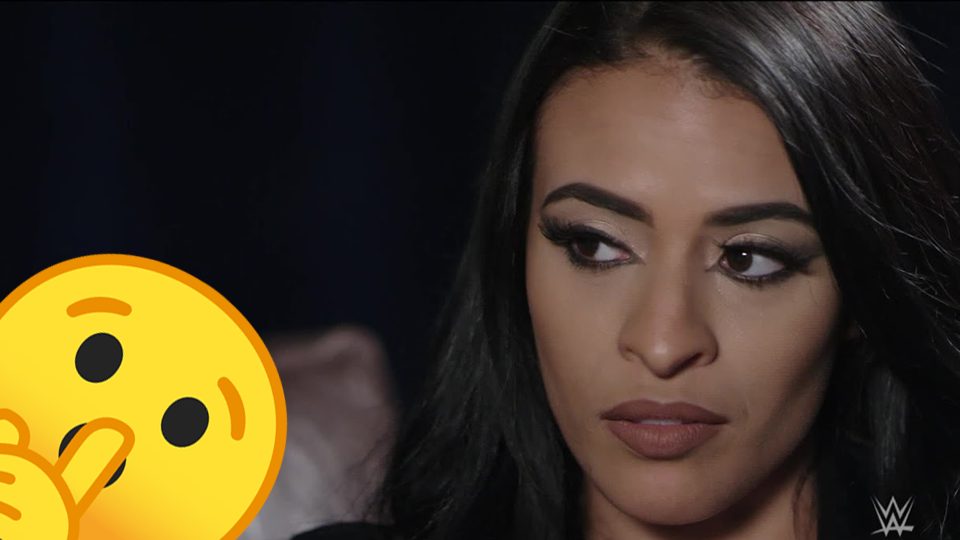 Last Friday:
https://twitter.com/Zelina_VegaWWE/status/1327382306491928576
Also last Friday:
WWE has come to terms on the release of Zelina Vega. We wish her all the best in her future endeavors.https://t.co/RUebMGwBTA

— WWE (@WWE) November 13, 2020
While the two are reportedly unrelated (WWE apparently had decided to release her before she posted the tweet), they are, also, totally related. WWE fired Zelina because she was "vocal" against the company deciding they now owned her Twitch, Cameo, MySpace page she set up in 2005 and, possibly, her real name. WWE apparently let Vega go to "set an example" to the rest of the locker room.
Sounds like an industry needs a union.
The ultimatum came in September. WWE informed its main roster talent that their Twitch channels or Cameo accounts or Tout profiles (never forget) needed to be handed over to them by the end of October. If they didn't, WWE stars could face fines, suspensions, or, in extreme cases, official tweets wishing them all the best in their future endeavours.
Stars like AJ Styles, Cesaro, Zelina Vega and Aleister Black announced this was "goodbye for now" in synthetic unison on their streams, no doubt the phrasing handed to them by WWE's PR department (remember the repeated "forefront of change" line during the post-Khashoggi murder Saudi Arabia show).
But two resisted.
Paige emotionally criticised WWE on her Twitch stream. She had broken her "f****** neck twice for this company," and now they were trying to take away her main creative outlet and community of over 150,000 followers she had grown in a pandemic.
Vega, meanwhile, despite initially halting her AToZ Twitch channel with real-life husband Aleister Black, got the hot tag. She not only resumed her streaming there. She also set up an OnlyFans page to sell her cosplay photos.
It was an open, public defiance of a company that doesn't like to be openly, publicly defied. And it allegedly cost Zelina her job.
It's shocking, but unfortunately not surprising. And sadly neither is how few (read: zero) WWE stars leapt to her defence.
Back when WWE fired or furloughed a reported 40% of their workforce at the start of the pandemic, including names like Rusev, Kurt Angle and Luke Gallows and Karl Anderson, many of those who had kept their jobs tweeted in support. And, in Bray Wyatt's case below, disgust. Roster members still spoke out despite fears more cuts were to be made.
To my brothers and sisters I'm sorry. Please remember. Life is change… it's ever changing… A job can fill your bank account, but do what fills your soul! I love you. "When we are no longer able to change a situation – we are challenged to change ourselves." – Viktor E. Frankl

— Mickie James~Aldis (@MickieJames) April 15, 2020
Love you Fit

— Mercedes Varnado (@SashaBanksWWE) April 15, 2020
Yuck

— Windham (@Windham6) April 15, 2020
But now, with Vega's sudden release, Paige is the only contracted WWE talent who publicly shared her support.
My heart is breaking for @Zelina_VegaWWE head on over to her twitch https://t.co/Pt1bWecWpw shes one of my best friends and would love if you guys go give her support and virtual hugs!

— SARAYA (@RealPaigeWWE) November 14, 2020
Of course, Andrade posted on Instagram wishing Zelina well several hours after I wrote this.
View this post on Instagram
The rest of Vega's former colleagues undoubtedly reached out to her behind the scenes, but their public silence is more awkward than an Edge vs Randy Orton No Fans WrestleMania match. WWE's roster is understandably scared. They could lose their jobs at a time when the wrestling industry has been ravaged by live event restrictions. But as well as raising topics like unionisation and employment classification, Paige being the only contracted talent to publicly support Vega also lays bare the misogyny still lurking beneath WWE's veneer of the women's evolution. Or revolution. I've lost track of what they're calling it this week.
Dave Meltzer astonishingly revealed a source told him Vega was "making more money with [her] social media than they are making with WWE." In fact, "there are a couple of women" in WWE making more money from their extra-curricular platforms.
This could mean those women are making significant sums on Twitch and Instagram. Or it could just mean they're not paid very much by WWE. Figures from mid-2018 suggest the latter, when it was reported the highest paid woman in the company was Ronda Rousey at $1.5m (11th overall if you include the men). With Charlotte Flair second, or $550k at 25th place adjusted for penises. The larger topic of WWE's pay structure deserves an article by itself. But it seems the company suddenly taking control of their wrestlers' 3rd party platforms will disproportionately affect female performers. Which might explain why Paige and Vega have been the most vocal against it.
Fightful wrote last month "Two specifically noted that if WWE wants them to, they'll need their contracts renegotiated to compensate the limitations and changes." One of those could have been Vega. Who was the other? And will there be any more?
What are your thoughts on the above story? Let us know in the comments on Twitter or Facebook.