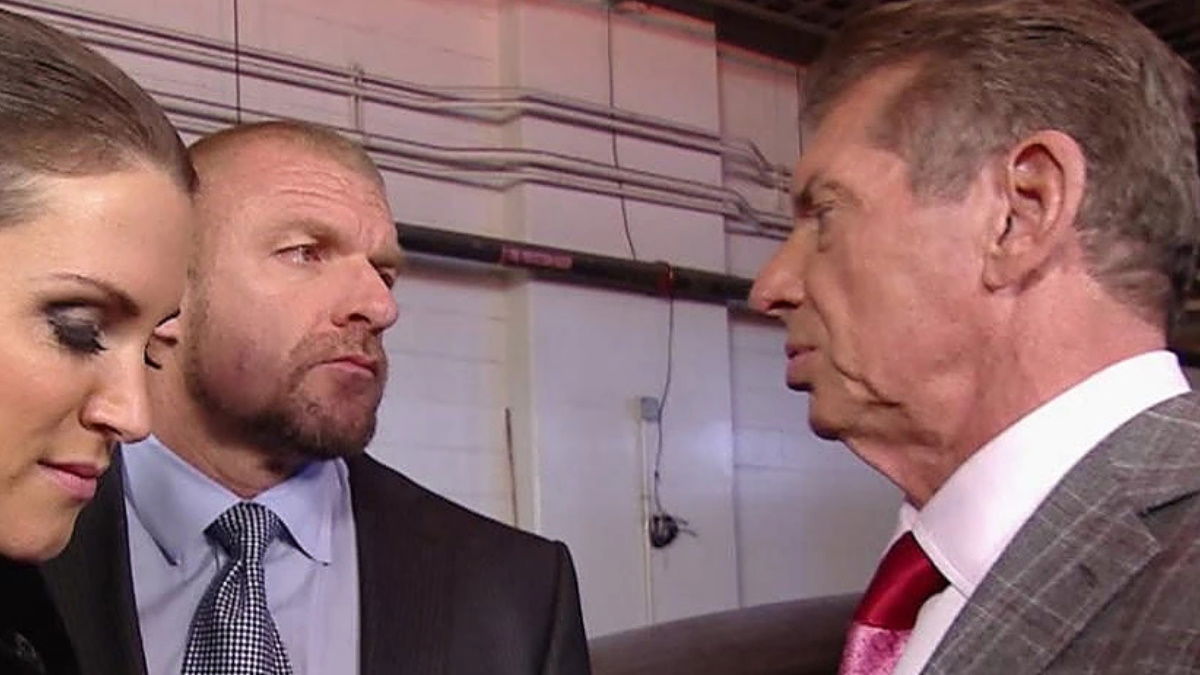 A look at whether Vince McMahon will get invovled with WWE Creative again, and who will win the 2023 Royal Rumble matches.
Two of the hottest topics in wrestling right now, so let's take a look at them…
Will Vince McMahon Get Involved With WWE Creative Again?
Well if you take what Paul Levesque (Triple H) told WWE talent at face value, Vince kind of already has been 'involved'.
In the recent talent meetings at Raw and SmackDown, Levesque said he 'may have discussions' with Vince about creative but Levesque is the one that makes the final call. The question is at what point does Vince go, 'No pal, my idea was better, I'm gonna have the final call now'.
It seems that every couple of days there's a new story of: 'Vince is doing this now, Vince is doing this now', and it's not a surprise that people are worried about creative being added to that list.
The one hope, at least for now, is if he's fully focused and driven on the company sale and the corporate side, creative is actually a small thing compared to that, so he might not even be bothered about it.
The part we all have to worry about is whether whoever buys the company will agree to Vince being in charge, which does very much seem to be a possibility. That's where the game could change.
Who Will Win The 2023 Men's Royal Rumble?
For the men it was always between The Rock and Cody Rhodes, but with every day that passes and the Rumble gets closer, the former seems to be getting less and less likely.
Dave Meltzer reported the issue is that The Rock has told people he's come to the decision he won't have time to be ready physically, and he doesn't want to do it if he isn't ready. There are a couple of arguments that people who are still holding out hope for The Rock to return have put forward.
The first is that Rock has known about this for a couple of years so he's had ample time to get prepared. Well, just because he's known about it for ages doesn't mean he's been able to actually HAVE time the time to get ready for it considering how busy he is with everything else.
The other argument is, 'Yeah but look at his big muscles he's clearly ready'. Unfortunately wrestling doesn't JUST consist of having big muscles. Especially here. This is everything that WWE has been building to for three years, the main event of WrestleMania, the pinnacle of Roman Reigns' run – it can't just be a seven-minute 'get in, do all your big moves, get out' deal.
It has to be a spectacle for the ages, probably a 30-45 minute drama-fest. When you think about, it really isn't far-fetched that Rock wouldn't be capable of that anymore despite being the absolute physical freak of nature that he is.
So yeah, you have to go with Cody. It's a shame Cody's big moment is going to come as a result of him being second choice, but maybe being second choice behind The Rock isn't THAT bad.
This year isn't the year because it would be a waste of the Reigns stuff, but I'm holding out hope that just one year, we get a completely out-of-left-field winner like Chad Gable or Montez Ford or someone.
Who Will Win The 2023 Women's Royal Rumble?
The women's Rumble isn't quite as easy to predict. The goal seemed to be Becky Lynch vs Ronda Rousey but it feels like we're just getting more and more away from that as time passes.
That would have been Lynch winning the Rumble and Rousey keeping the title until a WrestleMania match, and obviously the latter seems to be out the window unless she returns and wins it back at some point in the next couple of months. Fightful reported Rousey isn't even going to be at the Rumble.
You'd probably say the favorite at this point is Rhea Ripley to go on to face Bianca Belair at WrestleMania on the Raw side. But honestly, I think I'd hold fire on that match for another year and do Rhea vs Charlotte Flair for the SmackDown title. Because who else is there for Charlotte on SmackDown? If you do that, you can then do the Bianca vs Bayley vs Becky three-way on the Raw side.
Rhea and Bianca aren't going anywhere, that can be your Mania 40 main event in 2024. I'll go with Rhea winning the Rumble, and if it was up to me, she'd choose Charlotte as her opponent.
Think you're a wrestling mastermind? Well you can prove it by taking quizzes in our brand new quiz section! Don't forget to tweet us your results!